Sheriff's Blotter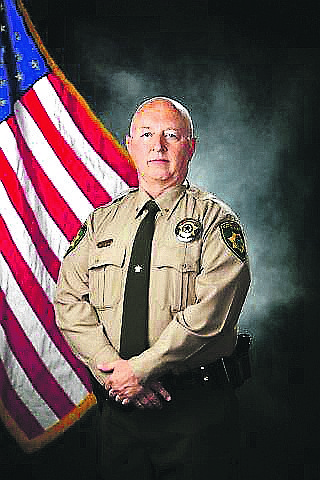 Notable calls
for the day!
05-04-2020
• Deputies responded to W. Boyles Ave. in reference to an Unattended Death. 20-16080
• Deputies responded to W. Marigold Ct for an agency assist. Mineral County (Montana) requested assistance in locating and detaining who was intoxicated and crashed his side by side and was now missing. Deputies did not get answer on cell phone nor at the residence. 20-16100
• Multiple Deputies responded to W. Reeves St for a 911 Hang Up, where the caller stated "he's got a gun" and then hung up. On scene it was determined there is an ongoing dispute between family members and how they do not get along with each other. According to the caller, a firearm was never presented, aimed, or even seen, however due to some other circumstances with the residence, a report was completed. 20-16105
• A Deputy responded to JDC and arrested a juvenile for her warrant.
• Deputies responded to Kingswood for a medical assist. Deputies had been at the address earlier for a dispute and had cleared. It was reported that a female had fallen due to intoxication and tumbled down a large hill, injuring herself on the way down. Once medical had cleared the female for injuries, another female reported she and the injured female had been in an argument. During the argument, the injured female went to push the other female down the hill. However, due to intoxication, the injured female missed and wound up falling down the hill herself. The injured female was arrested via a citizen's arrest for Assault.
• Deputies responded to Walmart in Hayden for a trespassing report. It was reported there was a male in the store that was a suspect in a theft from last week and they wanted him trespassed from the store. Deputies contacted the male. He initially gave a false name. However, once his true identity was found, it was found he had warrants out of Spokane. He was arrested for his warrants and trespassed from the store.
• Deputies responded to N. Granada St. for a Welfare check. This was an incident involving an Alzheimer patient and him not recognizing his wife. He was ultimately taken to KH for an evaluation.
• Deputies responded to a sex offense. It was reported that there was a couple doing "inappropriate things" on the grass near some apartments. Children playing in the area told the couple to stop but they did not. Once on scene, a male and female were identified. It was determined, by interviewing several witnesses that the couple did not live in the area. While they had been lying in the grass, there was no criminal activity. FI completed.
• A Patrol Sergeant stopped two vehicles in the area of Huetter and Prairie that were racing. (88 mph in a 45). Both vehicles pulled over. A male was in one car and his sister was in the other. They decided to race each other from the light. Both were issued citations for racing.
• A Deputy stopped and arrested a male driver for DUI (.175/.168) after he stopped him for driving at a high rate of speed on CDA Lake Dr. 20-16202
• A subject was contacted walking on Cliffhouse Rd x Julia after a possible prowling call was dispatched reference a vehicle maybe stopping at mailboxes. The subject was not related to the call but an FI was created documenting him being in Hauser. 20-16182
Recent Headlines
---