Idaho youths earn honors for volunteer service
Idaho's top two youth volunteers of 2020, Lilian Smith, 17, of Coeur d'Alene and Kaleb Chatelain, 14, of Ammon, were recognized last weekend for their outstanding volunteer service during the 25th annual — and first-ever virtual — Prudential Spirit of Community Awards national recognition celebration.
In recognition of the spirit of service that they have demonstrated in their communities, Lilian and Kaleb, along with 100 other top youth volunteers from across the country, were also each given $2,500 to donate toward the local COVID-19 response efforts of a nonprofit organization of their choice. These funds come in addition to the $1,000 scholarship and engraved silver medallion they earned as Idaho's top youth volunteers of 2020.
The Prudential Spirit of Community Awards program, sponsored by Prudential Financial in partnership with the National Association of Secondary School Principals, named Lilian and Kaleb Idaho's top high school and middle level youth volunteers in February.
Lilian and Kaleb also earned an all-expense-paid trip to Washington, D.C., for the program's annual national recognition events, but the trip was canceled due to COVID-19 and changed to a three-day online celebration held last weekend.
Lilian Chatelain is an accomplished Coeur d'Alene High School junior who co-founded the Growing the STEM nonprofit that has organized competitive math teams and peer mentoring math programs at 13 local schools in the past three years.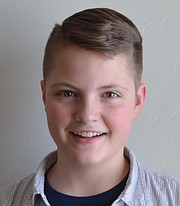 Recent Headlines
---