HOW THEY WERE BUILT: Timberlake track and field: The vision, and riding the momentum ... Kluss and company turn Timberlake from middle of the pack to leaders of the pack in Intermountain League
by
JASON ELLIOTT
Sports Writer
|
May 6, 2020 1:15 AM
Kluss and company turn Timberlake track and field from middle of the pack to leaders of the pack in Intermountain League
It's not JUST Brian Kluss that got the Timberlake High track and field program on the right track.
Sure, he believed a little earlier that most might have that the Tigers had the potential to contend for state trophies.
But that doesn't mean it's completely on his shoulders by any means.
Kluss came to Timberlake High in the summer of 1999 after a stint at Preston High, where he served as a math and science teacher. He was head football coach at Preston for four seasons (1995-98), and head track and field coach for four seasons (1996-99).
"I'd been a head football and track coach, and also was an assistant in Oregon for six years before that," Kluss said. "My wife (Janet) got a job at North Idaho College when I started here, and she's at Coeur d'Alene High now as a computer technology teacher. When she got that job, I started looking really hard around here. Preston, that move was focused on me and being a head coach was something that I always wanted. But for her, it was a chance to teach at the college level, and I was ready to move on. For me, it was a lot easier to get a job here than her because there's more of jobs as a math or science teacher available."
Kluss has been the assistant football coach/offensive coordinator at Timberlake since arriving in 1999, and head track and field coach for the Tigers since 2003. He was an assistant in track and field to Mike Alt for three years before becoming head coach.
"I'm more than happy to be the assistant," Kluss said. "I don't have to be the guy. I love helping the guy that's the guy in charge."
In 2003, Timberlake's boys finished 13th at state in 3A, while the girls were 16th.
"It was a little rough at the start," Kluss said. "We only had 350 kids in the school, and the first really good group of athletes were in the seventh and eighth grade when the school opened. We had some decent athletes, but not enough to be competitive."
When Kluss arrived, the Intermountain League looked a little different with Lakeland, Timberlake, Bonners Ferry, Kellogg, Priest River, St. Maries, Grangeville and Orofino in the league.
"We had eight teams at the district meet," Kluss said. "At that time, we were just trying to get through it and teach the kids the right way to do things, or at least the way we wanted to do it."
That being said, Kluss still liked his kids.
"I thought we'd be a trophy team at state within four years," Kluss said. "I remember telling Mike Alt that we'd be a trophy team within four years at a meet. And you had to have that vision. And I wasn't the only one that thought that way. When things started going our way, we just hung on and had the kids to follow in that path."
IN 2004, Timberlake's boys broke through to win the state 3A title.
"That was a really special year," Kluss said. "I thought we were good enough to win the district title in 2003. I thought we were good enough to trophy at state, and things collapsed at the state meet. Caleb (Cazier) blew out his feet and we had another kid miss an event. It was just a weird, weird weekend. And part of it was our fault as coaches because our kids didn't know what it was like."
Timberlake clinched its first title the final event of the weekend at Bronco Stadium.
"Caleb blew out his hamstring and couldn't run most of 2004," Kluss said. "But he got to state, and qualified in three different events and ran a 49.2 (second) 400 with a bad hamstring. In the 100, he got pushed by Jayson Bird (of Shelley) and it popped it again. At that point, the only way I thought we can win is if he goes out and does what he could, just run and score points. I was out taking a picture of his sister (Chelsea), who had made the podium and he walked by and I asked him what we're going to do, and he said he's going to win the 400 and we're going to win the state title."
Cazier won the 400, then finished eighth in the 200, giving the Tigers just enough points for the program's first title.
"Caleb was in lane 4 and came off the first corner in eighth and was running as hard as he could," Kluss said of the 400. "He came off the second corner and was catching the pack, then coming down the stretch, he just barreled down and won. He had to jog the 200, but we won the meet. It was just amazing to see. I still have a picture in my classroom from the finish of that race. There was a kid from Priest River (Chris Person), and you can see the kid look at him and he's rolling his eyes at him. He couldn't believe he did that with a torn hamstring."
Kluss also credits Ryan Sacksteder (distance), Josh Tebbe (hurdles), Brittany Fulwiler (sprints) and Zack Jones (throws) for getting the program on track.
"Caleb, he taught a lot of kids how to do things well," Kluss said. "But kids like Josh, Brittany and Zack, they were also big parts in flipping the whole thing."
Timberlake, led by Nick Puckett (sprints) and Frank Lagrimanta (distance), won boys state titles in 2006 and 2007. Timberlake won the girls state title in 2011.
"It has been a never-ending group of kids," Kluss said. "We've just seemed to have good athletes keep coming through the program."
Since its last boys state title in 2007, Timberlake has been runner-up in the state meet twice (2008, 2010), third twice (2014, 2019) and fourth three times (2013, 2015, 2016). Timberlake's girls were third in 2012 a year after winning in 2011, and finished fourth in 2019.
"We've had some really, really good teams in the past," Kluss said. "Sometimes it comes down to a little luck as well, and we didn't have that on that weekend."
OF KLUSS' staff, Rob Ranney (jumps), Shawn Lawler (distance) and Kellie Rhodes (hurdles) have remained with the program throughout.
"Our kids have had fantastic coaches in track and field," Kluss said. "To be successful, you've got to have good coaches and they know their stuff. Shawn is a fantastic distance coach and has won state titles. Rob is a great jumps coach, and Kellie does a great job with our hurdlers. We're very lucky. Our pole vault coach now is Tony Kraack, who coached at St. Maries and is a teacher here now. Every coach here has the ability to be a head coach, or has been. But they're all here and want to be here for the kids.
"Our coaches have stuck together and believe in what they do," Kluss added. "I've been really, really fortunate. These guys and gals want to be here and want to stay. After the season, they all look and say they couldn't give up track and field. With Kelly (Amos, who is an assistant football coach in addition to being the throws coach), he knew what he had with the wrestling team this year, but one of them (jobs) had to go. I really like having Kelly around, and I didn't have to talk him into staying. I appreciate him and he makes it easy. All of us coaches think highly of the kids we have in the program and the coaches they get to be coached by."
Timberlake's boys were third at state in 2019, while the girls finished fourth.
"The team this year was really good too," Kluss said. "But we've got to stay home and can't show off what we can do. We understand why, but it's disappointing."
Timberlake's boys entered the season with 66 straight wins in Intermountain League duals. The Tiger boys last lost a league dual in 2002, the year before Kluss took over as coach. They have won the boys district title each year that Kluss has been coach. Timberlake's girls have won 12 of the last 13 district titles, finishing third in 2013.
"I told them they were good enough to get another state title at the start of the year," Kluss said. "Both Kimberly and Sugar-Salem would have been good, but Kimberly would have been really, really good. Sometimes, you've got to have a little luck, but we would have been fighting for second (with Sugar-Salem). It's just a shame."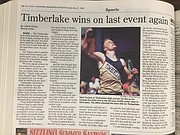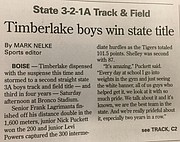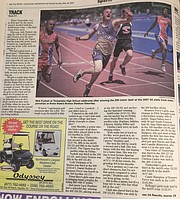 Recent Headlines
---