Honk if you like the show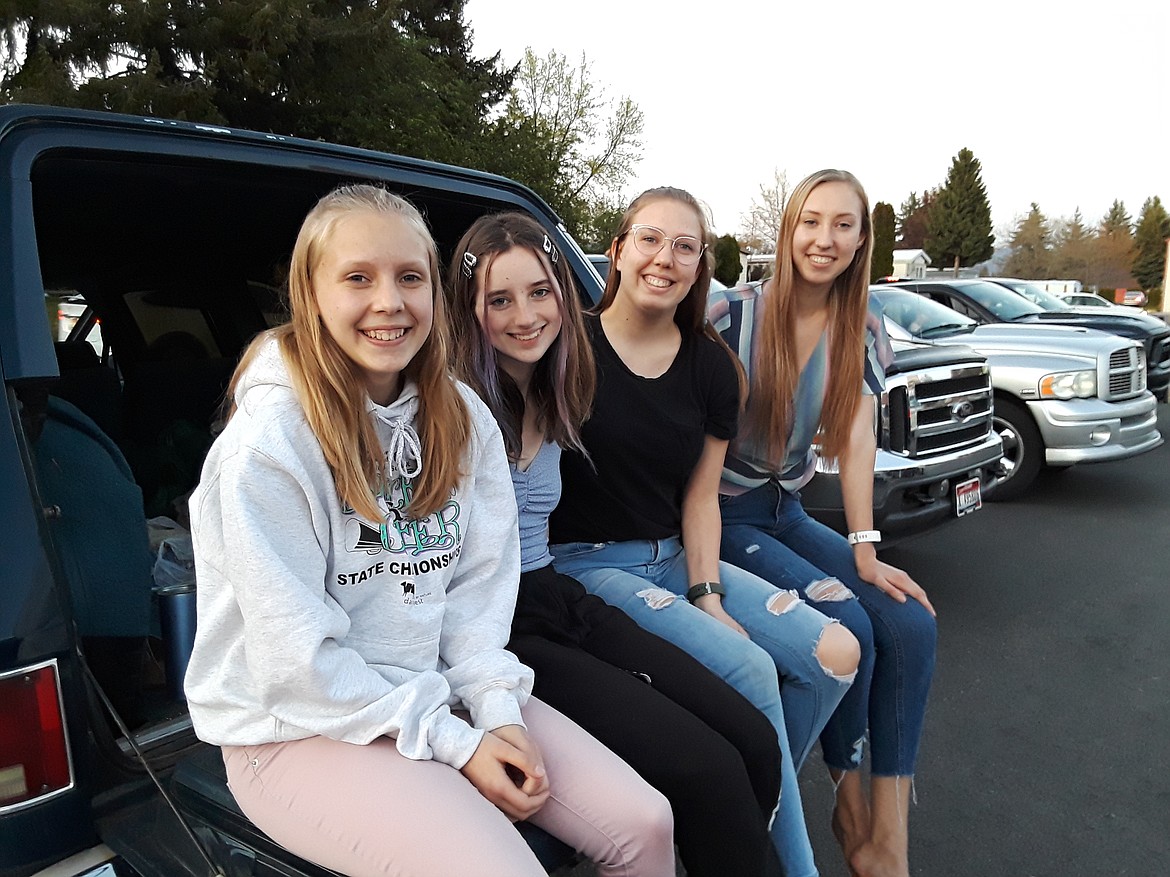 (From left) Noelle Thornton, 15, Kylie Meshla, 17, Natalie Thornton, 16, and D'Anna Thornton, 19, wait Tuesday evening for Hayden Discount Cinema's outdoor screening of Grease. The COVID-19 pandemic forced the popular theater to temporarily close its indoor venues, steering manager Mike Lehosit to switch to a classic drive-in format. (CRAIG NORTHRUP/Press)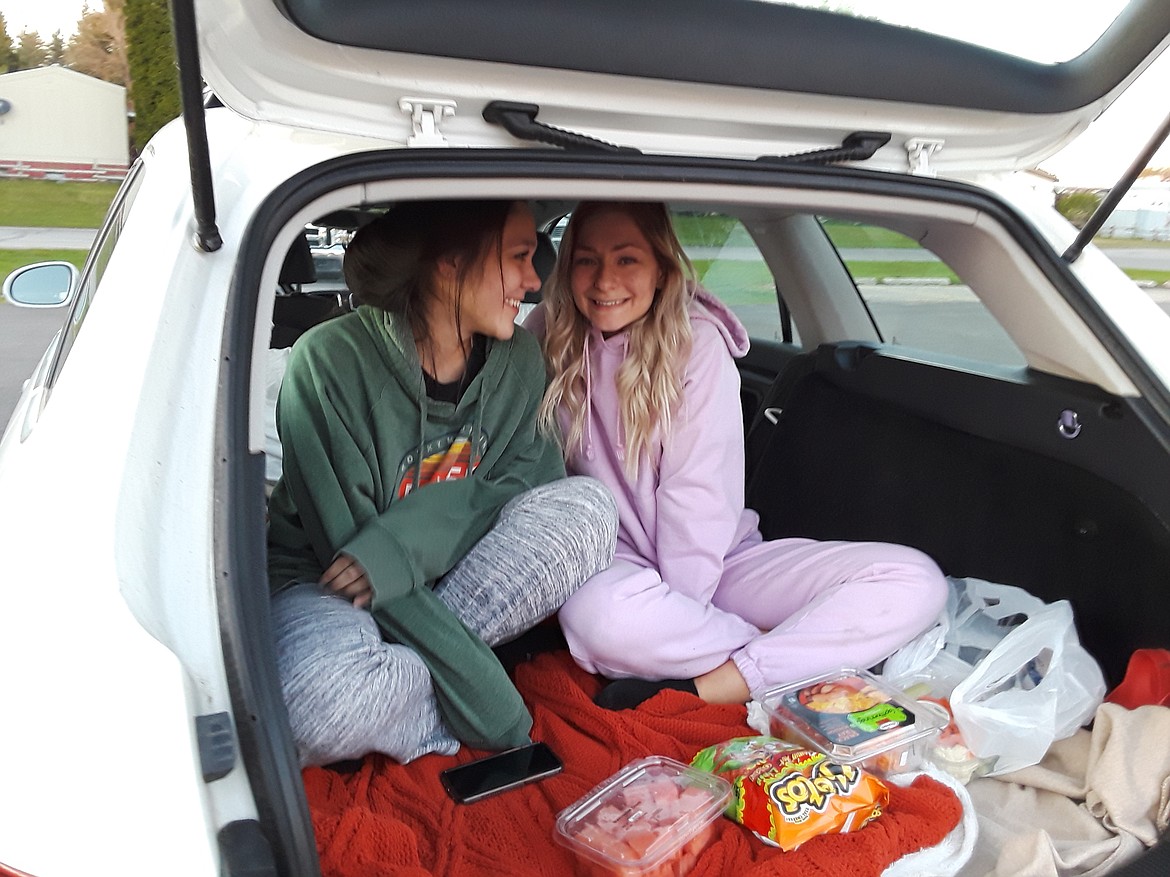 Skye Keough of Hayden (left) and Gabby Cowles off Post Falls decided the hatchback was the perfect way to enjoy the drive-in experience. (CRAIG NORTHRUP/Press)
Previous
Next
by
CRAIG NORTHRUP
Staff Writer
|
May 6, 2020 12:25 PM
Hayden Discount drive-in an early success
An attempt to marshal a local discount theater through the COVID-19 pandemic has evolved into a new feature that's become a hot ticket.
Hayden Discount Cinema had to shutter its indoor theaters after Gov. Brad Little issued a series of recommendations in line with the Centers for Disease Control's guidelines to limit exposure to the virus. At first, as the CDC restricted gatherings from 50 to 25 to 10, the $3 theater converted from an open theater to a for-rent screening, where only groups of up to 10 could rent out each movie screen.
But when Little issued his March 25 stay-home order, the popular local theater was forced to almost completely shut down...almost. The cinema sold drive-thru movie popcorn to try and make ends meet until the restrictions were either lifted or until a more prosperous solution was found.
That solution revealed itself to manager Mike Lehosit, who had a portion of the outside wall painted white, obtained FM equipment and began playing classic and popular films through his newest feature: a drive-in.
"At this point, we're doing only one movie [per night] so we can cut down on bathroom trips customers would have to make in between films," Lehosit said.
A week after The Press first reported on the new format, Lehosit said the public reaction has been phenomenal.
"We've sold out," he said of the 30 car stalls at his disposal. "We've been selling out every night. I save a few spots, just in case there's a rainout; that way, it gives us a little flexibility. But yeah, it's been great."
This week's nightly screenings of the John Travolta classic Grease sold out in under an hour, catapulting the theater forward to the point that hundreds of Facebook followers have posted and shared their support for the theater.
"Went Friday night," one follower posted. "It was so much fun! Thanks for doing this!"
"Got my ticket," another boasted. "Can't wait!"
"What I found interesting," Lehosit said with a smile, "is how some people don't really know their cars. We've had a few times where people have pulled up but couldn't turn off their lights. With one guy, we had to take some boxes and wrap them around his headlights, because he didn't know how to turn his lights off. But we made it work, and everybody had a great time."
The longtime theater manager added that his first two films — Grease and, before that, Raiders of the Lost Ark — follow a formula specific to the classic drive-in experience.
"You want to pick a movie that a fifth-grader or [older] would enjoy," he said. "If the child is any younger, he's just going to fall asleep anyway. So you want to get something that everyone can follow and enjoy...Which is why we're looking at movies down the road like the first Harry Potter, or maybe Ferris Bueller's Day Off, something everyone can gather around and celebrate."
To make the process contactless, Lehosit added a link to the theater's website specifically for the drive-in, drivein.hdcmovies.com. There, patrons can buy both tickets and concessions...provided they're quick enough.
"Tickets go faster than you can blink," one follower lamented.
"It's like the lottery," another observed.
Lehosit said he holds a few tickets in case of rainouts, so interested moviegoers should keep checking the website up to sunset showtimes, in case a few tickets open up. Within an hour Tuesday, the first two weekend showings already sold out.
"We just want to keep showing movies people will enjoy," Lehosit said. "If we do that, people will come."
Lehosit is continuing that trend, starting this coming weekend. After Grease ends its run, he's switching to another time-honored hit: the 1985 classic The Goonies.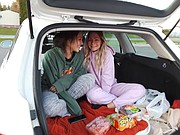 Recent Headlines
---