Governor: So far, so good, but keep an eye on autumn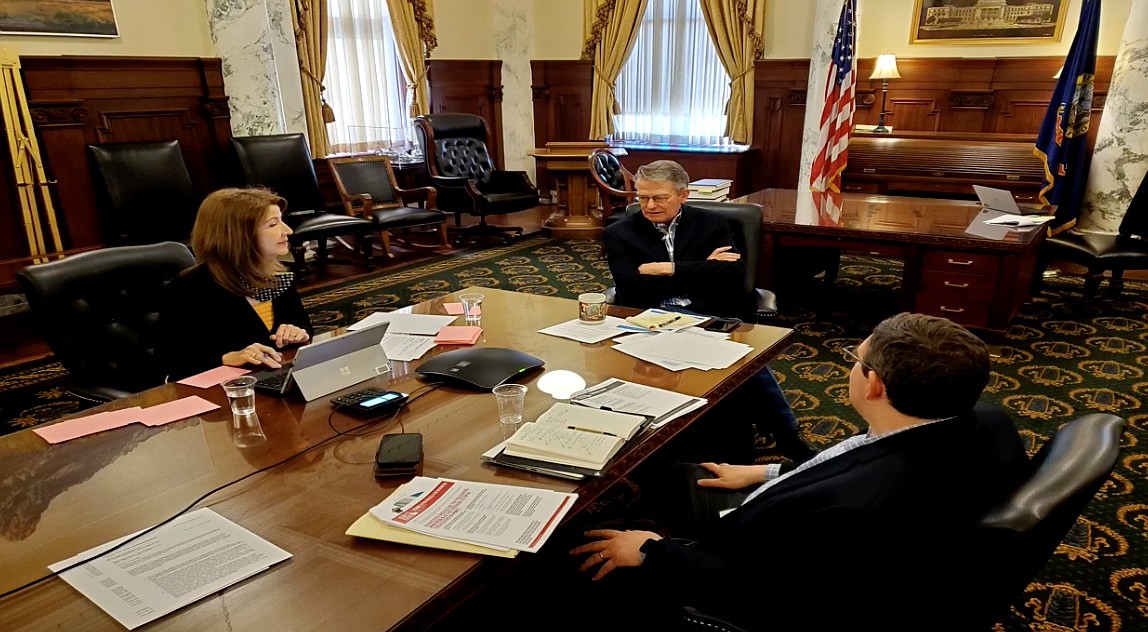 Gov. Brad Little (center), alongside AARP Idaho director Lupe Wissel (left) and Idaho Department of Health and Welfare director Dave Jeppesen during a Tuesday town hall conference call. During the question-and-answer session, Little said the possibility of a second coronavirus wave is a constant concern of his. (Image courtesy of AARP)
by
CRAIG NORTHRUP
Staff Writer
|
May 6, 2020 1:14 AM
Even as Gov. Brad Little's four-stage re-opening program proceeds positively, he still has time to look ahead, to plan — and to worry.
During a weekly press conference Tuesday, Little said a rise in COVID-19 cases isn't the only way the disease could overwhelm Idaho's health care capabilities.
"This acts different than other viruses," the governor explained. "We all know the common cold, the flu, what flu season is and how that acts. One of the issues is, even if we continue to have good luck with social distancing and keeping the spread of the coronavirus from getting too big, in the fall, we have our normal flu. That takes the same hospital capacity … and also creates complications for us in a lot of other ways."
After Idaho joined 30 other states in either re-opening or planning to re-open in stages by May 11, the Institute for Health Metrics and Evaluation — a public health data mining arm of the University of Washington — nearly doubled its predictions from just over 68,000 COVID-19 deaths nationwide to nearly 135,000.
The new projections forecast Idaho's death toll at 83 by Aug. 1, though it established a window of between 74 and 115 deaths in that same timeframe.
To date, 65 have died since the disease first spread in southern Idaho in late March. The model shows an estimated uptick in infections despite continued social distancing, a trend IHME staff attribute to the state easing restrictions.
While Little didn't dismiss the IHME findings, he did qualify attributes of the model — and every other model, for that matter.
"If we know one thing about every model [it] is, they'll be wrong," he quipped. "But you still have to do your planning. For a while, [the] IHME model showed us with a much higher mortality rate, a much higher incident rate, but they were running that model as though the schools were open."
While all public Idaho school districts have individually chosen to close their campuses, Little said he fears a push against the state's health care capacity once schools re-open, presumably in the fall.
"If we happen to have, heaven forbid, a bad flu year, even if we're getting along pretty well with the coronavirus, it's going to create a problem. So yes, we are doing contingency planning …" he said. "Those of us grandparents well know: When our children or grandchildren start going to school, all of the sudden, we show up with bugs that we didn't think were around anymore. So we have to look at the seasonal flu, plus what's going to take place in the schools."
Dave Jeppesen, director of Idaho's Department of Health and Welfare, added that it's critical to expand the state's testing and tracing capacity before school bells ring again.
"We want to be in a place where if we see some increased spread in the fall, that we would know about it quickly, and we could much more quickly identify who has been in contact with those testing positive, so we could isolate those individuals," Jeppesen said. "So we want to be able to be a little more surgical in reaching out to know who needs to be isolated because of exposure."
Ultimately, Little said he's pleased with the state's willingness to hunker down during his stay-home order, adding that it's up to each Idahoan to continue the fight against COVID-19.
"The bottom line is, our success in Idaho is going to be dependent on the people following that good hygiene, that good social distancing, as we open up, whether it be our religious institutions that opened up last week, or hopefully our salons and restaurants are going to open up," he said. "How they practice their business and how their customers practice will be a determinate in how successful it is."
Stage two of Little's re-opening plan — which, if implemented, allows restaurant dining rooms, salons, gyms and recreational facilities to open — is scheduled to begin May 16.
Recent Headlines
---