Food banks all right for now, bracing for wave of need to come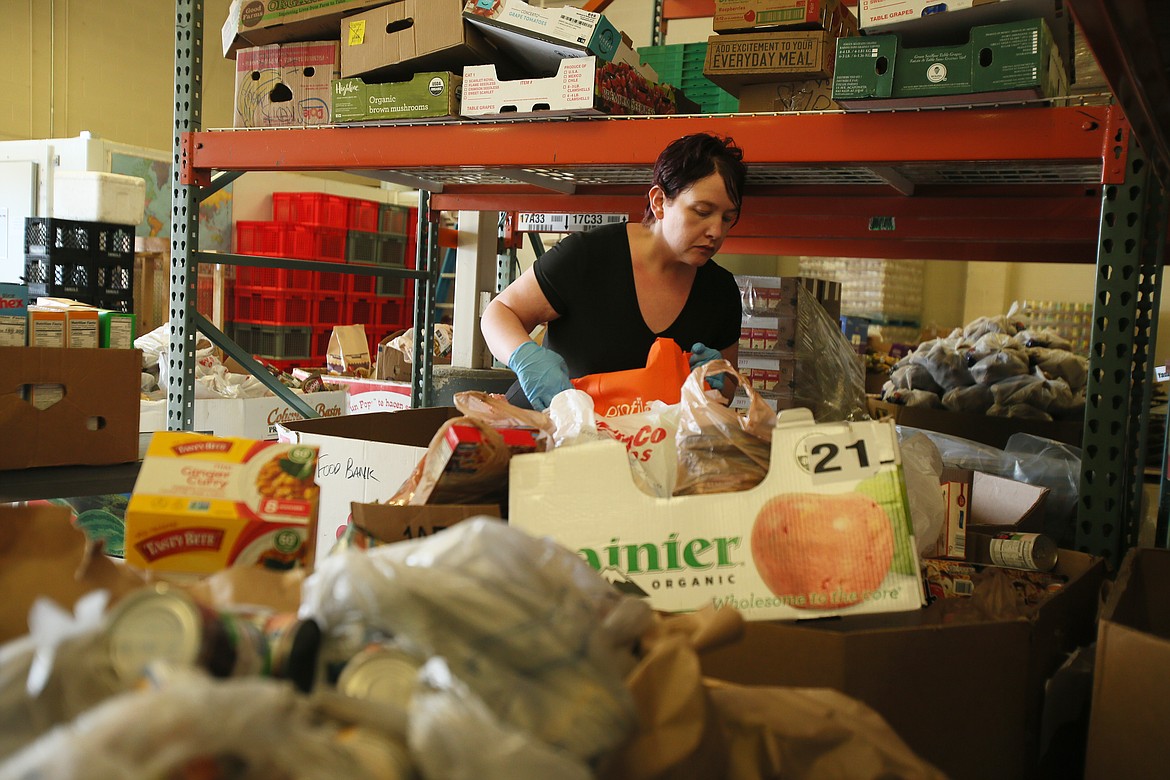 Community Action Partnership Coeur d'Alene Food Bank warehouse worker Katrina Mayer sorts through donations as she makes a food box for a client on Monday. The food banks are in need of food donations as they brace for a coming wave of need.
DEVIN WEEKS/Press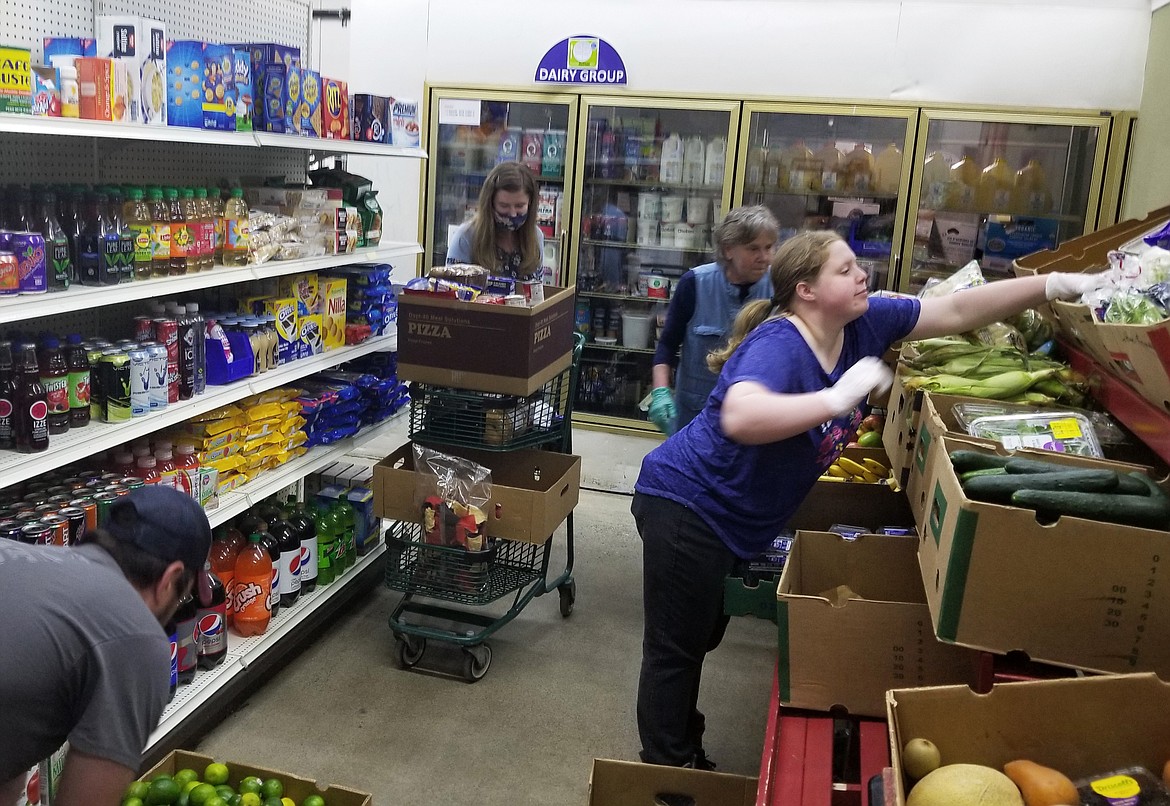 Post Falls Food Bank volunteer Rebecca Cook on Monday reaches for produce items to fill a guest's basket. The Post Falls Third Street Market is expected to open again for shoppers May 18. (Courtesy photo)
Previous
Next
by
DEVIN WEEKS
Staff Writer
|
May 6, 2020 1:00 AM
Food banks OK for now, but bracing for big wave
Christmas came early for the Coeur d'Alene Food Bank, thanks to the Coeur d'Alene Fire Department and the "Christmas in Quarantine" food drive that concluded Monday.
Community Action Partnership Coeur d'Alene Food Bank received $4,000 and more than 7,000 pounds of food donated by generous community members.
"It's really good, that will really help," food bank manager Darrell Rickard said. "Coeur d'Alene Fire Department — a big thank you to those guys."
Rickard reported the food bank is doing all right for now, but could use dry donations to help fill shelves.
"Dry non-perishables — beans, tuna, macaroni and cheese, any type of side dishes or sandwich-making stuff that's not perishable," he said.
However, Rickard said he thinks this may be the calm before the storm.
"I'm actually feeling that we're going to get hit really hard here pretty soon," he said. "People got stimulus checks, they're getting unemployment, but unemployment, I understand, is going to be running out for people, and I got a feeling that we might at least see an explosion before it dies down again."
He said he's spoken to other Community Action food banks in the region and they're all sensing the same.
"None of them are getting hit like they anticipated they may be," Rickard said. "We're all saying it could happen at any time."
When that wave of need happens, he said, "We are going to be prepared."
"We are filling our shelves," he said.
Rickard said he doesn't feel like enough people know the food bank is a resource for everyone and anyone who is experiencing a food need.
"The word I want to get out is, these people who could just be having a hard time, all of a sudden for the first time ever, for just a couple months, we're here. We can give them some food and they can spend their money on gas and other things," he said. "We would not let anybody go away hungry."
At the Post Falls Food Bank, the Third Avenue Market is experiencing a decrease in donations as well as a big decline in grocery rescue items, as so many people have flocked to stock up at supermarkets.
But the need has remained steady; Post Falls is serving about 120 individuals a day.
"Food is down, but we expected that," said executive director Leslie Orth. "Our shopper numbers are not crazy, but we think that's because everybody's received stimulus money."
Orth said normally, her food bank spends $5,000 on food purchases in a year. But with the lack of grocery rescue, which provides 75 percent of the Post Falls Food Bank's inventory, "this year we'll probably triple or quadruple our grocery spending," Orth said.
She said officials at Head Start, a school-readiness program, have been referring families to the Post Falls Food Bank, "and a lot of them have not used us before, so this is a good opportunity to show them what we can offer to them."
Orth said rather than have clients come into the building, the market has been conducting curbside service as volunteers have been acting as personal shoppers and fulfilling items on the customers' lists while they wait in the car. The market is expected to open to clients again May 18, as long as no new orders come down from the governor's office.
"We're going to open the market for shoppers to come in," Orth said. "That's exciting. One step closer to normal."
The Post Falls Food Bank is in need of food donations, such as canned goods and other non-perishable items.
The three-day, 25-church Kootenai United Food Drive that took place at the Silver Lake Mall last week brought in a whopping 30,000 pounds of food, reported Pastor Chris Lauri of Anthem Church.
"We collected 522 boxes of food," Lauri said. "It was insane, it was a ton of food."
He said the food has been placed in a warehouse and categorized, to be distributed as needs grow. About 600 cardboard boxes were donated by the Kroc Center just to help with organization.
"It was pretty overwhelming for us to watch," Lauri said. "I've been in this area for a long time, and I don't think I've ever seen the local pastors work together so tight-knit."
This showing of generosity and willingness to work together will help the community get ahead of the need, Lauri said, and to prepare for when united efforts are again called upon.
"This is our hope, that this is just one of the many things we can do together as the needs arise," he said.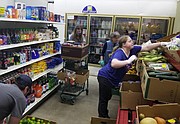 Recent Headlines
---