Sheriff's Blotter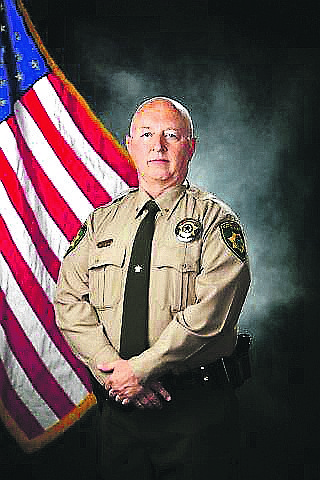 04-30-2020
• Deputies responded to the Worley area regarding a threatening. While on scene they learned the male has Alzheimer and no longer recognizes his wife. The male's sister responded to the residence to assist. Deputies also learned the male is known to leave the residence and go on walks by himself. Deputies provided the family contact information for Project Lifesaver. The male's information was also provided to the Backcountry Deputies for follow up regarding Project Lifesaver.
• Deputies responded to N. Pinion Park Rd regarding a male lying face down on the east side of Pinion Park. Upon the Deputies arrival, he contacted the male who was just taking a nap 20-15530
• Deputies responded to N Courcelles PKWY and assisted Misd. Probation with an agent warrant. 20-15550
• A Traffic Unit responded to Poleline X Cecil with the Drone and assisted ISP with aerial photos of an injury crash. 20-15587
• Deputies responded to a family dispute on Grayeagle Road. There have been multiple law enforcement responses to this residence in the last few months. Today 22 year old got angry with his juvenile siblings and during the resulting fight he grabbed his 12 year old brother by the neck and threw him down, then punched his 14 year old sister in the face. During a consent search of the trailer where the male stays Deputies located several items of paraphernalia. The male's probation officer was notified, and he issued an agent's warrant, on which he was arrested for. He was also charged with possession of drug para, injury to child and battery. 20-15620
• Deputies investigated a rollover crash on Ramsey Road south of Highway 54 where the driver, claimed to have looked down to change the radio and when he looked up there was a turkey in the roadway. He swerved to avoid the turkey, then over-corrected and rolled the vehicle, which hit two mailboxes and flipped back onto its tires. 20-15610
• A Deputy investigated a possible assault with a firearm on Lone Mountain Trail where a male stated that after dropping off his son at a friend's house, an unknown white male in a newer model silver truck stopped him, yelled racial slurs and said he did not want "his kind" in his neighborhood. The unknown male threatened to "put a bullet in his head" if he saw him around again and showed him a handgun tucked in his waistband. There are no workable leads at this point. 20-15616
• Deputies responded to an address on Courcelles after a juvenile male called to report that he wished to run away from home, battered his father, and broke items in his residence. In speaking with the family they advised that son had been acting out lately and were having issues controlling his outrageous behavior. They wished to pursue charges and requested he be arrested for battery and malicious injury to property. Deputies arrested the juvenile and transported him to JDC, where staff chose to call the parents who then came to get him. 20-15639
• A Deputy checked out with a suspicious unoccupied vehicle at Seltice Way and Carpet Drive. In checking the vehicle it had a return that showed the vehicle was previously reported stolen out of Post Falls. Follow up was done which showed a possible suspect of who has alerts for grand theft and prior convictions for possessing a stolen vehicle. He was not located. The vehicle was towed by Schaffer's Towing. 20-15654
05-01-2020
• Deputies responded to N Trails End Rd regarding a burglary and stolen trailer. Upon his arrival he learned an unknown person came onto the property and stole a homemade car trailer. The Trailer left marks along the road and was located off the road on Tails End Rd., After the Deputies' investigation he was able to identify two ILs. A report was completed and forward to detectives. 20-15664
• Deputies responded to N Government Way regarding a suspicious male with a machete walking around. Deputies arrived on scene and contacted a male. The male had already secured the machete in his vehicle prior to law enforcement's arrival. There was no crime but the male was trespassed from the property. 20-15703
• Deputies responded to Hidden Valley Rd and Highway 53 about 1000 yards on IDL land regarding an abandoned vehicle. Upon their arrival they ran the VIN and it returned stolen out of Post Falls. The vehicle was stuck on a single track motorcycle trail so Deputies were making arrangements to have the vehicle removed. 20-15735
• While on scene of the located stolen vehicle off of Hidden Valley Road Deputies observed an ATV rollover crash involving two females. Medical completed a patient evaluation, but injuries were fairly minor. 20-15749
• Deputies responded to the Cougar Bay Reserve Trail after someone reported seeing a baby blanket hanging on a post at the trailhead, a baby sock at the board where the trail rules were posted and about a half mile in a polaroid that appeared to show a baby wrapped in a blanket. There was also a vehicle belonging to a teenage girl on scene with a motivational note about getting through hard times posted on the dash. Deputies hiked in to the location of the photograph and determined that it looked nothing like a picture of a baby, and more like a blurred picture taken by mistake. They checked the area anyway. The RO of the vehicle in the parking lot was in CdA and checked on by Deputies. She was depressed, but with her uncle and did not have any children. 20-15774
• Deputies responded to the Casino for a possible alcohol or drug overdose. The female was transported by ambulance and no crime reported.
• Deputies responded to the Cataldo Mission area for a suicide threat. Pinehurst PD advised that the occupants of a vehicle they were out with said their friend was en route to the Mission area with a handgun threatening suicide. They were UTL in the area and an attempt to utilize the male's cell phone for a location was unsuccessful. After extensive patrols in the area, an ATL was aired. 20-15780
• A Deputy stopped a vehicle in Hauser and after finding marijuana and open alcohol containers in the vehicle, a variety of citations were issued to driver and passengers, including Frequenting, Mara/Para, Open Container and DWP. 20-15760
• A Deputy was parked at an emergency turn around on I90 at Greensferry when he observed a female walking eastbound with the flow of traffic. The female was not wearing shoes and was an unreported runaway out of Newman Lake, Washington. She was detained and her mother responded and took custody of her. 20-15787
• Deputies responded to Lou's Smoke Shop reference a male that was lying on the ground in the parking lot making suicidal statements. The male told deputies that the voices in his head were telling him to kill himself. He admitted recent meth use and claimed to have walked thousands of miles and said his feet hurt. After being cleared by medical on scene he was offered a ride to the crisis center, but then said that if he wasn't able to stop the people coming after him he would slit his own throat. He was placed on a protective custody hold and taken to KH. 20-15770
• Deputies responded to a reported DUI vehicle that pulled into the parking lot of Walgreens in Hayden. A female had clearly hit something recently due to obviously fresh front end damage to the vehicle. She had driven off the road on Highway 95 and ISP found the crash site on 95 near Canfield for us later. The female showed signs of intoxication and as a result of the investigation was arrested for DUI Drugs and Injury to Child, since her 10 year old daughter was in the vehicle with her, and cited for leaving the scene of a crash and possession of prescription drugs without a prescription. CdA PD assisted with the DRE Investigation, as prescription meds were located in the vehicle. 20-15781
• A Deputy stopped and cited a male driver for DUI (.177/.179). 20-15793
• Deputies responded to W Honeysuckle Ave for a report of a male knocking on the door then leaving. The suspect was seen in a sliver Toyota passenger car driving up and down the street revving the engine for a period of time. Units were unable to locate anything matching that description in the area. 20-15809
• Deputies took a call of a hit and run crash on FSR 209. It was originally reported to Shoshone County, who took all of the information and requested we complete the report when they learned it was in Kootenai County. It was unknown who the suspect was, but they reportedly were staying in a campsite somewhere in the area. 20-15811
• Deputies responded to KH for the report of an accidental shooting. it was determined that the victim only suffered superficial injuries after he put a 12 gauge shotgun shell in a flare gun, then discharged it. The patient stated he believed the shell would work because "it fit", and didn't realize the barrel would not be able to withstand the pressure of the 12 gauge shotgun round. The flare gun blew up in his hand and he was struck by shrapnel from the exploded gun. 20-15812
Notable calls of the day!
05-02-2020
• Deputies responded to a juvenile problem on W. Cougar Gulch between step dad and son. Deputies completed a report. 20-15860
• Deputies handled a theft of 8 campaign signs in the area of MP 79 on Highway 97. At this time there are no suspects and a report was completed. 20-15825
• Deputies responded to E. Burma Rd. regarding a cardiac issue CPR in progress. Prior to their arrival medical was able to get circulation. Male was transported by life flight. 20-15851
• Deputies responded to E. Painters Lp. for a Verbal Domestic Dispute. Argument was over a CPS case. It was an argument, not physical between a male and female. An FI was completed. 20-15863
• Deputies responded to W. Hayden Ave. for a reported DUI. The reporting party called in and advised a male was intoxicated and had been driving a backhoe on the property and is now passed out inside the backhoe. When Deputies arrived, they made contact with the male. They could not charge DUI due to him being on private property. It turns out to be more of a civil issue between the property owner and the tenants. 20-15878
• A Backcountry Deputy took a lost property report from FSR 437 and FSR 1526. 20-15879
• Recreation Safety and Backcountry Deputies responded to Montana to assist Mineral County with a search for a missing elderly male. This search is still ongoing.
• Deputies responded to the casino for a physical fight. Upon arrival, it was learned a highly intoxicated female, thought someone next to her in the parking lot was "talking smack" so she attacked another female. The female was cited and released for battery and trespassed from the casino. 20-15890
• Deputies responded to W. Highland Dr. for an unattended death. An elderly male who had a history of cancer passed away. 20-15884
• Deputies responded to S. Evans Creek Rd. for an unattended death. An elderly male was found deceased at his home. Nothing suspicious was noted. 20-15893
• While on scene of the fight call at the casino, a male called in and advised he was suicidal and was going to take pills. The male was located and admitted to taking 30 sleeping pills. He was a tribal member so TPD handled. 20-15896
• Deputies responded to the Hauser Smoke Shop for a welfare check on a 9-1-1 hang-up and a suspicious vehicle was located in the parking lot. A female was who had obvious recent injuries, including black eyes. She was at first not forthcoming with information but a male had been seen leaving the area of the vehicle. Based on previous contacts, deputies were able to determine the male that was seen leaving the area was her boyfriend. Eventually the female confirmed that she had been battered by her boyfriend, but extensive searching for him in the area was unsuccessful. The battery occurred in Spokane and deputies confirmed it had been reported there. 20-15904
• Deputies responded to the area of Prairie and Howell for the report of a non-injury crash. It was reported that three juveniles where in the vehicle, all highly intoxicated. Upon the deputies' arrival they found a juvenile male in the driver's seat. He initially claimed to not be driving, however, through the investigation it was learned he actually was. After failing FSFT's he was arrested for DUI drugs, and a DRE Evaluation was completed at JDC. While retrieving his property from the vehicle, Deputies found marijuana, a baggy full of Xanax, and methamphetamine. He was charged with and booked on DUI, possession of a prescription drug, possession of methamphetamine, possession of marijuana, resisting obstructing, and possession of paraphernalia. The others on scene were released to their parents without any charges. The owners of the fence were contacted and responded to the scene to secure it. 20-15935
Recent Headlines
---