Recognizing murdered and missing indigenous people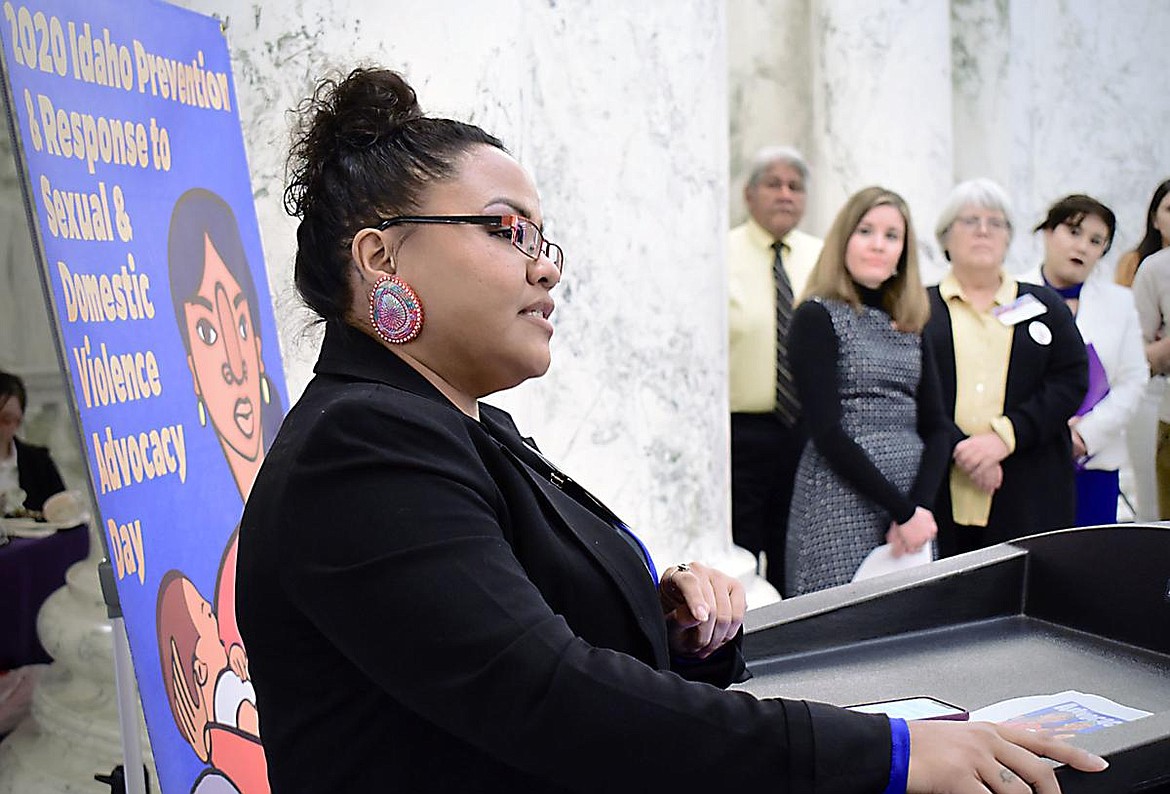 Tai Simpson, a social change associate for the Idaho Coalition Against Sexual and Domestic Violence and a member of the Nez Perce tribe, spoke at Idaho's first summit in December to address the statewide and nationwide issue of missing and murdered indigenous people.
Photo Courtesy of Tai Simpson
by
JENNIFER PASSARO
Staff Writer
|
May 5, 2020 1:12 AM
Online webinar will be held from noon to 1:30 p.m. today
In culmination of grassroots advocacy from native communities in Idaho, the state, in alignment with a similar federal initiative, has recognized today as a day of awareness for missing and murdered indigenous people.
Tai Simpson, a social change associate for the Idaho Coalition Against Sexual and Domestic Violence and a member of the Nez Perce tribe, spoke at Idaho's first summit in December to address the statewide and nationwide issue of missing and murdered indigenous people.
Simpson always begins a speech by acknowledging that this crisis is not new, it is directly connected to historical colonialism and cultural genocide.
"The land was violently taken from our people, but our bodies also became violently taken from us as well," Simpson said. "Land sovereignty and body sovereignty are the same. Indigenous women are the pillar of our creation stories."
When women are taken from their communities, Simpson said the community is destabilized as a whole.
According to the Urban Indian Health Institute, in 2016, the National Crime Information Center recorded 5,712 reports of missing American Indian and Alaska Native women and girls. Only 116 reports, however, were logged into the United States Department of Justice database.
Murder is the third-leading cause of death for American Indian and Alaska Native women and girls, according to the Centers for Disease Control and Prevention.
Rep. Caroline Troy, R-Genesee, sponsored the resolution that passed the house unanimously creating the day of awareness, cited the difficulty of talking about the issue and the need to raise awareness about violence against native women and the marginalization of native people in the state.
"Native women experience domestic and sexual violence at a much higher rate than other populations," Tyrel Stevenson, legislative affairs director for the Coeur d'Alene Tribe said. "We see direct links between that and human trafficking. The resolution is calling for continued efforts for the state, tribes, local law enforcement, domestic violence prevention advocates, and others."
While today's in-person events were canceled due to COVID-19 precautions, the National Indigenous Women's Resource Center will host an online webinar from noon to 1:30 p.m. honoring missing and murdered indigenous women.
The Idaho Coalition Against Sexual and Domestic Violence is also hosting a two-part book club in late May, reading "The Beginning and End of Rape: Confronting Sexual Violence in Native America" by Sarah Deer. Simpson states that Deer provides a historical overview of rape and sex trafficking in North America, paying particular attention to the gendered legacy of colonialism in tribal nations. Deer articulates strategies for Native communities and tribal nations seeking redress and describes how 21st century tribal self-determination efforts can be leveraged to eradicate violence against women.
Native communities throughout the nation will host vigils today, through prayer and smudging sage, in addition to saying the names of missing or murdered women in their communities, according to Simpson.
"I am so proud of who I am as an indigenous woman," Simpson said. "I hope that you understand the importance of surviving the racism. We still survive, we still are very strong. I am so thankful that this is who I get to be a part of."
Wearing red in recognition of missing and murdered indigenous people on May 5 can bring physical awareness, urged Simpson. She also suggested donating to Idaho Gives, whose proceeds are distributed to Indigenous Idaho Alliance supporting MMIW work in Idaho at: https://www.idahogives.org/organizations/idaho-coalition-against-sexual-domestic-violence
The NIWRC webinar can be found online at https://register.gotowebinar.com/register/1719522242742313485.
Contact tai@engagingvoices.org to sign up for the book club.
Recent Headlines
---