Humane society gets on the bus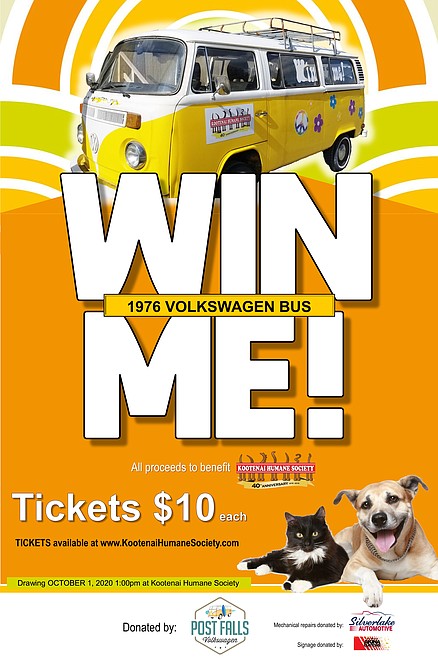 by
JENNIFER PASSARO
Staff Writer
|
May 5, 2020 1:00 AM
1976 Volkswagen to be raffled to care for animals
While the Kootenai Humane Society has had to forgo nearly all of its fundraisers and shutter its thrift store, it does have a purring, 1976 Volkswagen bus up for raffle.
Vicky Nelson, development director at Kootenai Humane Society, said the enthusiasm for the bus surprised her.
Donated by Jonah Nampson at Post Falls Volkswagen, the yellow beauty comes with all repaired or replaced parts, courtesy of Will Sando and his team of experts at Silverlake Automotive.
Akina Customs supplied the signage and retro decals, which come with the van, but are removable.
The drawing will be held at the Kootenai Humane Society on Oct. 1 at 1 p.m.
Money raised from the raffle will be used to care for the animals at the shelter. Nelson said the biggest expense is medical.
Of the 103 animals in the shelter's care, over half are currently with foster families. Approximately 25 of those being housed at the shelter are available for adoption.
While the shelter is closed to walk-in customers, people can still adopt by appointment. Nelson recommends looking online to view the animal profiles before making an appointment.
"Jonah came to us last fall and said 'I've got a vehicle I want to donate to you,'" Nelson said.
She said that happens pretty regularly and thought to herself, we'll just sell it. As soon as she saw the sun yellow bus, though, she knew it had a different kind of potential. She decided to store it for the winter and raffle it this summer, not knowing how badly the shelter would need the funding as the coronavirus pandemic put a halt to its revenue stream.
"It's in the parking lot right now," Nelson said. "People are welcome to come look at it."
It can't be test driven, or even sat in, but Nelson assures everyone that it runs great. Sporting two bench seats and two bucket seats, the van steps back into a different era.
Since announcing the raffle on Friday afternoon, the humane society has already sold $600 in tickets.
Tickets are $10. Information: kootenaihumanesociety.com
Recent Headlines
---