Greensferry Elementary holds 'reverse parade,' homework exchange in decked-out bus loop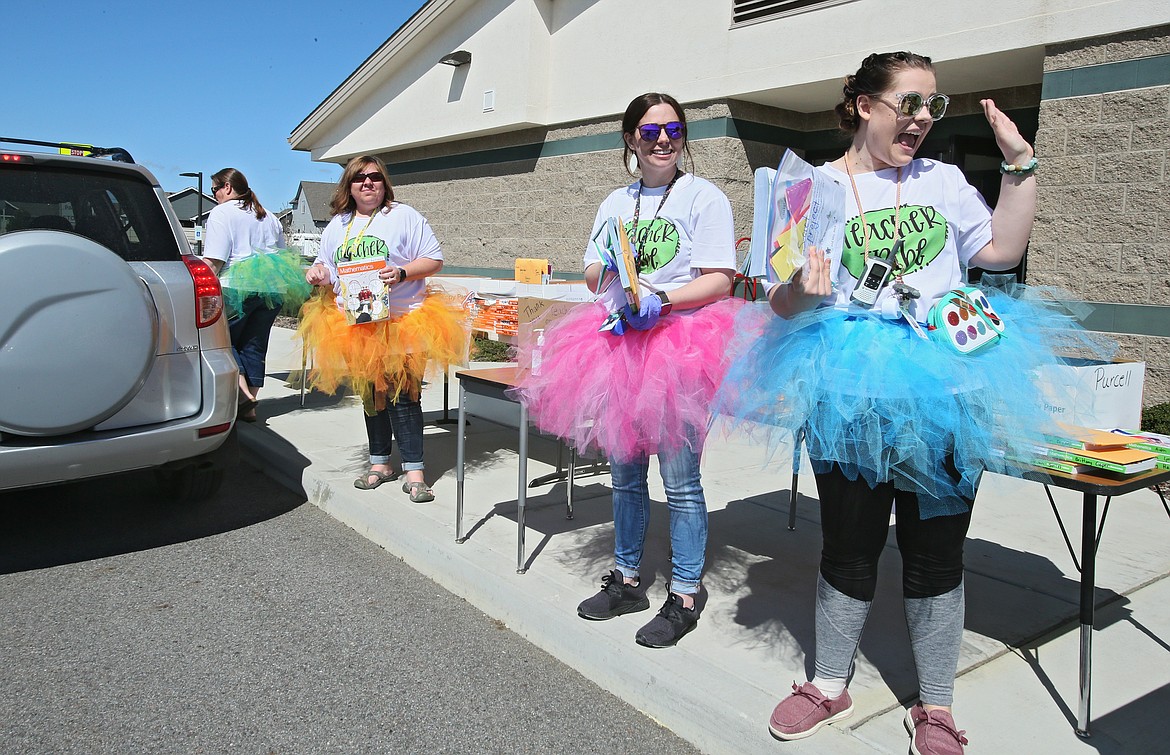 The Greensferry Elementary second grade tutu crew excitedly greets students and parents in their cars during a "reverse parade" and work packet exchange at the school Monday. From left: Janet Trail, Julie Beck, Tori Cozad and Alla Burlakov.
Photos by DEVIN WEEKS/Press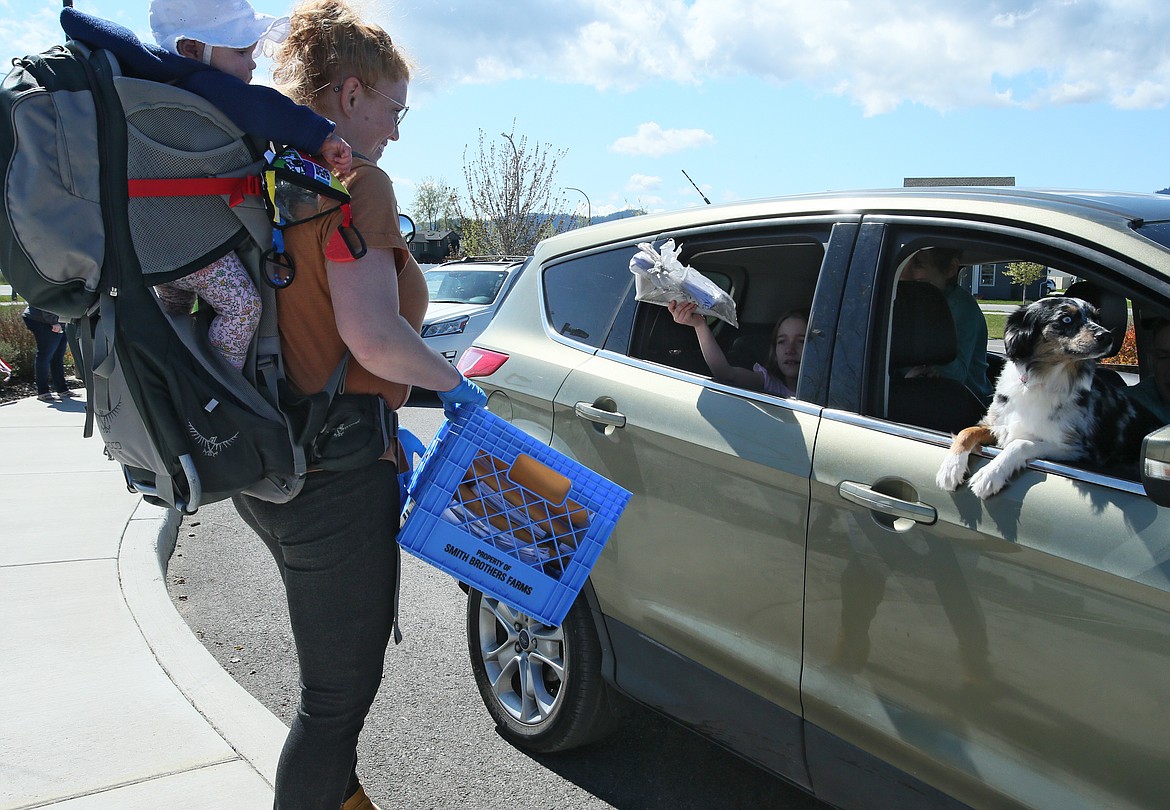 Greensferry Elementary School first grade teacher Anna Hixson, with infant daughter Margo in tow, accepts Lois Chesley's work packet for April during a "reverse parade" and packet exchange at the school Monday. Mini-Australian shepherd Shellbee enjoyed riding shotgun.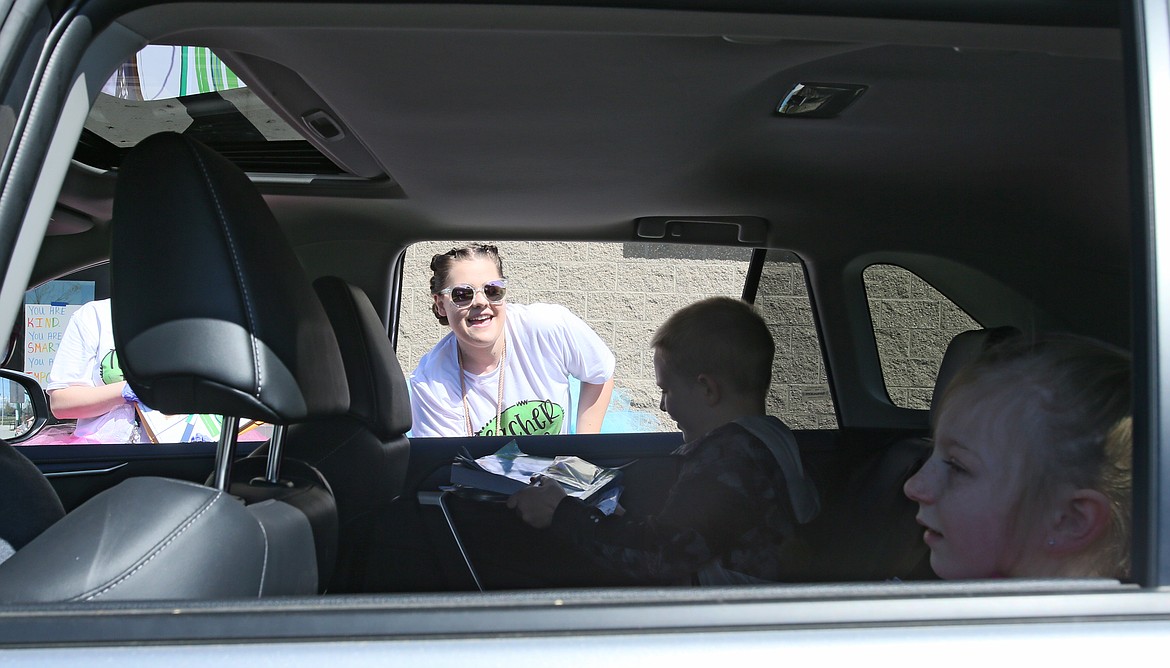 Second grade teacher Alla Burlakov exchanges smiles with her student Oliver Scott and his little sis Emelia as they trade completed work packets for new ones at Greensferry Elementary in Post Falls on Monday. (DEVIN WEEKS/Press)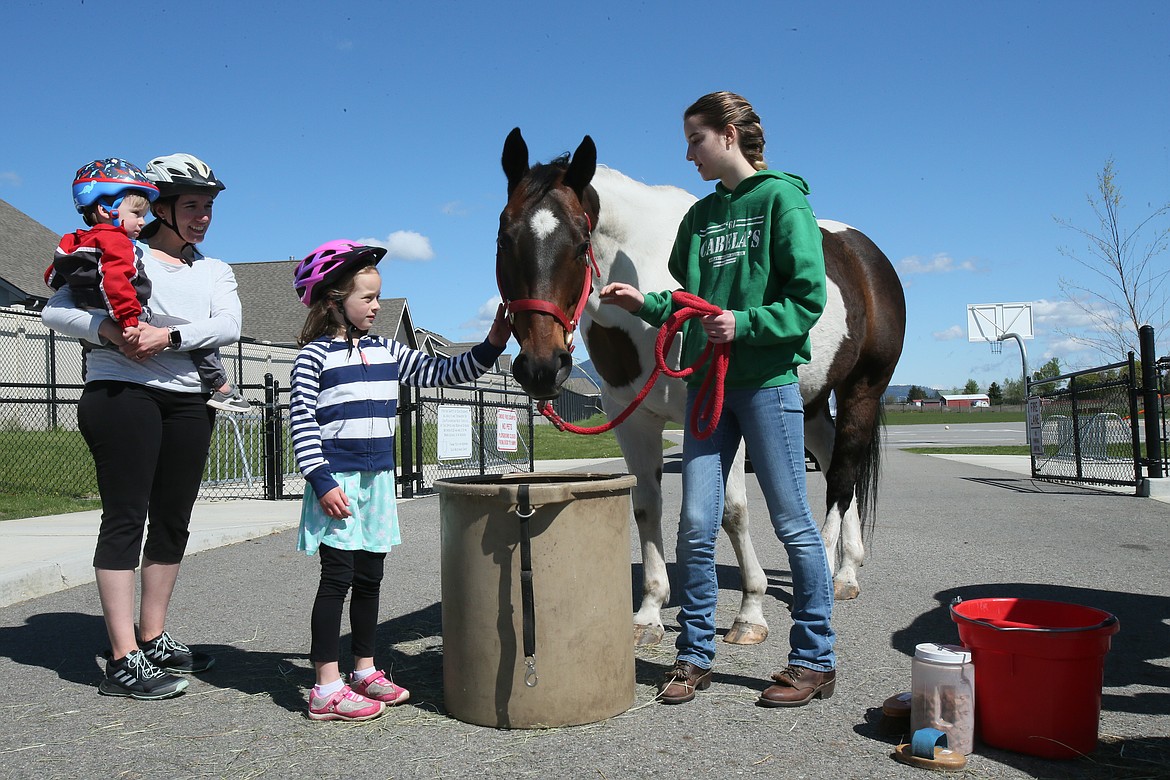 Greensferry Elementary volunteer Sterling Coy and Bird the horse make friends with first-grader Ellie Munson, who rode her bike to the school with mom Betsy and little bro Levi, 2, during a work packet exchange and "reverse parade" on Monday.
Previous
Next
by
DEVIN WEEKS
Staff Writer
|
May 5, 2020 1:11 AM
Greensferry Elementary holds 'reverse parade,' homework exchange in decked-out bus loop
POST FALLS — Everyone might be chomping at the bit for life to return to normal, but the Greensferry Elementary Mustangs are having fun while holding their horses.
Teachers and staff members fancied up the bus loop with colorful costumes and banners as well as a special appearance by Principal Kathy Baker's horses during a "reverse parade" and schoolwork packet exchange on Monday.
Rather than teachers driving and waving from their cars, parents and students drove into the bus loop and stopped at each station as teachers boogied and waved from the sidewalk.
The upbeat music from the school's sound system made for quite the packet pickup party.
"That's so amazing!" student Keaton Chesley yelled out the window, excited to see the wacky waving inflatable arm flailing tube men on the lawn.
"We're so happy to see our school," said his mom, Michele Tran. "Every time they get to see their teachers, their friends and their classmates, they are so happy. But their teachers here, they're just so dedicated, they're so supportive, they call whenever we need them."
And, she said with a smile, the kids "were so excited to see the horses and those green blow-up guys."
The teachers reciprocated the feeling. As they collected completed homework packs and handed out new ones from a safe social distance, they visited with students, parents and siblings.
"Seeing my students, it makes everything worthwhile. It makes going the extra mile not hard at all," said second grade teacher Alla Burlakov. "This will get us through until everything becomes normal again."
"Seeing them in person is just really, really wonderful," said first grade teacher Anna Hixson, with her baby, Margo, in a pack on her back.
Baker said during the first few weeks of COVID-19 closures, Greensferry teachers worked double time to individualize communication with parents based on preferences and student needs. They've also had to brainstorm ways to engage students using not just tech but actual paper homework so the kids aren't always glued to a screen.
"They're having a lot of virtual class meetings to try to keep a sense of community and try to keep the kids connected," Baker said. "It's hard not hugging our kids, I'll tell you that. We just want everybody back, but we want to do it in a safe manner. There's nothing more that we want right now than to have all of our kids back."
Mom Betsy Munson, who biked to the school with first-grader Ellie and 2-year-old Levi, said it's great to see how invested these teachers are in their kids.
"You can tell how much they miss the kids and want them back in class," she said. "They're certainly doing their best effort to make this time as easy as it can be on the kids and families."
A second packet exchange will be held from noon to 2 p.m. today.
•••
This week is Teacher Appreciation Week, a time to give thanks to teachers everywhere. Since 1984, National PTA — a nonprofit that comprises families, students, teachers, administrators and community leaders devoted to the educational success of children and the promotion of family engagement in schools — has designated one week in May as a time to celebrate those who lend their talents to educating America's children.
Today is also National Teacher Day, first established by the National Education Association with help from Eleanor Roosevelt in 1953. It has been celebrated on the Tuesday of the first full week of May since 1985.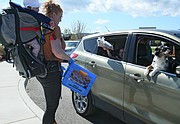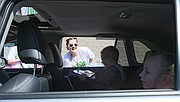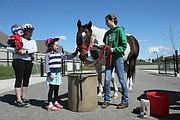 Recent Headlines
---