A toast to Sgt. Moore: Winemaker honors fallen officer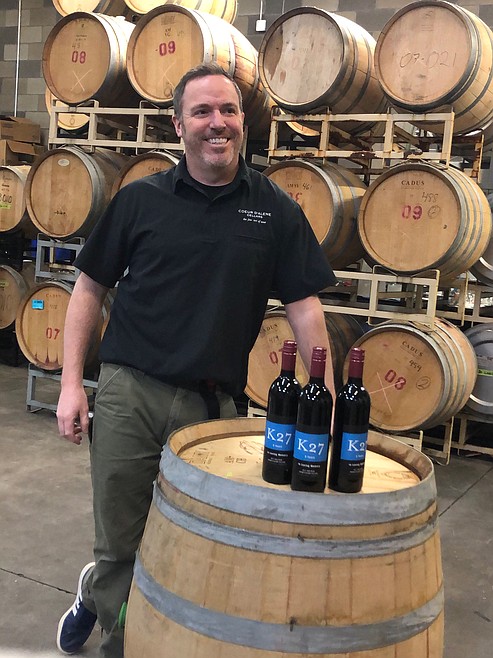 Devin Simons of Coeur d'Alene Cellars alongside three bottles of K27. He said the winery was proud to be part of the wine commemorating five years since the tragic passing of Sgt. Greg Moore.
Image courtesy of CDA Cellars
by
CRAIG NORTHRUP
Staff Writer
|
May 5, 2020 1:14 AM
Early May brings out a sliver of sadness in Kimber Gates.
"This time of year, even just being outside around the blooms and in the sunshine, it just kind of reminds you how things looked and smelled and felt back then," she said.
"Back then" was May 5, 2015, when Sgt. Greg Moore of the Coeur d'Alene Police Department was shot and killed while on patrol in the early morning hours.
The death of the decorated police officer rocked the community. Now, with today marking the five-year anniversary, Gates said she's proud of how a recent decision to commemorate Moore might relieve community angst during another trying time.
"I feel like our community is full of fear right now," Gates said. "There's been a lot of change, a lot of isolation, a lot of adjustment. I'm hoping this will give people a sense of connection."
Gates, president of the Coeur d'Alene Sunrise Rotary Club and owner of Coeur d'Alene Cellars, released a commemorative bottle of wine recognizing Moore's service and family. K27, a 2017 red wine, is now on sale, with a portion of the proceeds going to the Coeur d'Alene Police Foundation.
"I thought the family should determine what the proceeds should go toward," Gates said. "I didn't know if it should go to a scholarship fund for his son, or something like that, but they thought it should go to Greg's family on the force."
The wine — a cabernet sauvignon full-bodied red made with hand-harvested grapes from the Columbia Valley — sells for $24 at the winery's Sherman Avenue location, and online at cdacellars.com. Gates will donate $10 from every bottle sold at CDA Cellars.
Moore's son was still involved with the project, having submitted a quote to memorialize his slain father.
"Gone but not forgotten," the quote reads along the label.
"This is a really great project," said Devin Simons of Coeur d'Alene Cellars. "It's a great way to honor someone important to the community, and we're really proud to be a part of it."
The label also gives a brief synopsis of Moore's story and pays tribute to law enforcement officers. It also includes one of Sgt. Moore's favorite quotes.
"Head down," he used to say, "confidence up."
Recent Headlines
---