Retail shops welcome first customers after COVID-19 closures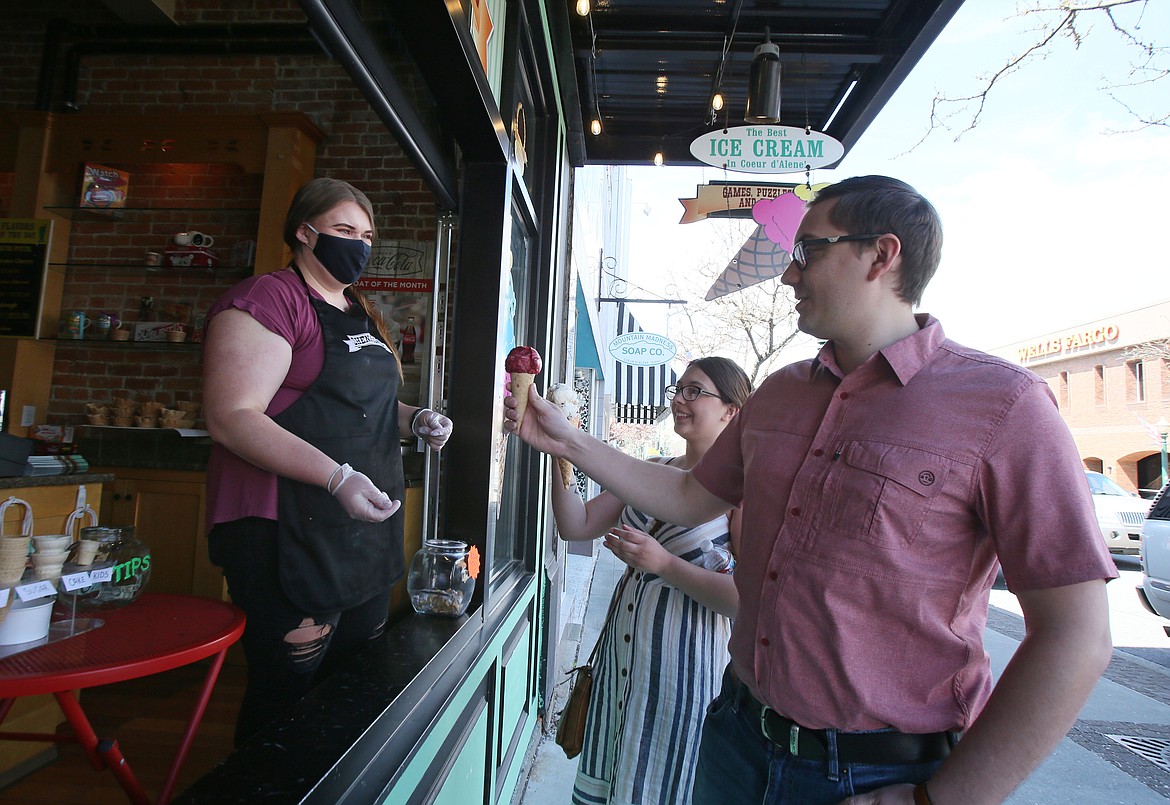 Destiny Hornbuckle and boyfriend Kurt Kelsen, who just moved to Coeur d'Alene a week ago, stopped by Shenanigans on Friday for a huckleberry sorbet and salted caramel pretzel ice cream cone served by Shenanigans employee Haley LeGault. Business owners and customers alike rejoiced to see stores opening after weeks of shutdowns.
DEVIN WEEKS/Press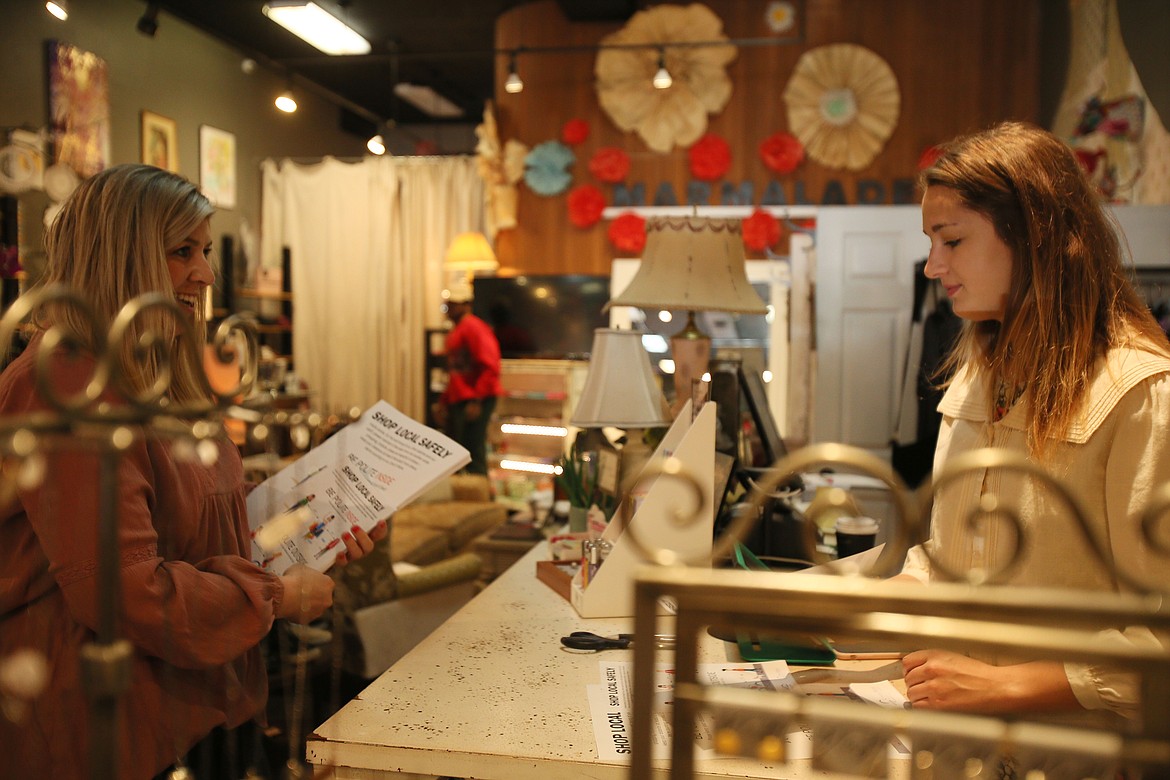 Coeur d'Alene Downtown Association events coordinator Emily Boyd drops off a "Shop Local Safely" poster for Marmalade Fresh Clothing buyer and social media specialist Kasey Widmyer to review on Friday, the first day of reopening the downtown. (DEVIN WEEKS/Press)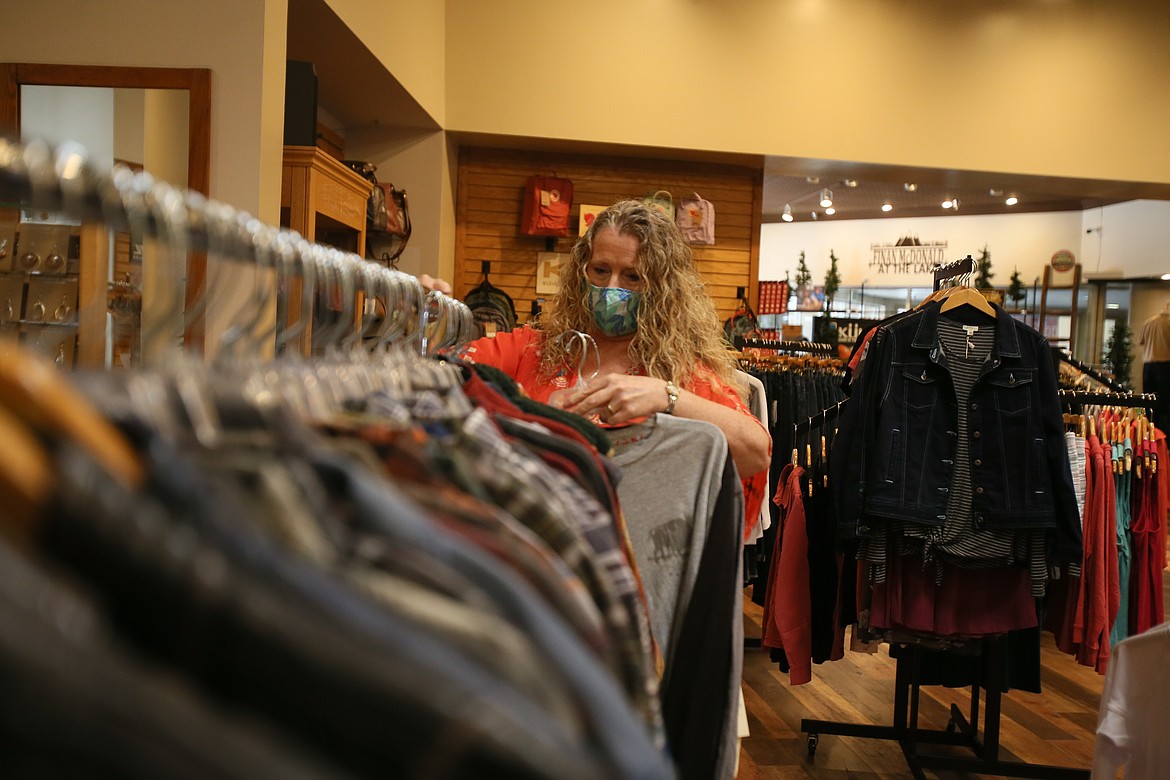 Finan McDonald at the Lake co-owner Twilla Ford hangs men's clothing on a rack Friday as stores throughout downtown welcome their first guests since pandemic closures. Finan McDonald has a variety of items on clearance right now, as well as new products to offer customers. (DEVIN WEEKS/Press)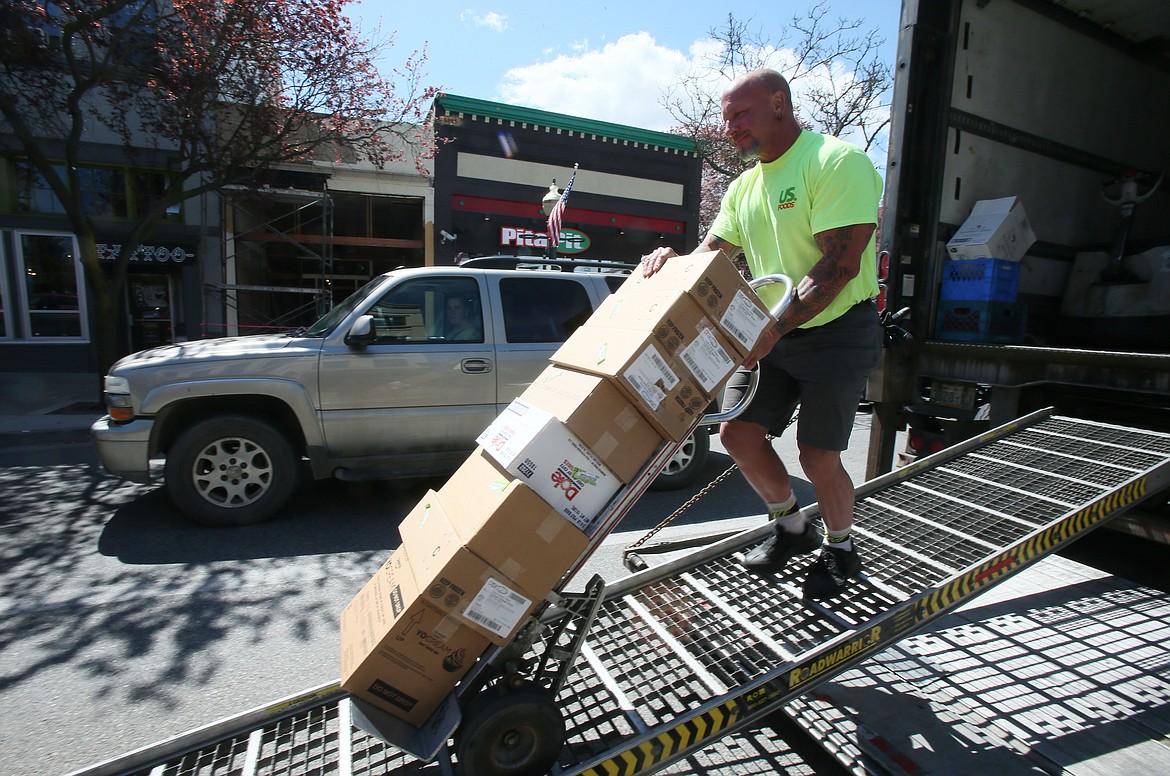 U.S. Foods driver and supervisor Lane Bos rolls boxes of food down a ramp to deliver to Pita Pit on Friday, the first day downtown Coeur d'Alene shops could reopen following Gov. Brad Little's stay-home order. Dining rooms are still closed until stage 2 in mid-May, but many restaurants are offering delivery, carry out and curbside orders. (DEVIN WEEKS/Press)
Previous
Next
by
DEVIN WEEKS
Staff Writer
|
May 2, 2020 1:08 AM
Retail shops welcome first customers after COVID-19 closures
COEUR d'ALENE — It was like a breath of fresh springtime air had gently blown through downtown Coeur d'Alene.
Red neon "open" signs lit up windows, some sandwich boards returned to the sidewalks and signs reading "We're back!" and "We missed you!" greeted those who meandered in the sunshine Friday during the first day of reopening the downtown.
"I feel like I haven't been here in six years," said Shenanigans Sweets and Treats employee Haley LeGault, who was happy to open the walk-up window of the shop at 10 a.m.
"It's crazy because you don't think that you're missing out on a lot of things until you realize how we're taking it for granted," she said from behind a fabric face mask. "It's refreshing. We've been shut in for a while."
Destiny Hornbuckle and boyfriend Kurt Kelsen just moved to Coeur d'Alene a week ago. They stopped by Shenanigans for a huckleberry sorbet and salted caramel pretzel ice cream cone.
"Where we came from, everything is still super locked down. I think they're getting more strict," Hornbuckle said. "We just wash our hands every two seconds."
"We stay as far away from people as possible," Kelsen added. "We just wanted to get outside."
It was the first day downtown businesses could open their doors after pandemic lockdowns, while honoring Gov. Brad Little's reopening plan by limiting patrons, using physical distancing and increasing disinfectant procedures in their stores. Dining rooms are not open yet, but restaurants are available for take-out orders and many are offering curbside service.
During the six weeks it was closed, Finan McDonald at the Lake in The Resort Plaza Shops underwent some work and received new products to offer customers.
"We remodeled, did a lot of repainting in here while we were down, changed some things around, freshened things up," said Vic Ford, who owns and operates the store with wife Twilla. "We got a lot of new inventory in, a lot of things going on."
Finan McDonald, which carries clothing, hats, gifts and footwear in brands such as Keen, Birkenstock and Tommy Bahama, is now open seven days a week from 10 a.m. to 6 p.m. A lot of inventory is on clearance right now, so customers can enjoy up to 50 percent off on some items.
Although the shutdown kept people out of the physical store, it's given Finan McDonald a boost for its online shopping presence.
"We just got our online store, and we have a huge online store," Vic said.
Marmalade Fresh Clothing on Sherman Avenue was also more than ready for customers when this day arrived.
"It's really exciting just so we can be open and work toward kind of going back to normal," said Kasey Widmyer, a buyer and social media specialist for the boutique. "That's good to have."
Coeur d'Alene Downtown Association manager Terry Cooper and events coordinator Emily Boyd visited stores to deliver "Shop Local Safely" posters for business owners to display in their shops. Many workers will be wearing masks in the days to come, although it is optional, Cooper said.
"There will be hand sanitizer available for employees and customers," Cooper said. "They're following the governor's bullet points, and they all have that information."
He said maintenance workers have a rigid routine of spraying disinfectant on benches and on crosswalk buttons as they keep downtown clean.
"Everyone wants to do their best with the situation," Cooper said. "They're taking all kinds of precautions."
Moving forward, the overall sense is that everyone's relieved that life can start returning to normal, one baby step at a time.
"It's a great thing," Cooper said. "All small businesses, everybody's hurting with the complete shutdown. This is the beginning of reopening downtown Coeur d'Alene. We hope that it will be very successful."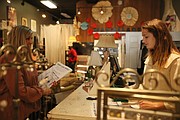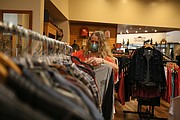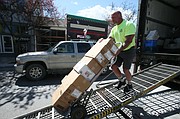 Recent Headlines
---