Out of the blue, and into some ... Rising Lake City High basketball senior Rewers commits to Duke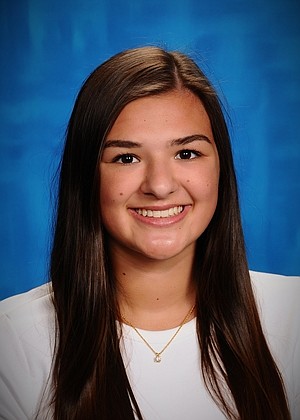 Rising Lake City High basketball senior Rewers commits to Duke
Out of the blue, Brooklyn Rewers will be sporting that color starting with the 2021-22 women's basketball season at Duke University.
And she can thank the Timberwolves' second opponent of this past season for that.
"They called in April," said Rewers, a rising 6-4 senior post at Lake City High. "I was almost kind of at a moment where I didn't think it (going to a big school) was going to happen. Duke will offer a lot between school and being able to play basketball."
Duke had inquired with Mountain View coach Connie Skogrand, whose team beat Lake City in the second game of the season in Coeur d'Alene. Mountain View went on to win the state 5A title.
"Duke was talking to her about any players in the Northwest that she thought could play at that level," Rewers said. "She told them she thought I could, so they gave me a call."
Rewers added she hadn't had much interaction with Skogrand, but is thrilled for her help.
"I'm totally grateful to her," Rewers said. "I really owe her a lot for this happening for me."
Rewers had also received interest from around the west coast, as well as Michigan State, where her sister Lauren recently transferred to after playing her first three years at Hawaii.
"I was thinking about going to a bigger school, but didn't think I was going to get anything else with my summer basketball season canceled," said Rewers, who plays travel basketball with the Northwest Blazers. "Duke called me out of the blue and it really caught my attention. It was too good of an offer to turn down."
Due to the coronavirus pandemic, Rewers has not visited the campus in Durham, N.C. yet.
Duke finished the 2019-20 season 18-12 after losing in the opening round of the Atlantic Coast Conference tournament to Boston College. The Blue Devils have made the NCAA Tournament 10 times in 13 seasons under coach Joanne P. McCallie, most recently a Sweet Sixteen appearance in 2018.
"It will make me become a better player and get to the places I want to be, and be better all-around academically," Rewers said.
Rewers, who was named the All-Idaho 5A girls basketball second team, averaged 18.7 points, 10.1 rebounds and 3.7 blocks per game for the Timberwolves as a junior. Rewers was also named co-Player of the Year in the 5A Inland Empire League as a sophomore and junior.
"She's got a ton of room for growth," Lake City coach James Anderson said. "She's a completely committed player and our hardest worker in practice. I think Duke will enjoy having her."
Rewers said Michigan State, Fresno State, San Diego, UC San Diego, Portland and Nevada had also shown interest.
"I'm so excited," Rewers said. "It's surreal, and I don't know what I got myself into. I'm still trying to wrap my head around it."
Lake City finished this past season 15-8.
Anderson added that committing early can only help Rewers as a senior.
"Now she can focus, play and enjoy her senior year," Anderson said. "She doesn't having it hanging over her head now. And what a sweet spot to end up at."
Recent Headlines
---