Crowd protests business closures
About 100 people rallied in downtown Coeur d'Alene on Friday afternoon, calling for Gov. Brad Little to let all businesses reopen.
The group of adults and children walked from the Coeur d'Alene Public Library to Fourth and Sherman, where they waved flags and held up signs. A similar rally was held Sunday on U.S. 95.
Many in the protest work in restaurants and bars. Under Little's four-stage reopening plan, restaurants will be allowed to open May 16, and bars, in mid-June.
Organizer Shelby Longacre, a bartender at the Hogfish bar on 20th and Sherman, told The Press that she and many others in the food service industry have received little assistance since Little's stay-home order on March 25 and are struggling to survive economically.
Some of their signs said, "All businesses are essential," "The history of liberty is the history of resistance," and "Open our parks."
They believe that due to Kootenai County's low number of coronavirus cases, 61 as of Friday, they should be able to work and all businesses should reopen.
A few hundred people also protested in Spokane on Friday.
A Spokane Police press release said protesters descended on the Spokane Veterans Arena and from there, marched to the Spokane County Courthouse, where they held a rally calling for the reopening of Spokane County businesses and activities.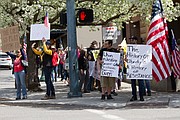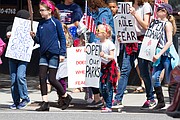 Recent Headlines
---