Vintage BMW bashed on east Sherman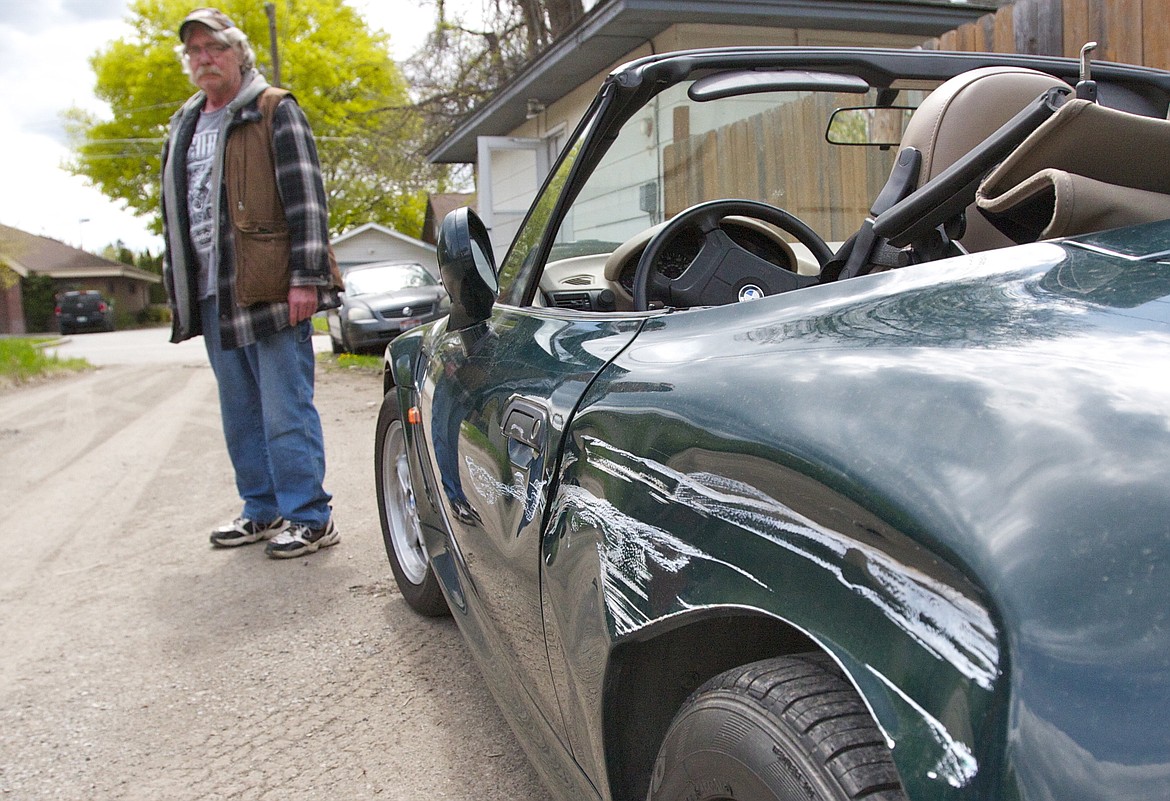 Coeur d'Alene resident Berl Dougall wants help finding the person who smashed his vintage BMW that he had out for the first time April 29. The car was parked in an east Sherman lot when it suffered $3,000 worth of damages.
RALPH BARTHOLDT/Press
by
RALPH BARTHOLDT
Staff Writer
|
May 1, 2020 1:00 AM
Owner asks for help finding perp
Berl Dougall was a trucker for 40 years at a Post Falls company, so he knew the safest, fastest route to get the vintage BMW he bought a few months ago to his Coeur d'Alene home from the tulies of northeast Oregon.
He opted against driving the mint-condition car with its 18,000 miles down the treacherous Rattlesnake Grade to U.S. 95 at Lewiston.
"I went through Washington," Dougall said of his trip last year after purchasing the car from its owner, who kept it in a barn.
"It has never been in the snow," Dougall said.
The car suffered $3,000 in damages Wednesday morning after being struck in a Coeur d'Alene parking lot on the first day Dougall took it for a spin.
He wants to find the perpetrator who failed to report the wreck, and instead simply drove away.
"I just want to know if anybody saw anything," Dougall said.
The car is a green Z3 with a brown convertible roof.
"It's kind of an oddball," Dougall said. "They didn't make a lot of these."
Most of the models from that year, 1997, were blue or black, he said.
He bought the car from the son of a man who died after buying the car and spending winters in South America working for a timber company.
It had been in storage for more than a decade.
"It had cookies on the manifold that a squirrel was storing for a winter snack," Dougall said.
The oil had not been changed in a while, but he drove it home anyhow and had it serviced in Spokane — where the dealership offered to buy it — but Dougall wasn't selling.
"I've seen them valued at $20,000," he said.
He kept it under wraps last winter and Wednesday decided to take it for a drive to the east Sherman market because chicken was on sale, and he needed to get some paper products.
"I parked it in the middle of the empty lot," Dougall said. "I wasn't in the store 10 minutes."
It was too long.
When he came out, he almost dropped the groceries.
"It made me sick," he said.
A fender was crunched, the door was creased and the sun, after a day of rain, was shining brightly on the damaged car still sitting in the empty lot where Dougall had left it.
The 1980 graduate of Coeur d'Alene High said he has collected classic cars for most of his life.
"Mostly muscle cars," he said.
His first one was a 1961 Impala Super Sport.
"I've had Camaros, Monte Carlos … I've always had nice cars," he said.
A 1940 Chevrolet pickup truck is wrapped in a tarp in his yard.
Dougall is waiting for his daughter to help him write a police report. He checked the surrounding businesses, Lakeside Harvest Foods, the state liquor store and the coffee shop, but none had surveillance cameras pointed at the place where the BMW was parked.
It seemed like a mystery vehicle left the heavy streaks of white paint on the BMW's crunched fender and door.
"If somebody saw something, I'd sure like to know," Dougall said.
Recent Headlines
---