Can't make this stuff up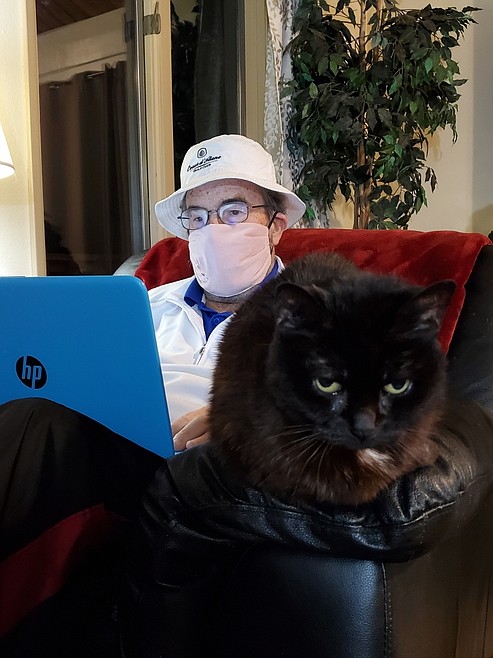 Still here.
Hey, I've got to ask you …
Hasn't this pandemic made the world just a little bit crazier?
No, seriously.
Let's start with a story that made my roommate howl.
If you read this blog even sporadically, surely you know that I'm allowed to share space with Sammie the World's Greatest Cat — provided I fulfill my role as provider and butler for TWGC.
Now let me tell you, she wasn't happy with a tale from Vallejo, Calif., where the city planning commissioner apparently was a little too full of liquor during an official Zoom conference.
Among Chris Platzer's other bits of odd behavior, the planner may have been guilty of animal abuse during a discussion about a Costco location.
Asked for his thoughts, Platzer said: "OK, well, I'd like to first introduce my cat."
Platzer held the cat up for the camera — this was a public meeting, remember, accessible to all citizens — and he then tossed the cat out of view, followed by a clearly audible thud from somewhere else in the room.
I'm guessing the beer Platzer was drinking in plain view may have had something to do with his decision-making.
Memo to all public officials: These Zoom gatherings are forever.
No do-overs.
Best not to check in hammered.
Platzer, meanwhile, has tweeted a resignation — which mollified Sammie TWGC.
Meanwhile, at the other end of the world …
New Zealand residents are generally calm and peaceful sorts — which is one reason they've adhered almost perfectly to a strict stay-at-home order from Prime Minister Jacinda Ardern.
The country of roughly five million has made it work, suffering just 19 deaths so far from COVID-19 — and most of the fatalities came before the virus had caught the world's attention.
But now Ardern, in an attempt to put around 400,000 of her constituents back to work, changed the nation from alert level four down to level three.
Among other things, leaving home to get take-out food thus became permitted — and apparently thousands of those Kiwis were desperately missing their burgers and fried chicken.
KFC and McDonald's locations in Auckland were mobbed, and one local chain called BurgerFuel drew so many customers when the ban was lifted that police had to be summoned.
There was such a mob queueing up for their cheeseburgers that cops had to quell the crowd and restore social distancing.
Drive-thru operations drew so many cars that they jammed up intersections.
Remind me to open a burger bar in New Zealand.
And finally …
Shelter-in-place orders have been so strict in Spain that police issue citations to anyone in violation.
One allowed exception, however, is the necessary walking of pets.
You can see where this is going, right?
A man on Lanzarote in the Spanish-owned Canary Islands was nabbed for walking a hen, and back in Logrono on the mainland, another clever lad got ticketed for …
Wait for it …
Walking his fish.
Yes, in a bowl.
The topper, though, was an unidentified citizen in the city of Murcia who skipped the pet plan entirely — and tried to get some exercise while dressed (very smartly) as a Tyrannosaurus Rex.
See, the lockdown actually CAN get to all of us.
But I'm still not quite to the dinosaur stage.
You?
Sing it with me now …
"Breathe In. Breathe Out. Move On."
•••
You're invited to join Steve's blog. Toss in any thought or opinion, as long as it doesn't get us sued.
The blog appears Tuesday, Thursday and Saturday online at cdapress.com.
It runs Wednesday, Friday and Sunday in The Press print editions.
Email: scameron@cdapress.com
Facebook: Steve Cameron
Recent Headlines
---