Adoption leads to life of crime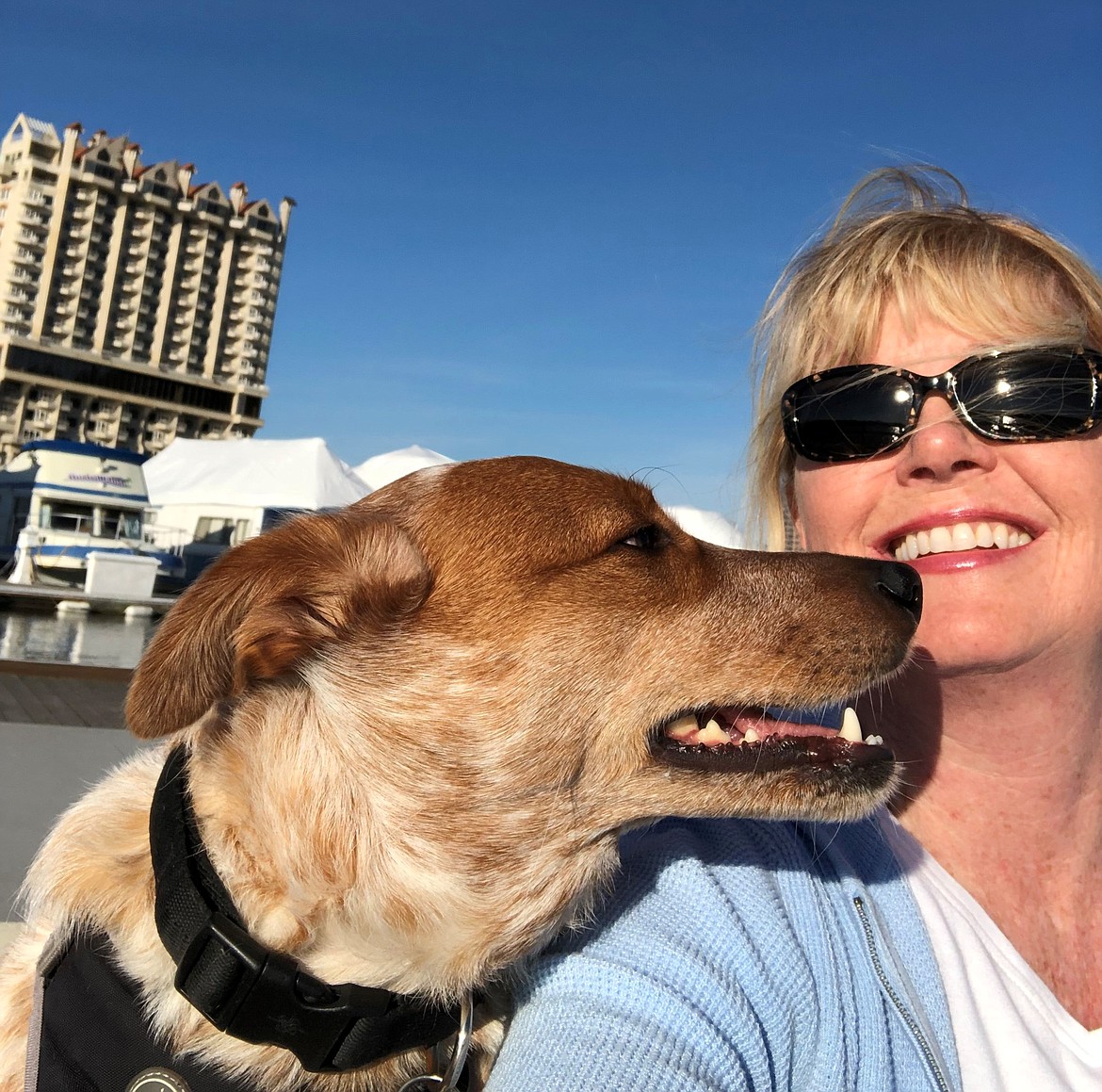 Christie Wood spent almost 26 years in local law enforcement jailing thieves and other bad guys.
Now, in retirement, she's aiding and abetting one.
Oliver was a just a pup when he entered Christie's life four years ago. Christie adopted the Red Heeler to be a walking companion after she retired as a sergeant from the Coeur d'Alene Police Department in December 2015.
They walk 5 miles daily along the Prairie Trail.
So far, so good.
Oliver was about a year old when his life of crime came into focus. It started small. As often happens, outside forces came into play.
One morning, after her Press carrier began dropping the paper at the end of the driveway instead of her doorstep, Christie decided not to wade through the snow in her PJs. She ordered Oliver to fetch it. And he did. He got a treat. Good boy. He has reported for paper fetching duty since.
But it wasn't long before Oliver helped himself to the neighbor's newspaper. They tend to pick it up late. Whenever he gets out, the driveway pirate snags their paper. Once, he swiped it three times in a day. Christie returned it each time.
Then, there's the papers he nabs while walking with Christie. She returns those, too.
Christie realizes she's created a monster. But, she rationalizes, "I do enjoy waiting at the door while he braves the elements and gets my paper."
And that's how another good girl fell for another bad boy.
That ain't vodka
Charlotte Mitchell of Athol picked up five trash bags of litter along Ramsey Road last Friday. The retired Kootenai Cancer Center CNA was tired of seeing the garbage along her walking route. Her cleanup effort yielded a treasure trove of trash: pop cans, beer cans, six golf balls, a Smirnoff Vodka Blueberry bottle and … cigarette butts embalmed in pee. (I know, ee-yew.) Charlotte has seen discarded pee bottles before. During her work at the Cancer Center, she joined other staff volunteers on litter patrols along Interstate 90. Rather than stop at an appropriate area, some truckers whiz in bottles and throw them out the window. Charlotte wasn't 100 percent positive that she'd found proof of another hurrying trucker with a full bladder. "But," she told Huckleberries, "I didn't open the bottle to check it out."
Huckleberries
• Poet's Corner: How pleasant to live up on Mars/amongst the comets and the stars,/and gaze out on the landscape fair/and not see politicians there — The Bard of Sherman Avenue ("Mars Mission").
• Yes, there is a story behind the naming of Kathleen Avenue. And Charlie Miller knows it. He's the grandson of Eugene "Gene" Miller, the late Coeur d'Alene attorney. Seems grandpa requested naming rights for the street as part of his fee to handle legal work for the family that subdivided that area. And, voila, Gene named it after daughter, Kathleen, Charlie's aunt.
• Sandpoint High grad Henry Johnston did a double take when he learned Nick Henderson was running for Kootenai County commissioner. In Kittitas County, Wash., where Henry runs a funeral home, Nick Henderson is the coroner. How can you tell the Nicks apart? Our Nick, 34, is much younger, and he's the grandson of the late Frank Henderson, the former Post Falls mayor, county commissioner, and Idaho legislator.
• Kim Ashbaugh of Coeur d'Alene has this message for the cad carrying a bouquet of wild Calypso orchids purloined from Tubbs Hill: "Take photos instead." Kim has a right to be mad. She has made it her life's mission to keep Tony Tubbs erstwhile hill litter free.
• Best political sign spotted in Coeur d'Alene this season (in the 500 block of Reid Avenue)? "Vote WILLIE NELSON for President." Yeah, I know, voting for Willie, like his song, is "Crazy."
Parting Shot
Four times a week, my baby brother, Ray, runs Frito Lay products to Pullman, Moscow, Lewiston, and Clarkston. But Frito Ray's not impressed that some now consider truckers to be heroes. "Once the coronavirus epidemic is over," he tells Huckleberries, "they'll let us know — again — what they think of us with their middle fingers (extended out the window)." Ah, that you're still No. 1?
• • •
D.F. "Dave" Oliveria can be contacted at dfo.northidaho@gmail.com.
Recent Headlines
---