Pastor under fire for leading Sunday service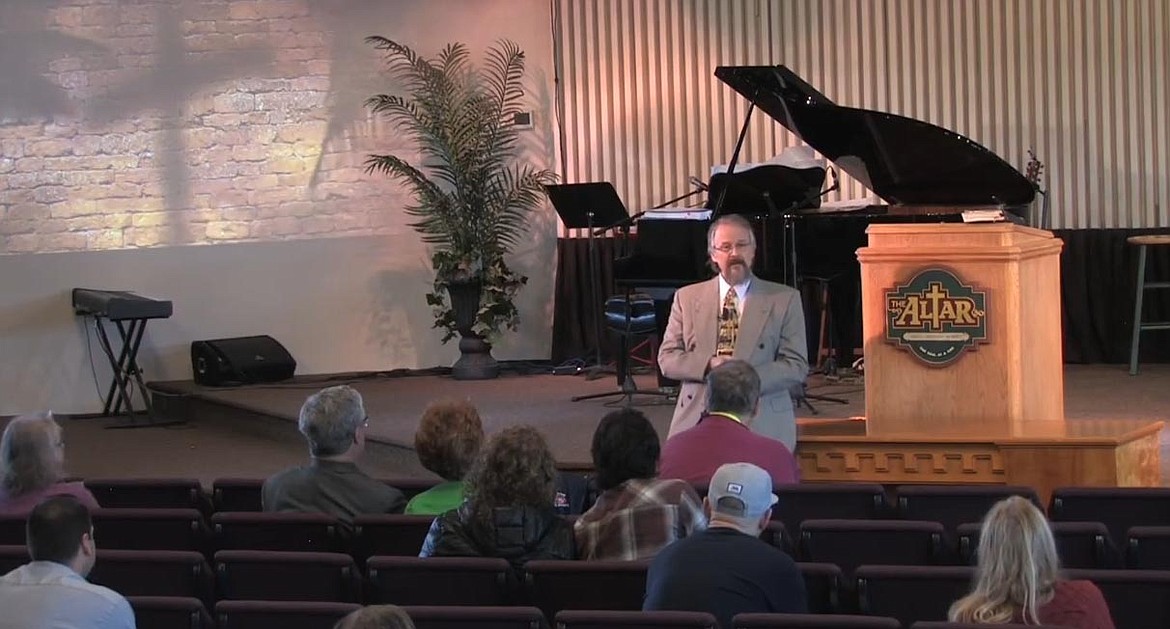 Pastor Tim Remington speaks to a sparse crowd Sunday at The Altar Church in Coeur d'Alene, defying the governor's stay-home order.
Also a state rep, Remington 'OK' if arrested
By BILL BULEY
Staff Writer
COEUR d'ALENE — Despite Gov. Brad Little's stay-home order, a North Idaho pastor and lawmaker led a live church service on Sunday.
Rep. Tim Remington, who also oversees The Altar church in Coeur d'Alene, said he would be "OK" with being arrested for doing so.
"I think when things get hard, the church really needs to be the one up and running," he said during his hourlong sermon delivered to what appears to be about 15 to 20 people. "I really do. I've suggested that to everyone I know."
The service was live streamed and is available on YouTube. Shot from the back of the room, it shows some people sitting next to each other, while others are farther apart.
Remington told the group that what is happening with the government response to the coronavirus is, "You have had so many of your 1st Amendment rights strickened from you. And most people laid down and said because of the COVID flu we have to do this, for the sake of everyone."
While he said he understands the need to protect the health of people, he also said legislators should have been called back into session to vote on a directive ordering people to stay home, and for nonessential businesses to close, for three weeks.
"I'm not making this a political thing, but they did. And you need to be aware of it," Remington said. "OK. You just had your rights taken away from you, and nobody did anything."
The Altar may be the only church in North Idaho that held worship services in person on Sunday. Others contacted by The Press have gone to online services.
Remington has been criticized for holding the service.
"I'm horrified that with all of the efforts from our wonderful community medical providers to prevent a huge outbreak of the Coronavirus, someone would actually hold in-person church services," Rebecca White wrote to The Press.
Marissa Morrison Hyer, press secretary for Gov. Brad Little, said churches are not supposed to be meeting, per the governor's isolation order. Church staff are allowed to gather in small groups to create videos as part of their online services.
She said she understands faith is a key part of life for many, but that people should comply with the social-distancing order.
She said Idaho law enforcement has not cited anyone for violating the order and the preference is they talk to people about it, first.
Anyone found in violation of the governor's local-distancing order can be cited with a misdemeanor.
"That's not the goal," Morrison Hyer said Monday. "We're not trying to fear monger people into staying home."
Sgt. Chris Wagar with the Kootenai County Sheriff's Office said it's essential that people be educated on the stay-home order so they will have every opportunity to follow it.
He said the KCSO was not aware of any churches still holding services, but if someone were to continually violate the governor's directive, they could be cited, he said.
But they would rather avoid that.
"We would like to believe everybody is stepping up," he said.
Real Life Ministries, Kootenai County's largest church, canceled in-person services and meetings on its Post Fall campus for an indefinite time and will have music and sermons online.
Senior Pastor Jim Putman previously told The Press that RLM will "always follow the law."
Jim Hollingsworth, a Hayden resident and former legislative candidate, wrote in a letter to Gov. Little: "You should not have closed the churches. 
"The First Amendment is a pretty clear statement. By closing the churches you put church leaders in a pretty tough position. Christians are told to obey their leaders (Romans 13) but there comes a time when they must obey God rather than men. (Acts 5:29). Churches have obeyed the government in many areas; how do they know when the time has come to no obey the government?"
Paul Van Noy, pastor of Candlelight Christian Fellowship, said he doesn't believe that churches should rebel against the government leaders. He said churches closing in-person services for a short time for the benefit of others, at the government's request, is OK.
"We love people," he said. "If we can serve our community, that's what we do."
He said the online services have been well received. Candlelight saw a 300 percent increase in online views over when they have services in the building. People have been watching from Honduras, Alaska, and Israel.
"Christians are not contained in a building," he said. "Our faith extends far beyond any structure."
Remington, who survived when he was shot six times outside The Altar in 2016, was appointed to the House of Representatives by Little in January after another lawmaker was expelled after being convicted of defrauding the U.S. government.
Remington said in his sermon that he's been asked how he could open the church amidst the spread of the coronavirus. He cited the economic impact of the government-order shutdown to fight the "flu" has closed thousands of businesses and will cost millions of people their jobs.
"The government is giving out money it doesn't have," he said of the $2 trillion federal rescue plan.
"This is a gimmick. This is a test," Remington said.
He called for people to help the elderly and care for each other during this health crisis.
"When times get hard, that this is what we rely on right here. This is it," he said.
He said people have asked him if he knew he could be arrested for holding a church service that goes against the governor's stay-home order.
He said yes, he did.
But to order churches not to assemble, he said, is illegal and if challenging it means he might have to go to jail, so be it.
"Is it worth it? Of course it is," he said. "Do I want to go to jail? No."
Recent Headlines
---