'To bee or not to bee?' The Steve Cameron blog:
Still here.
You know, whenever we hear or read about the issue of children stuck in this annoying lockdown, somehow the subject is about their problems.
How can we entertain them when they're always at home?
How will they learn anything?
And the biggie ...
How can we possibly handle unruly, unhappy children?
Well, I want you to meet my pal, Gracie Harrison.
Gracie is 11, and yes, at the moment she's disappointed that she didn't get the chance to compete in the statewide version of National Geographic's GeoBee, which was supposed to be held in Rexburg yesterday.
She won the competition for fifth-graders at Betty Keifer Elementary in Rathdrum, and has been studying books, maps and flash cards in preparation for the state event.
"About three weeks ago, they told us they might have to do the Bee online," Gracie said. "Then at the beginning of this week, they just canceled it completely."
Gracie isn't going to give up, though.
Next year, she'll be attending Coeur d'Alene Charter (where her dad, Michael, is the music director) and she fully intends to master what she suspects will be "some harder geography questions because it's middle school."
Personally, I'm sad that the Idaho State GeoBee was called off, although Gracie and I share another loss at the moment.
She's my source for Girl Scout cookies, and I'd already placed my order before this doggone coronavirus got in the way.
There are new lemon shortbread cookies this year — I think that's what they're called — and they look scrumptious.
"I think they're going to try selling them later on, when we can leave the house and get around," Gracie said. "I think those lemon cookies will be great."
By the way, sometimes when you talk to Gracie (especially on the phone, when you can't see her slight frame), you'd swear she was 18 and home on holiday from college.
She's whip-smart, plays the cello in addition to absorbing world geography, and she immediately won the heart of Sammie the Cat, along with my four-legged girl's undivided attention.
And of course, we KNOW that Sammie only gravitates to pretty special people.
Until the virus gets its claws out of us, unfortunately, Sammie is stuck with me ... but I know she's missing her visits from Gracie.
For now, Gracie and her sister, eight-year-old Bella, are stuck behind house windows.
They're still just fine, though.
Gracie's not likely to let little things bother her too much. For an 11-year-old, she has the world (and its geography) in pretty good perspective.
Why?
Oh, I should have mentioned that last June, Gracie underwent life-or-death brain surgery at Hermann Hospital in Houston, where a tumor was removed that had given her brutal, crushing headaches — among other scary issues.
Sometimes I think about that when I want to complain about something.
If Gracie could handle that ordeal at 11 and be this cool, what's my beef?
Seriously.
I mean every word of that.
Meanwhile ...
Rock on, Gracie.
Sammie the Cat keeps asking about you.
You're welcome to join the blog, and next week I'll publish some of the feedback we've received. Get in touch any time, on any subject. Or with any opinion that doesn't get us sued.
scameron@cdapress.com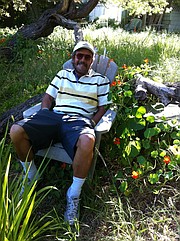 ---