Laid off? Read this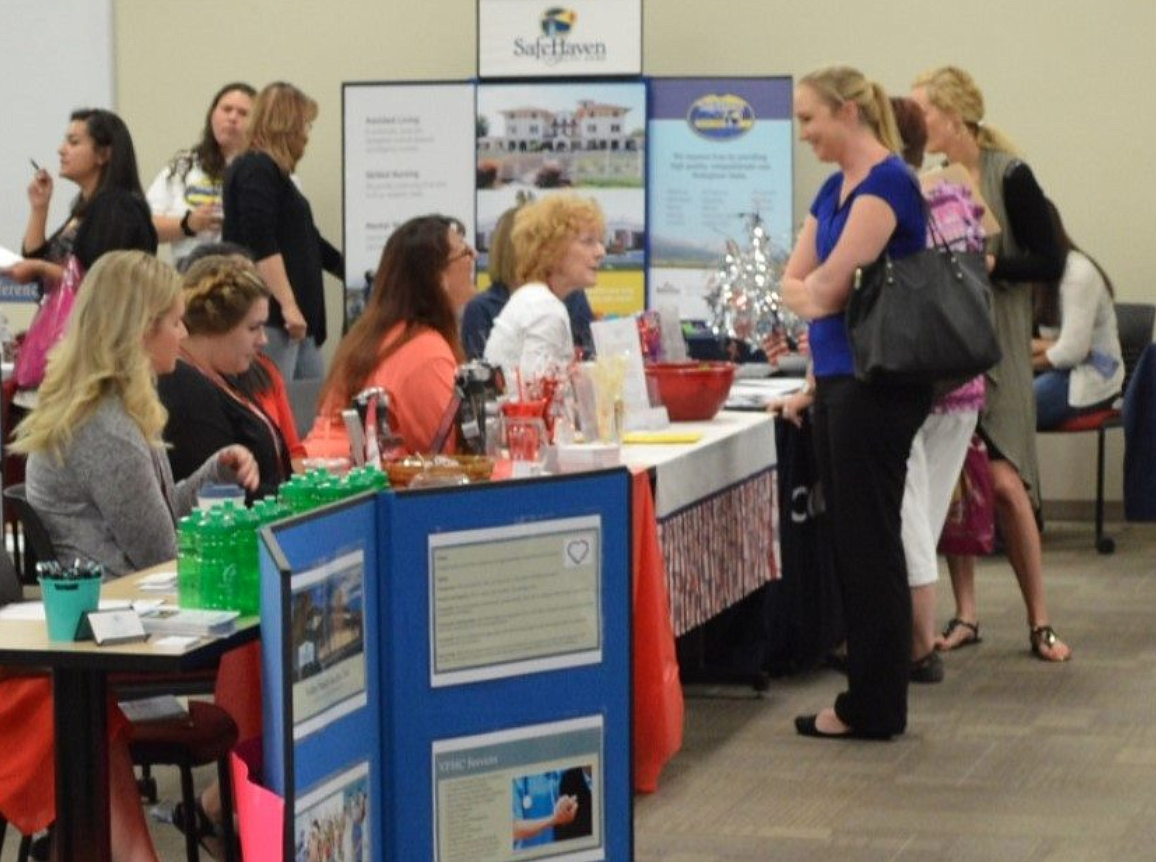 Idaho Department of Labor staff reach out to Kootenai County residents in July as part of their monthly job fair, a program temporarily canceled because Labor offices have closed to the public out of concern for the coronavirus. Officials said they've seen a sharp increase in unemployment benefits inquiries since the pandemic began. (Photo courtesy of the Idaho Department of Labor)
by
CRAIG NORTHRUP
Staff Writer
|
March 25, 2020 1:15 AM
Idaho Labor urges coronavirus-cut workers to file for unemployment
Jenifer Lyn Cord is trying to stay optimistic after a particularly rough Sunday.
"[For] the moment," Cord said, "it's only 14 days that we have to be closed. But it could end up being longer, from what I've heard."
Cord is a waitress for Curley's at Hauser Junction. The Kootenai County hot spot closed temporarily Sunday to all but a few curbside options. As a result, Cord was laid off, compelling her to file for unemployment benefits.
"We were told that we were shutting down and we could file for unemployment, but that we would still have our jobs when the bar re-opened," she said.
Even temporary layoffs seem permanent during the uncertain times of the coronavirus era. As businesses slowly shutter, their employees deal with trimmed hours, shaved paychecks and few — if any — guarantees. Cord now joins an unemployed workforce staffed to capacity with confusion, stress and — according to labor officials — inexperience.
"We're hearing from people who have never filed for unemployment insurance before," said Georgia Smith, deputy director of communications at the Idaho Department of Labor. "People are reaching out to us with real concerns, which is why we want to help."
On Thursday, the department is expected to release updated unemployment claim numbers, which will likely mark how the pandemic has tightened around the economy while infecting more than 44,000 Americans. The expected surge is behind the Department of Labor's information and assistance campaign.
"We just want people to know that we're here for them, and we want them to know what they need to have to be ready to file," Smith said. "If you've been laid off, or if you've had your hours cut, we encourage you to qualify for benefits."
The department is going through a first of its own. One common procedure for the county's recently un-and-underemployed is to walk into the Department of Labor's Post Falls office to file. But all of the state's Labor offices have been closed to the public to help slow the spread of the coronavirus.
But that limitation, Smith said, just means the focus shifts more toward the online process and over-the-phone options.
"We've got people here who are helping to process [unemployment] claims," Smith said. "We're encouraging people to file online, but if anybody's having trouble filing online, they can call us, and we'll help get the ball rolling on this."
Smith said Idahoans let go by their employers — either temporarily or permanently — should visit the Department of Labor's website at labor.idaho.gov to begin the filing process. They can also call 208-332-8942.
Leah Reeder, an unemployment insurance technical services specialist for the Department of Labor, said she recommends people file online, but she added a caveat as a warning for those who call in.
"There's a bit of a wait time," Reeder said.
Reeder said calls to Labor's centers have increased tenfold since the outbreak began, which has caused wait times of up to 40 to 60 minutes. That 60-minute limit was because once a caller remains on hold for that long, Labor's phone system often disconnects. Smith said the busiest times for specialists receiving calls is between 11 a.m. and 2 p.m. So far, Reeder said, that hold time has been the only unexpected delay.
She said the timeline from filing for unemployment for a decision and first payment is usually between two and two-and-a-half weeks.
"Just file," Smith agreed. "Even if you don't know if you qualify, please file. We'll figure out whether or not you qualify. But we can't do that if you don't file."
The communications deputy director emphasized that there's a bright side in what can seem like a glum and stressful time.
"This is the interesting thing about what's happening right now," Smith said. "There are employers hiring. There are businesses that are looking for workers right now … grocery stores — where people need to get the food and supplies they need — are hiring like crazy right now. Home health care companies are hiring right now. There's work out there."
---