Real estate market hits slowdown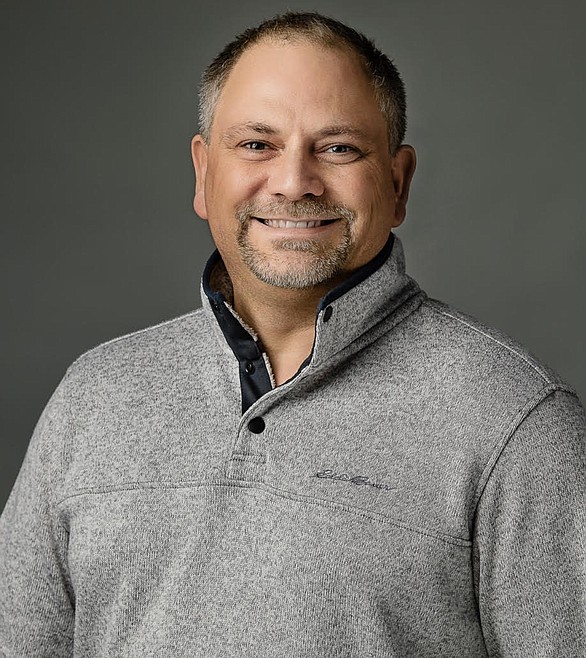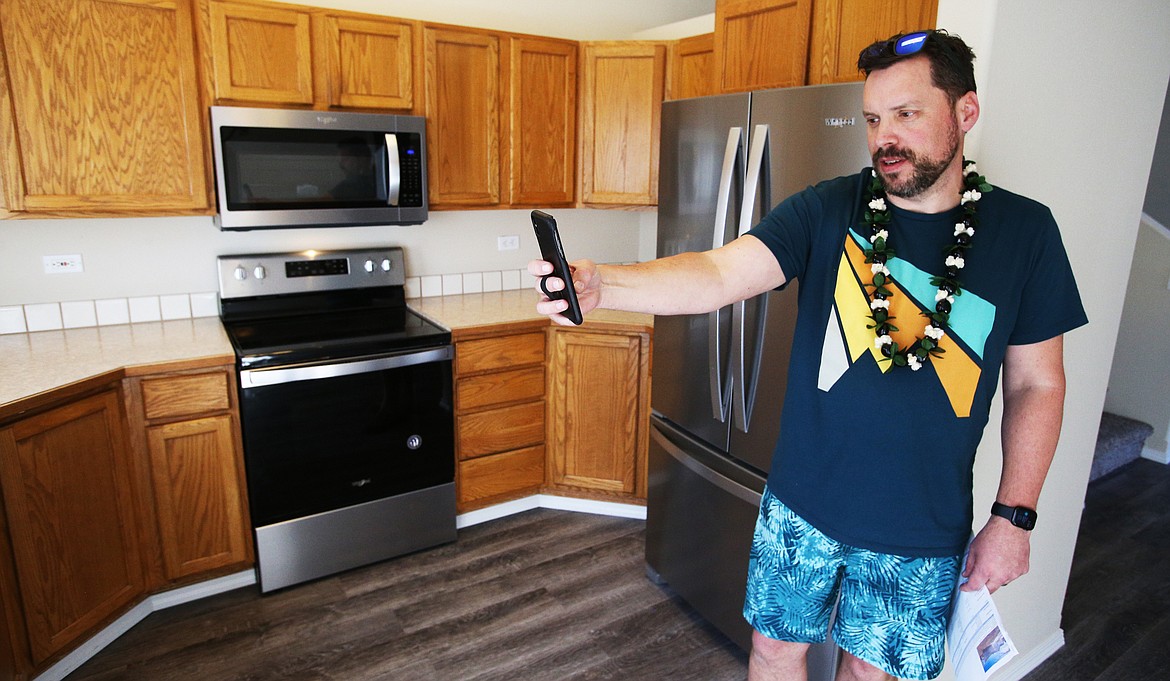 The coronavirus has slowed down real estate, but many agents, like John Thomas Sinclair, are offering virtual tours for potential buyers. Here he records a live video of a house on Morleau Lane in Coeur d'Alene. The Realtor wore Hawaiian garb as small consolation for having to cancel his romantic trip to Maui with his wife because of the spread of the coronavirus. "It was the first time we were going to take a vacation," Sinclair said. "The first time it's just her and I without our eight kids."
LOREN BENOIT/Press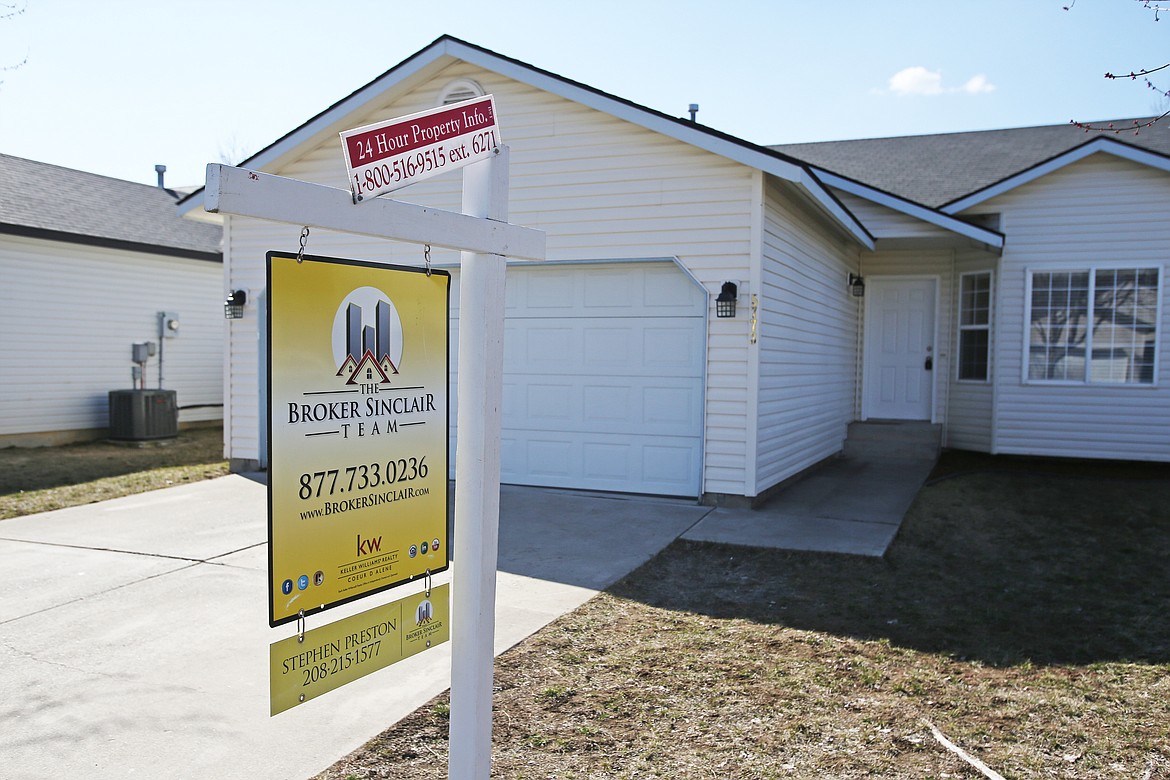 The local real estate market has taken a hit, but many realtors are now offering live vitual tours for potential buyers. (LOREN BENOIT/Press)
Previous
Next
by
CRAIG NORTHRUP
Staff Writer
|
March 22, 2020 1:20 AM
When Rich Dussell was asked to comment on the current condition of the local housing market, the Windermere Realtor gave an exhausted chuckle of surrender.
"What housing market?" he replied.
Dussell wasn't serious, but he wasn't exactly joking, either. The president of the local Multiple Listing Service has watched with his fellow real estate agents as Kootenai County's housing market — one of the hottest in the country as of just a few weeks ago — has become the latest economic victim of the coronavirus.
"Obviously, things are changing," Dussell said. "We're all adapting as quickly as we can. But we're walking into the unknown, and that makes everybody more hesitant. It's a trying time."
The problem isn't only the economy, which has taken a sharp downward turn since the virus first crossed the Pacific and reached American shores in late February.
"I've been in the business 21 years," said John Thomas Sinclair of Keller Williams Realty in Coeur d'Alene, "and I just watched it change overnight."
Sinclair said in all his time in the real estate business, the impact of the coronavirus has been like nothing he's seen before.
"A lot of people would try to compare it to the [Great] Recession, but I wouldn't," he observed. "That was a slow burn. But with this, there was no warning. In the 2009 recession, people had time to prepare. From a buyers-and-sellers perspective, how do you prepare for something like this?"
Dussell, fresh off his MLS's Friday morning board meeting, said the biggest concern they're dealing with right now is just showing houses.
"When you're buying a home, you're literally going into someone's house. People are afraid to do that right now, and people are also being mindful of potentially passing this virus on," he said. "So it's a real challenge."
Sinclair said he's received a lot of calls from out of state.
"With this coronavirus, they've been saying, 'We cannot wait to get to Idaho.' I think there are people still looking at this area as a great place to relocate," he said. "North Idaho's even more attractive now than ever before."
Sinclair said that virtual tours have grown from occasional convenience to the real estate agent's new normal almost instantly.
"With my California clients," Sinclair said, "that's the part of this change that's happened overnight: virtual tours. I've done more virtual tours in these last few weeks than I've ever done before in my life. I know a lot of agents who have adapted to this, as well."
The Keller Williams agent said the practice might become one of the few bright spots that could emerge once the coronavirus presumably clears.
"It does what we need it to do," he said. "We still achieve getting eyeballs on the properties for our clients that need to sell."
Sinclair and Dussell both said it was far too early to gauge if that number of sellers has increased or decreased. But both agreed circumstances have tied up a once-thriving market.
"I'm still busy," Dussell said. "We still have people coming in to look at homes. We still have people wanting to sell their homes."
In the times before the coronavirus, Kootenai County's booming real estate market drove prices to unheard-of highs. Sticker shock hasn't yet dropped across the board, as local sellers would still rather postpone their sales than cut their asking prices, according to Sinclair.
The median sales prices of a home in Coeur d'Alene is $349,426, according to Zillow, but that's as of Feb. 29, before the economy turned sour.
Realtor Frank Durham said in the last week, he's noticed a real slowdown.
"I have people wanting to sell, but we're having a much harder time getting the buyers," he said.
In an effort to get more buyers into the buying mood, the Federal Reserve cut interest rates by a full point, bringing prime borrowing rates down to 0.25 percent.
Home loan rates had hit all-time lows two weeks ago. Mortgage buyer Freddie Mac reported Thursday that the average rate on the benchmark 30-year loan jumped to 3.65 percent last week from 3.36 percent the previous week, according to the Associated Press.
Freddie Mac said the short-term rise was due to mortgage lenders increasing prices to deal with booming demand for refinancing into loans at historically low rates.
The average rate on the 15-year fixed-rate mortgage rose to 3.06 percent from 2.77 percent.
Durham said the recent interest rate cuts have opened up new avenues.
"Obviously now, with interest rates dropping, people who were apprehensive about buying can afford more home than they could have last month," her said.
Durham hedged, however, saying there was a flip-side to that coin.
"The low interest rate helps, but we have yet to see how lending institutions are going to react to this," he said. "It'll take about a month to flush out."
Durham, Dussell and Sinclair all agreed that, no matter how the coronavirus concludes, the real estate market will look different on the other side of the crisis.
"Some buyers are saying, 'Let's push pause,'" Sinclair said. "But we also have buyers that are still writing offers and negotiating contracts and taking advantage of the low rates."
"Once the coronavirus clears," Dussell said, "I would expect that, because people have been so shut in or shut out ... with the closing of businesses and restaurants, once this ends, I think there will be a surge."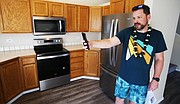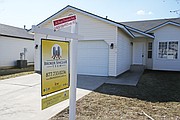 Recent Headlines
---