Jail suspends some sentences to lower potential for virus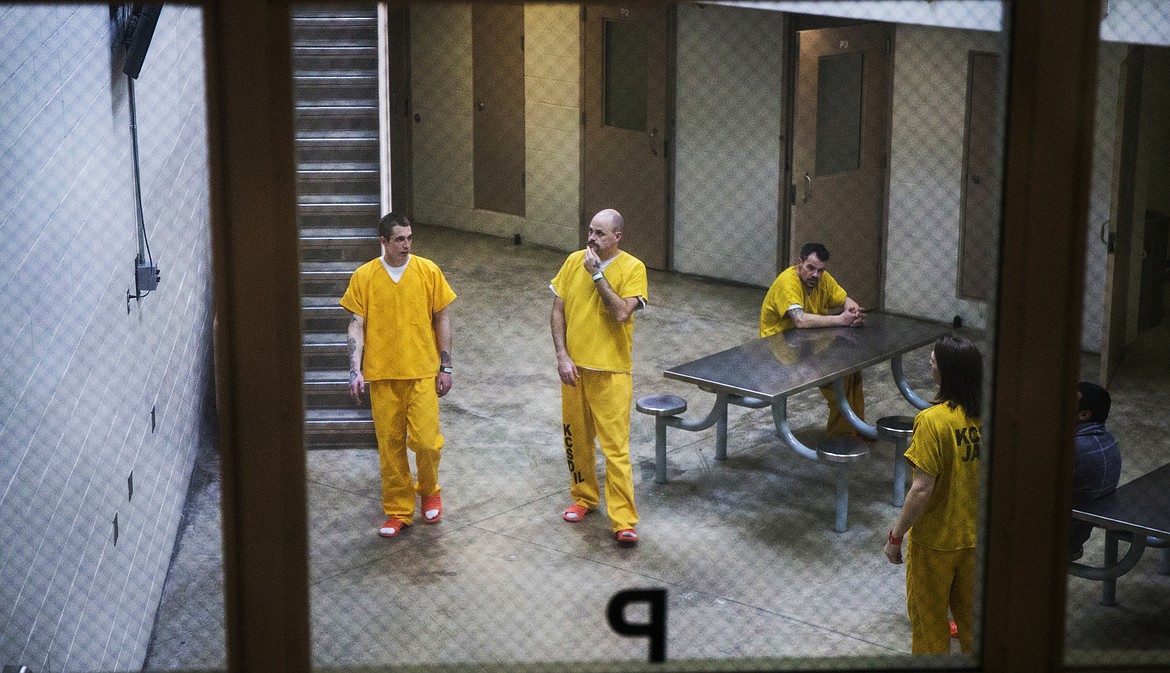 Kootenai County Jail inmates talk in a commons area in 2018. Due to the coronavirus, state and neighboring jurisdictions are screening inmates before allowing them bed space.
LOREN BENOIT/Press File
by
RALPH BARTHOLDT
Staff Writer
|
March 19, 2020 1:15 AM
The hoosegow might be the safest place in Kootenai County.
Sheriff's officials are working to keep it that way.
In an effort to prevent the spread of the coronavirus into regional lockups, state and neighboring jurisdictions are considering ways to reduce the number of inmates in their facilities, and are screening inmates before allowing them bed space.
"We are screening inmates at county jails before putting them on our transport bus," said Jeff Ray of the Idaho Department of Correction. "We're also not transporting inmates who might be sick from our correctional facilities back to jails."
Lt. Kyle Hutchison of the Kootenai County Sheriff's Office is returning the favor.
"Every new inmate is screened automatically," Hutchison said.
Within the next few days, jail personnel will be able to test inmates for COVID-19.
"It's exactly the same test as the Kootenai Health drive-through," Hutchison said.
The only hangup is the seven days it takes to get results.
The jail population Wednesday was 385, short of the 451 available beds, but the numbers fluctuate daily as inmates are transported to prison or other facilities.
In a statement released this week, the IDOC announced it would suspend visitation and volunteer services until next month.
Hutchison said the county hasn't had face-to-face visitation for several years, although until this week visitors could contact inmates from a lobby kiosk connected to a jail pod.
That communication has been suspended, but visitation can still take place digitally from outside the jail to inmates who use a laptop in their pod to communicate via a system that is similar to Skype, he said.
"We allow those kinds of remote visits," he said. "We're trying to limit any movement we can in and out of the building."
Because courts statewide have switched to telephonic or video for any hearing not required by statute to be in-person, the jail's transports to county courthouses have been drastically reduced.
"Our court transports are next to nothing right now," Hutchison said.
Across the stateline in Spokane, human rights groups have requested the release of inmates to prevent a viral outbreak in the county's clink.
Smart Justice Spokane, ACLU Washington, Columbia Legal Services, Disability Rights WA, The Bail Project and others sent a request Wednesday to Spokane County officials requesting the release of low-security, low-bond inmates, and to limit further incarceration other than for people charged with the most egregious offenses.
Hutchison said the Kootenai County jail on Wednesday had 76 low-risk inmates being held on low bail amounts, or inmates serving short sentences who could be released at the behest of the prosecutor's office if it was required.
So far that has not happened.
The jail has, however, cut loose for 60 days inmates serving weekend jail as part of their sentences, and work-release inmates because they could bring a virus into the facility.
In addition, Kootenai County's First Judicial District — in an effort to limit staff and the public to possible COVID-19 exposure — has suspended the sheriff's labor program for 60 days while orders and judgments for defendants to perform community service have also been extended.
The additional rules and procedures have strapped jail personnel.
"It's consumed a lot of man-hours," Hutchison said.
But so far the precautions have curtailed illness at the county facility.
"Obviously if it got inside, it could take off like wildlfire," Hutchison said. "We're taken every preventive measure to keep that from happening."
Recent Headlines
---