Climbing for a cause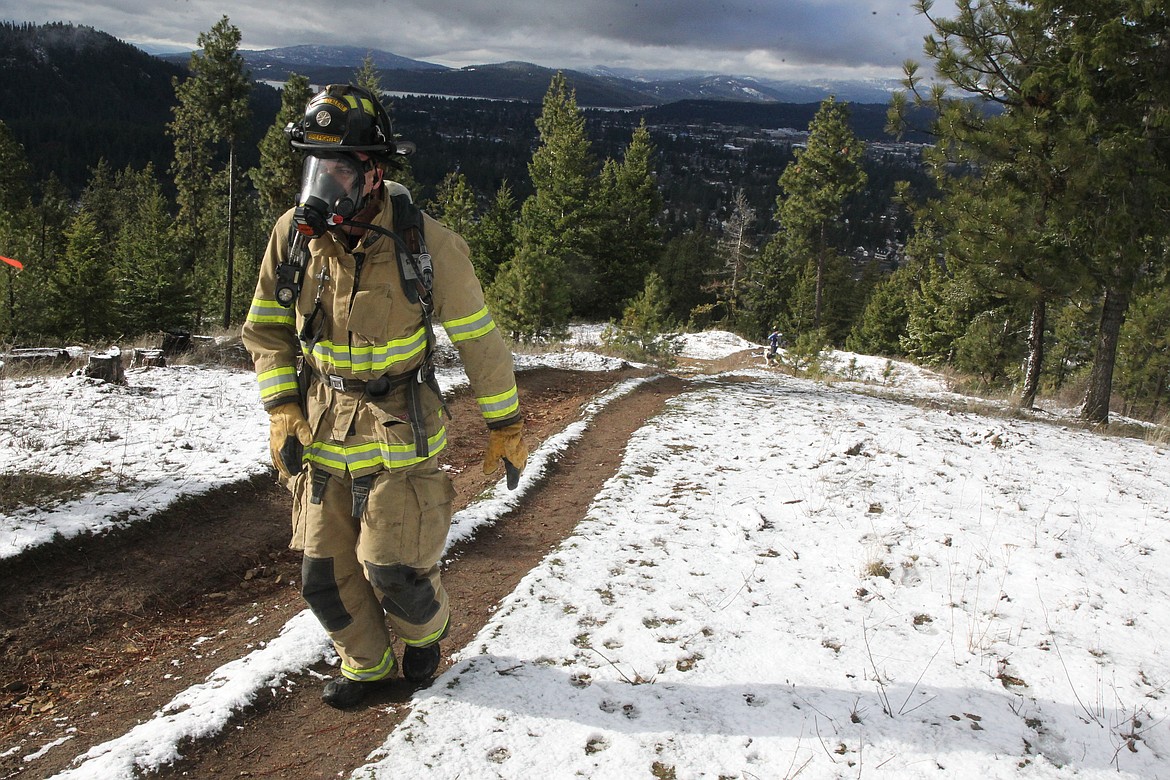 Coeur d'Alene firefighter Greg Thaxton makes his way up Canfield Mountain on Sunday morning.
BILL BULEY/Press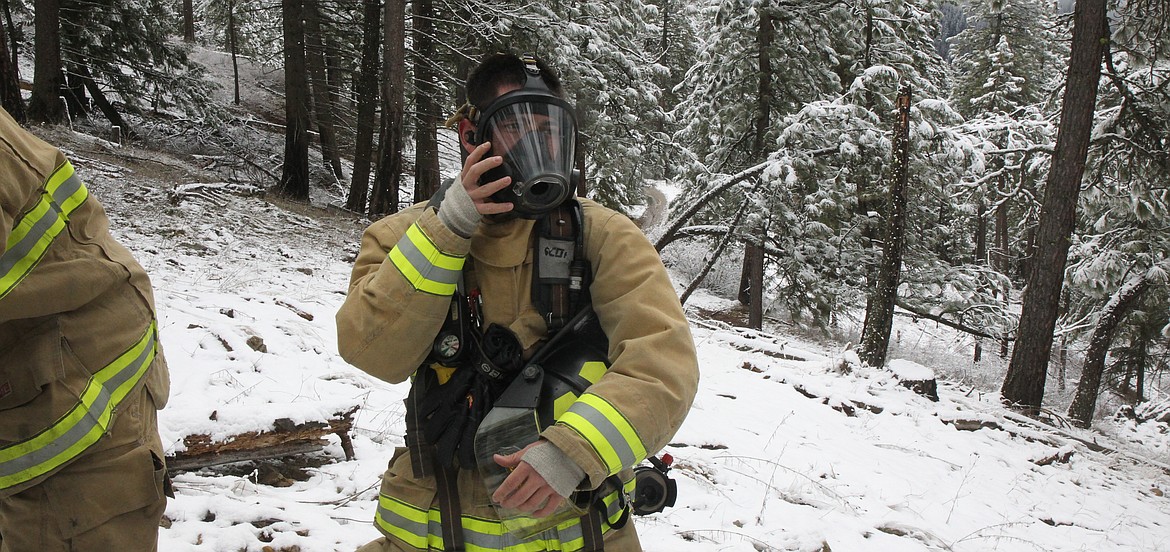 Coeur d'Alene firefighter Neko Caballero removes his mask after finishing a 1.3-mile trek with a 900-foot elevation gain up Canfield Mountain.
BILL BULEY/Press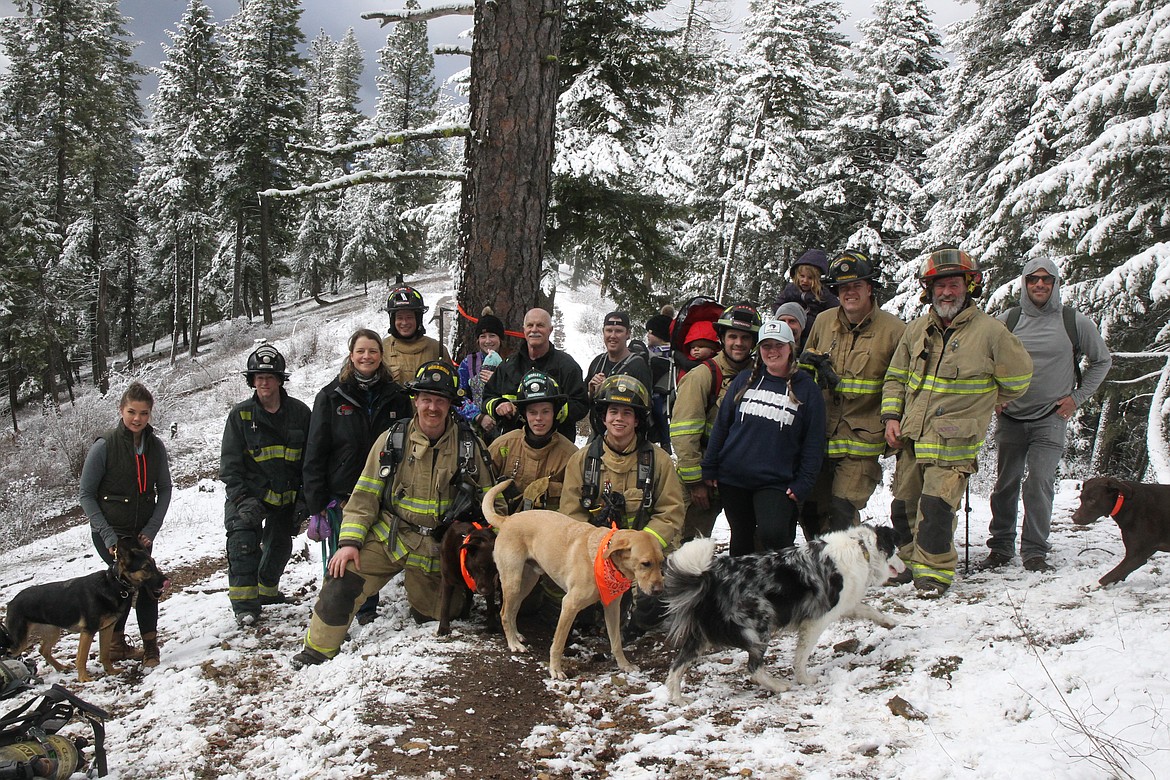 BILL BULEY/Press North Idaho firefighters, family and friends, along with canines, gather for a photo after reaching their goal on Canfield Mountain Sunday morning.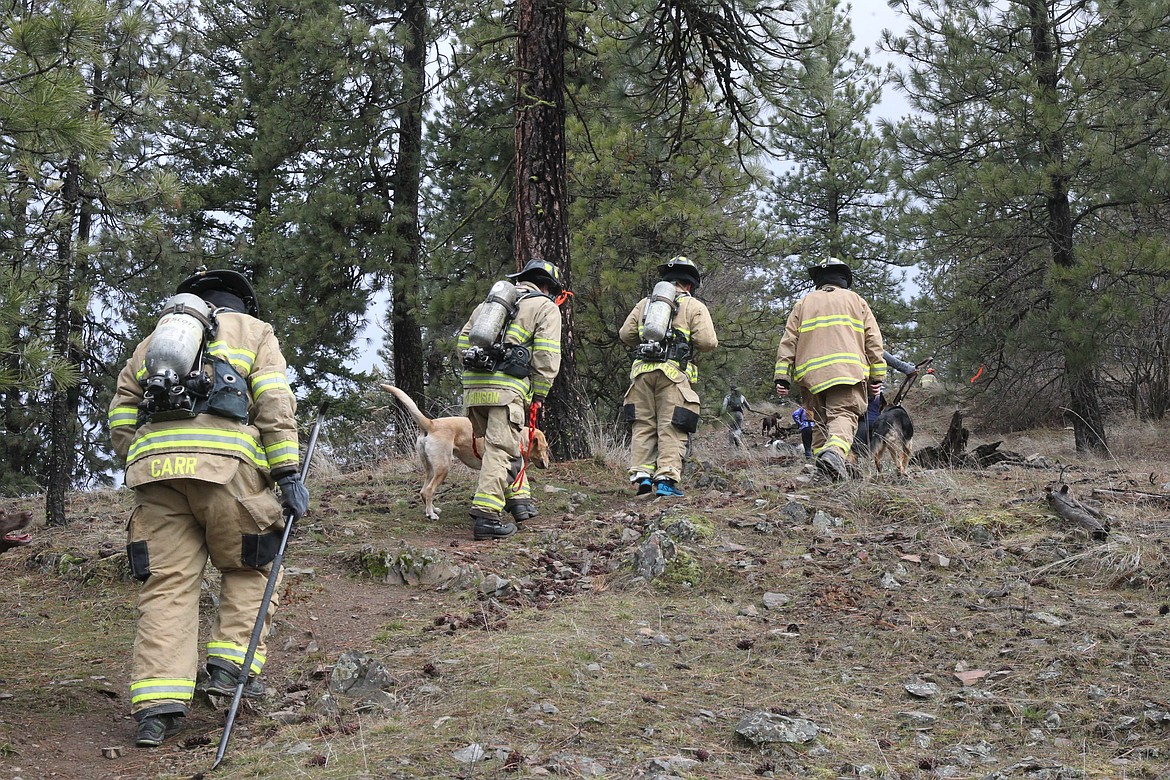 BILL BULEY/Press North Idaho firefighters makes their way up Canfield Mountain Sunday morning.
Previous
Next
by
BILL BULEY
Staff Writer
|
March 9, 2020 1:15 AM
North Idaho firefighters, some in full gear, make their way up Canfield Mountain in lieu of fundraiser stairclimb in Seattle
COEUR d'ALENE — Wearing about 60 pounds of gear, and breathing through an air mask, Greg Thaxton steadily climbed Canfield Mountain on a cold, cloudy Sunday morning.
The Coeur d'Alene firefighter navigated his way over rocks, around sharp turns and up muddy, steep grades. About 20 minutes into his trek toward a ribbon-wrapped tree 1.3 miles from where he started, the air mask came off.
"I breathed my bottle of air already," Thaxton said with a grin.
Under normal circumstances, the air tank would last about 45 minutes. On this day, not half of that, because the 900 feet of elevation gain forced Thaxton to push to hold a steady pace.
But for Thaxton, it was no big deal.
"It was a tough climb, but it pales in comparison to the fight people with cancer have," he said.
About 10 North Idaho firefighters, some joined by wives and dogs and even children carried in backpacks, made their way up Canfield Mountain in lieu of the Leukemia & Lymphoma Society's Firefighter Stairclimb fundraiser that was postponed at the Columbia Center in Seattle due to coronavirus worries.
The annual LLS Firefighter Stairclimb is the world's largest on-air stair climb competition and attracts about 2,000 entries. Now in its 29th year, it has raised over $20 million, all going to research and treatments for these diseases.
When firefighters heard the Seattle climb was a no go on Saturday, they set their own challenge to match the 69 floors, 1,356 steps, they would have made up the Columbia Center. They were determined to honor their donors, their fellow firefighters and those facing cancer.
"A lot of people donated a lot of money," Thaxton said. "We're making good on it with this climb."
Firefighters from Coeur d'Alene, Timberlake, Northern Lakes, Kootenai County Fire and Rescue and Worley met at Shadduck Lane Park, with temperatures about 35 degrees.
"We all work hard and we're going to work hard today," said KCFR's Taylor Carr, as he gave brief instructions, followed by a moment of silence.
Most had about 50 to 70 pounds of gear and equipment as they followed Trail 1, orange ribbons marking their way. Some wore air masks.
Their journey wasn't easy as footing turned slippery the higher they climbed and encountered snow. But, they were rewarded with spectacular views of the natural beauty of North Idaho, Lake Coeur d'Alene in the distance, towering pine trees all around.
Max Buccowich, with KCFR, carried son Bodie, 1, on his back.
"I want him to be part of this," he said. "He gets to go out and see what we're doing."
Buccowich said he wanted to be there for those fighting cancer, those who lost their battle, and for all firefighters.
"Every year I try to raise as much money as I can to try and help fund research and prevention of cancer," he said.
Coeur d'Alene Firefighter Bob Hamilton completed a workout Saturday as part of the first responders fitness challenge, and was a bit sore.
"It's intense, it hurts, but it's paying off," he said.
And it didn't keep him from taking on the Canfield climb the next day.
"We're supporting all the brothers doing this," he said between breaths, then adding with a laugh, "I'm almost 60 years old, so this is kicking my butt."
Likewise for Brad Van Ert, Northern Lakes firefighter.
"I think it's important to support our brothers who are battling various cancers and in honor of all the firefighters we lost in 9/11," he said.
Van Ert said he knows firemen in New York who responded to the World Trade Center.
"I can't even imagine what they've gone through," he said.
Wives also joined the climb.
Singe Robinson, whose husband is Coeur d'Alene firefighter Scott Robinson, walked with canine Rose.
"I wanted to support my husband and all the firefighters on this hike today," she said
Michelle Clark, wife of Worley firefighter Taylor Clark, joined the Canfield climb with their German shepherd, Rainy.
"It's really important for me to support him and his career as a firefighter and his firefighter community," she said.
When they reached their goal, snow blanketing the ground, firefighters took a break, shook hands, removed some gear and smiled, proud they had completed their mission.
Coeur d'Alene Firefighter Neko Caballero ran hard on the final stretch, stopping at the targeted tree.
"My air almost lasted to the top," he said after removing his mask.
He said the trek was tough, physically and mentally.
"The weakness from within me wants to stop, and I have to find something in my mind to keep driving," he said.
So he did.
"I always have more to give, I always have more in the tank," Caballero said. "I thought, 'I'm not going to leave anything on the table.'"
As he recovered, Caballero said the Canfield climb represented "something bigger than me and something bigger than this hike."
"There's a challenge that many people in this nation and across the world are going through," he said.
When he heard the Stairclimb was postponed, he knew he wanted to make good for all who made donations. He wanted to honor the struggle of all who are battling cancer and to remember those who lost their lives to it.
"The least I could do was sweat a little and push myself," he said.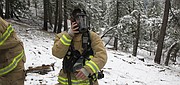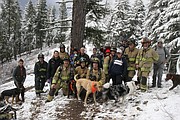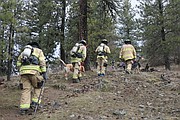 ---