Imagination Initiative Inc. is collecting devices to help students connect, learn online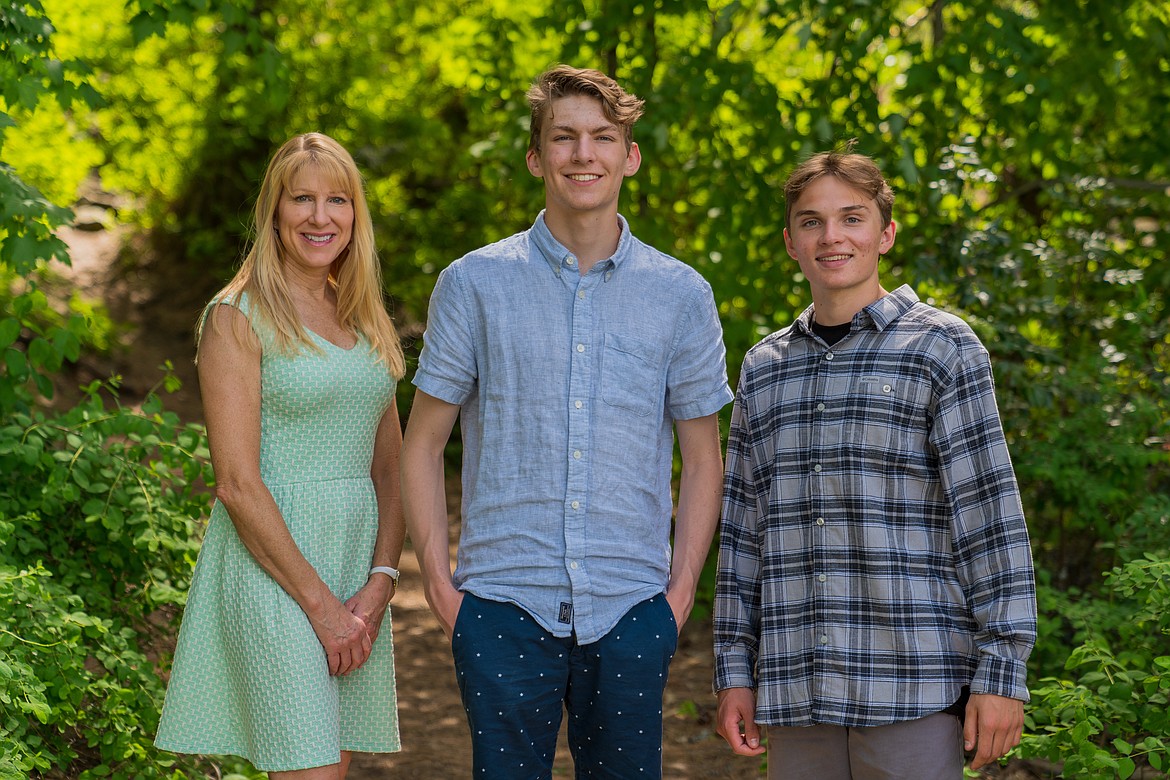 Coeur d'Alene High School grad Morgan Dixon, center, has founded a new nonprofit, Imagination Initiative Inc., to equalize education by collecting devices for students in need. Also pictured: Vice president and treasurer Karen Johnson and director Justin Jaworski.
Photo by Si Xiong
by
DEVIN WEEKS
Staff Writer
|
June 30, 2020 1:06 AM
Imagination Initiative Inc. is collecting devices to help students connect, learn online
After seeing kids miss out on learning opportunities this school year, Coeur d'Alene High School graduate Morgan Dixon decided to do something about it.
"We want to equalize education," Dixon said. "There are students who can't afford to learn."
Dixon, 18, founded the nonprofit Imagination Initiative Inc. to help students connect to the internet, regardless of their ability to purchase a device. Imagination Initiative is collecting iPhones, iPads, laptops, desktop computers and Android smartphones to give to those students so they don't miss out on education when schools close, like they did this spring as the coronavirus pandemic began sweeping through the country.
"My teacher told me there are students who don't have the computers or internet access to do the full assignments that they wanted to," Dixon said. "That was a real driver for me."
He said even before COVID-19, students without internet or computers at home were at a disadvantage compared to connected classmates.
"They will not be able to catch up, or they'll have to cut out a lot of stuff in their schedules to fit in times with computers at schools," he said. "It really changes their lifestyles from the norm."
During a video interview, he demonstrated by holding up two calculators. One cost $20, the other cost $130.
"This one tells you every answer you need," he said, gesturing to the expensive calculator. "The more you can afford a better education, the better your chance is at succeeding. It's not fair. You're paying for the grades — the more you pay, the better grades you get."
This, he feels, is how it is with tech overall.
"There are a lot of students who need laptops, who don't have any or only have one per family," he said, adding that one week, one of his teachers assigned only a 50-word essay knowing it was a struggle for some students to even do that.
"I text more than that," he said.
And the students who suffer the most are many times already in lower-income households.
"I think it's definitely a money thing," Dixon said. "An iPhone is at least $1,000, which I think is ridiculous. It's an unfair advantage to the people who can actually afford it."
Dixon received his 501(c)3 nonprofit status at the end of May. He launched the website, www.imaginationinitiativeinc.org, on June 21. His mom, Karen Johnson, is serving as the vice president and treasurer and his friend and fellow CHS grad, Justin Jaworski, is serving as a director.
This isn't Dixon's first venture to help others. Last year, he created the Outloud Reader app, which converts text to sound and makes reading and literacy a reality for people with learning disabilities such as dyslexia and for those who are visually impaired.
With the Imagination Initiative, Dixon is creating yet another pathway to success for those in need.
"We're starting locally and working our way up nationally and internationally," Dixon said. "There are a lot of students internationally who could really benefit from having a computer or a smartphone."
Newer devices are preferred, but Imagination Initiative has a recycling partner that can work with older devices to turn them into money to go toward new purchases. On Monday, Dixon was pleased to report $600 had already been donated.
Donations are tax deductible. Devices will be physically and digitally cleaned and factory reset, Dixon said.
"No. 1, they get a tax deduction. No 2 they help educate a student and put them in the 21st century where they belong," he said. "Help a student get educated in the 21st century where they need it. And write it off in your deductions."
Info: imaginationinitiative19@gmail.com
Recent Headlines
---