Safe Passages provides help for abuse victims during pandemic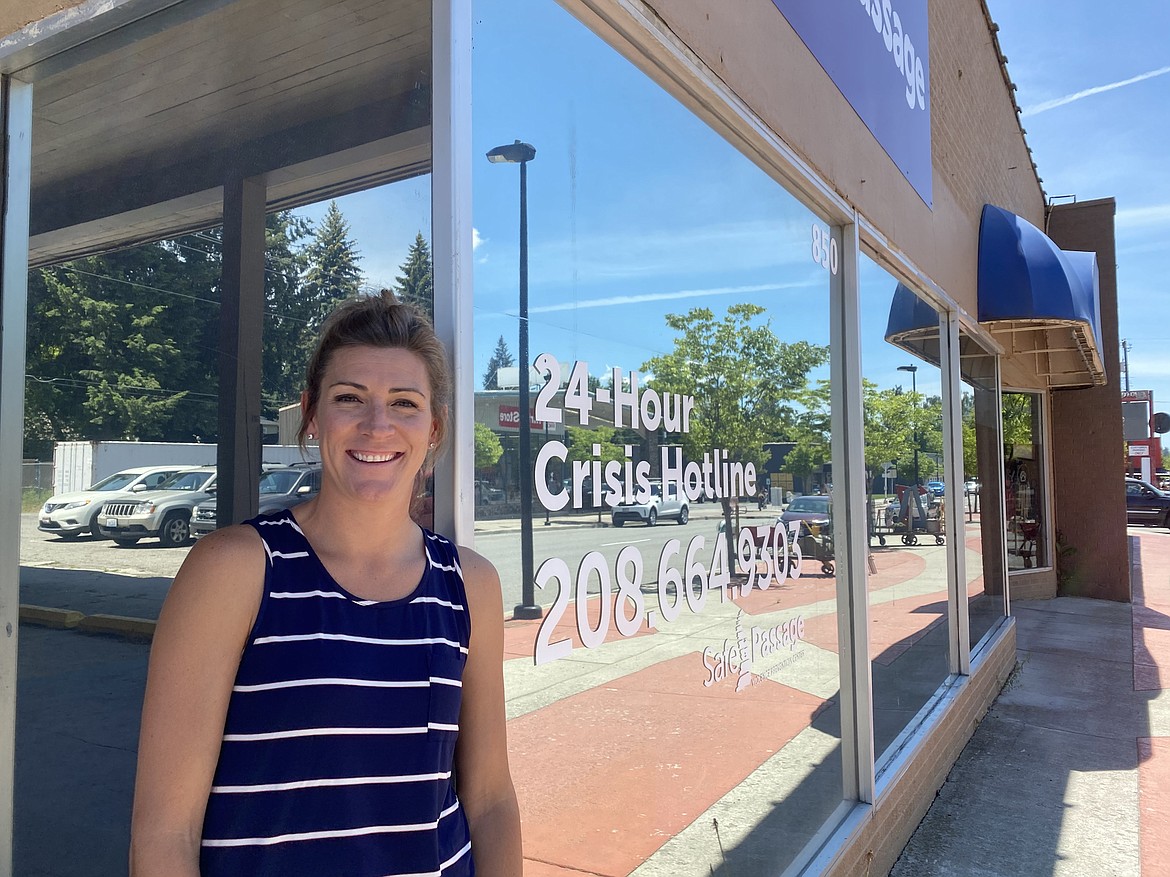 Chauntelle Lieske, executive director of Safe Passages, stands in front of the agency's location on Fourth Street in Coeur d'Alene. (MADISON HARDY/Press)
by
MADISON HARDY
Staff Writer
|
June 29, 2020 1:20 AM
Safe Passages provides help for abuse victims during pandemic
More victims of domestic and sexual violence are turning to Coeur d'Alene's Safe Passages for help.
"Our safe shelter filled up pretty quickly once we got into phase two (of the economy reopening)," said Chauntelle Lieske, executive director of Safe Passages. "We were still kind of keeping our numbers down and trying to keep people not sharing space.
"But seeing some threats-to-kill cases, some strangulation cases, we were really trying to make sure we were continuing to meet the needs of everyone even with us having reduced space."
At the beginning of COVID-19, the shelter began seeing a decline in numbers as the community slipped into a fear of the pandemic.
As Idaho began the reopening process, victims started to reach out for aid on rental assistance, utility bills and basic home goods due to an increase in unemployment.
Along with financial aid, there has been an increase in individuals who are utilizing Safe Passages' safe shelter.
Lieske said that in the most severe cases, survivors were in situations with high risk factors because victims were stuck in their homes with their abusers for months.
"(Victims) have 'X' amount of time at home and then by the time they come home from work he's cooled down, he's better, we have dinner and that's (a victim's) routine and the way she gets through it," Lieske said. "Now she can't go to work, she's stuck at home, things are escalating and there is no safe place to go, there are no friends to go check in with. Those things that are natural safety nets for people are taken away."
This situation affected many victims, as adults and children were restricted from reaching out to school counselors, co-workers, or authority figures that offer safety.
"They've talked about the escalation in the violence, more strangulation cases, more threats, things like that. They were stuck indoors and the violence escalated really quickly," Lieske said.
According to the United Nations Population Fund, for every three months the lockdown continues, an additional 15 million additional cases of gender-based violence are expected globally.
Safe Passages provides emergency shelter, safety planning, counseling, hospital and medical support, referrals for housing and financial assistance, child care resources, law enforcement advocacy, and education on the signs of abuse, barriers to leaving, and the dynamics of power and control in a relationship.
"The more that we talk about domestic and sexual violence and the impact of the quarantine, the more awareness, the more we look out for our neighbors, our friends, and our co-workers," Lieske said.
One in four women are affected by domestic violence, and one in nine men.
"It is happening, whether we like it or not, but the more we talk about it the more that people are aware of safe passage and the resources that we offer, the safer and healthier our community is," she said.
---