COV'AIDE hits a hole in one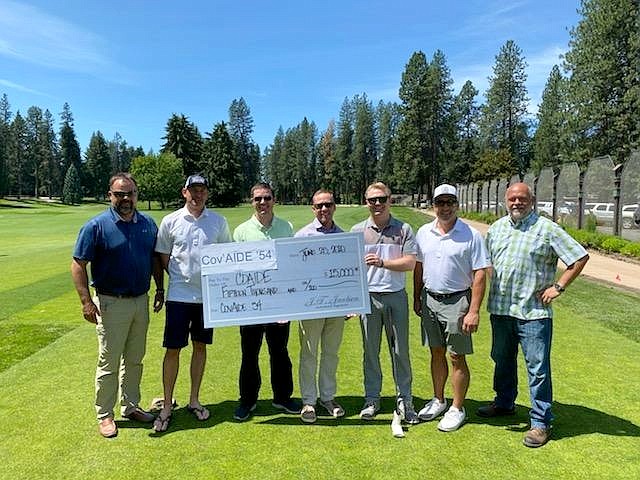 The inaugural COV'AIDE Invitational brought in $15,000 for CDAIDE, a local nonprofit that serves workers in the service and hospitality industries. Here are the players and a CDAIDE representative at the Hayden Lake Country Club, one of three courses to host the event. From left: Dustin Ainsworth, Mike Schwagler, Taylor Fore, Ryan Deschryver, Danny Beutler, Jason Kelly and CDAIDE's Doug Johnson. Not pictured: Greg Rowley and Scott Kramer.
Courtesy photo
by
DEVIN WEEKS
Staff Writer
|
June 29, 2020 1:10 AM
The inaugural COV'AIDE Invitational proved to be an ace of an event.
The 54-hole golf-a-thon, which took place June 9, brought in $15,000 for CDAIDE, a nonprofit that provides support and resources for North Idaho's hospitality and restaurant workers. Eight participants played at the Coeur d'Alene Golf Club, Avondale Golf Club in Hayden Lake and at the Hayden Lake Country Club.
"It went great," organizer Dustin Ainsworth said last week. "We started early at 6 a.m., got through the first round in two hours and 40 minutes. Second round started a little early; we had four holes of rain, finished that in three hours. Started the last round a little early, got through Hayden in just over three hours as well and walked off in 11 hours, 40 minutes."
Ainsworth, a marketing representative with Kootenai Title, and his golf-loving pals — Danny Beutler, Century 21 and Associates; Ryan DeSchryver, Mountain West Bank; Taylor Fore, The Coeur d'Alene Resort; Greg Rowley, Coldwell Banker; Jason Kelly, Numerica Credit Union; Mike Schwagler, Coldwell Banker; and Scott Kramer, Coldwell Banker — knew they'd be able to raise more than the minimum goal of $8,000.
"We just had a ton of people step up and want to contribute because of the organization, because what we were doing was the first of its kind," Ainsworth said. "A lot of us are connected in the community personally, so when we asked, a lot of people wanted to support us."
CDAIDE board chair Rebecca Smith said CDAIDE "is thrilled that these amazing community members came together with this fun and creative event to support local hospitality workers who have faced so many challenges this year."
"Their fundraising goal was ambitious, and they far exceeded it," Smith said. "Like many nonprofits, CDAIDE faces a tough fundraising year, with so much uncertainty around large event fundraisers. An event like this is a lifeline."
Organizers gave special thanks to Coeur d'Alene Golf Club, Avondale and Hayden Lake Country Club for their support, and special recognition to Schwagler for low gross honors, Ainsworth for low net honors and Kelly for making the most pars. Ainsworth said a 54-hole tournament with an expanded field is in the works for next year.
"Huge shoutout to everybody who supported us, and big thank you to them," Ainsworth said. "It was a lot of fun. We really had a great time out there. It was a great test, mentally and physically."
---