Black Lives Matter protesters, and those with flags, square off at McEuen Park over recent police incidents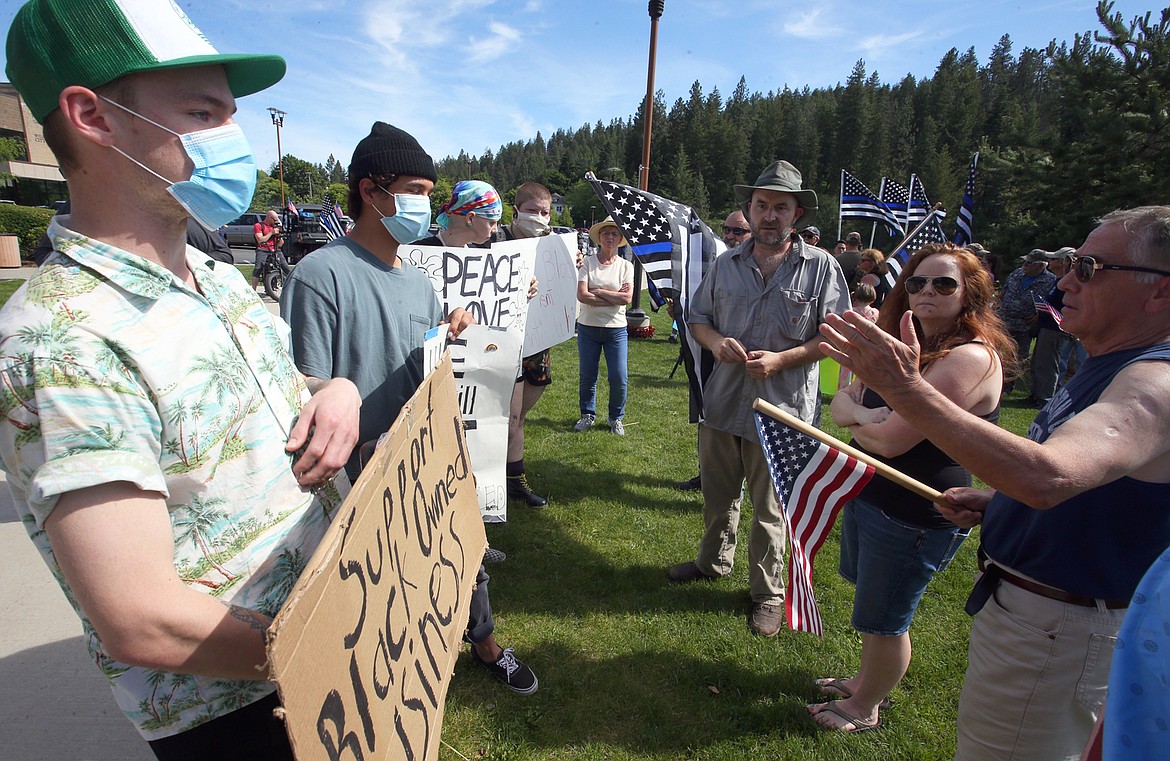 Protesters and counter-protesters exchange different viewpoints during a Black Lives Matter protest and counter-rally at McEuen Park on Tuesday.
BILL BULEY/Press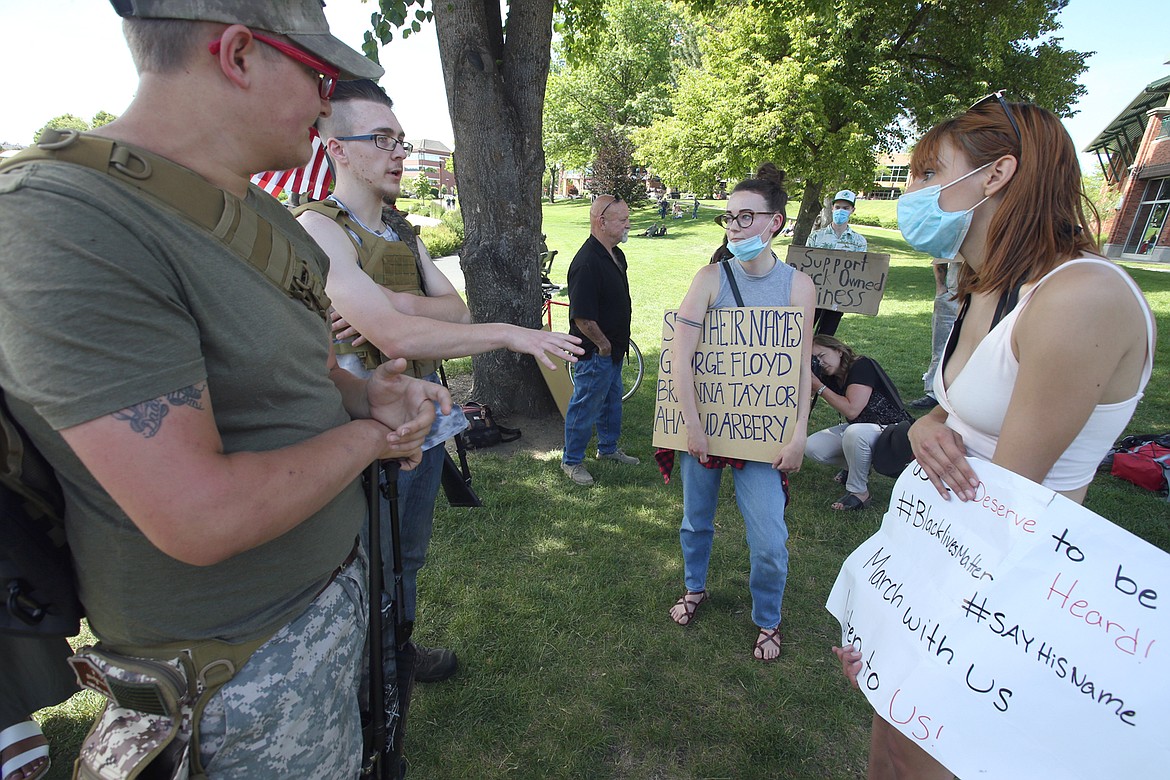 BILL BULEY/Press Gabbie Dunn, second from right, and Katie talk with Mason Deacon, left, and Cole at McEuen Park on Tuesday.
BILL BULEY/Press A man with a megaphone gets his point across at Tuesday's protest.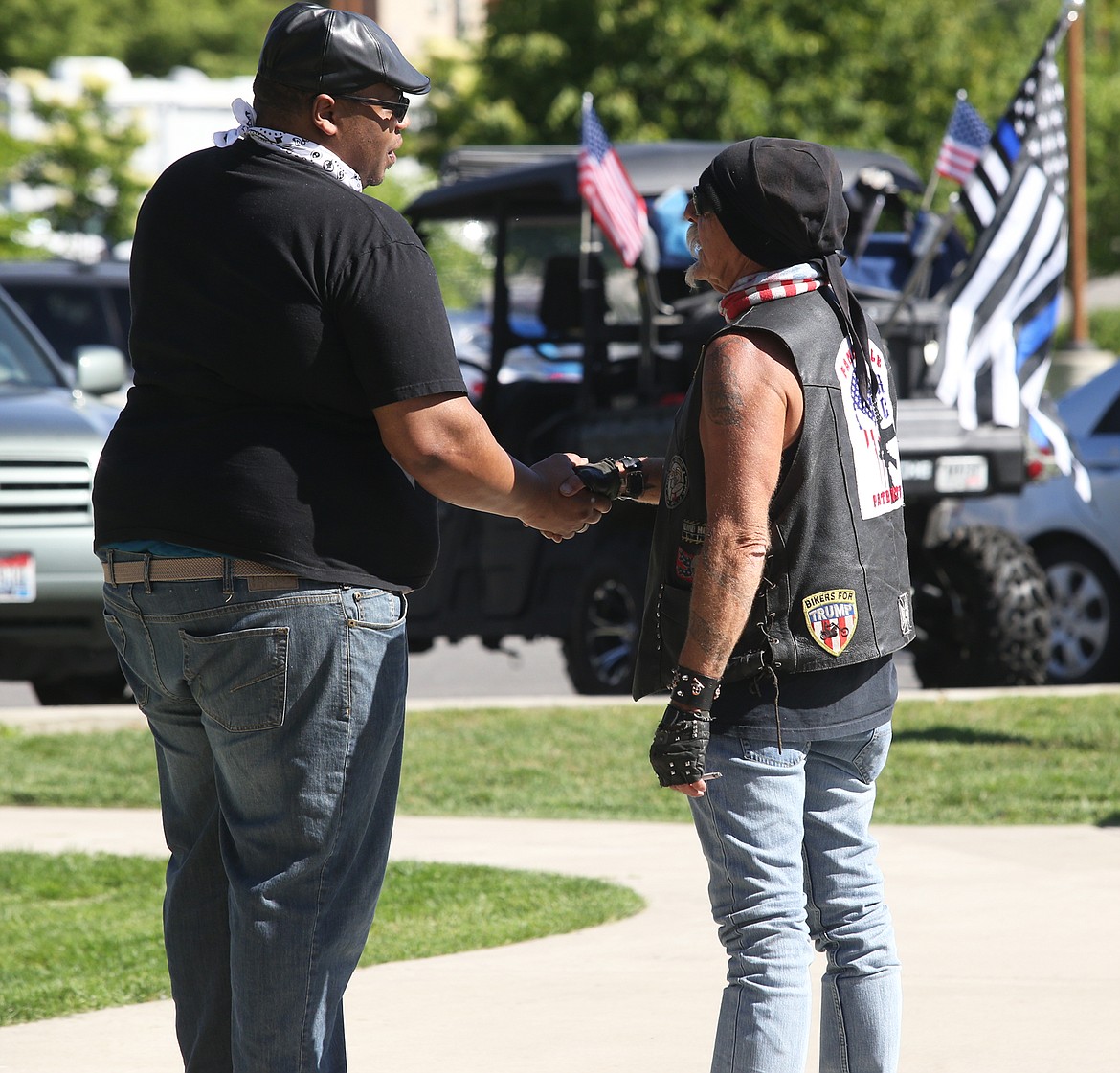 BILL BULEY/Press Two men shake hands during the BLM protest and counter-rally at McEuen Park on Tuesday.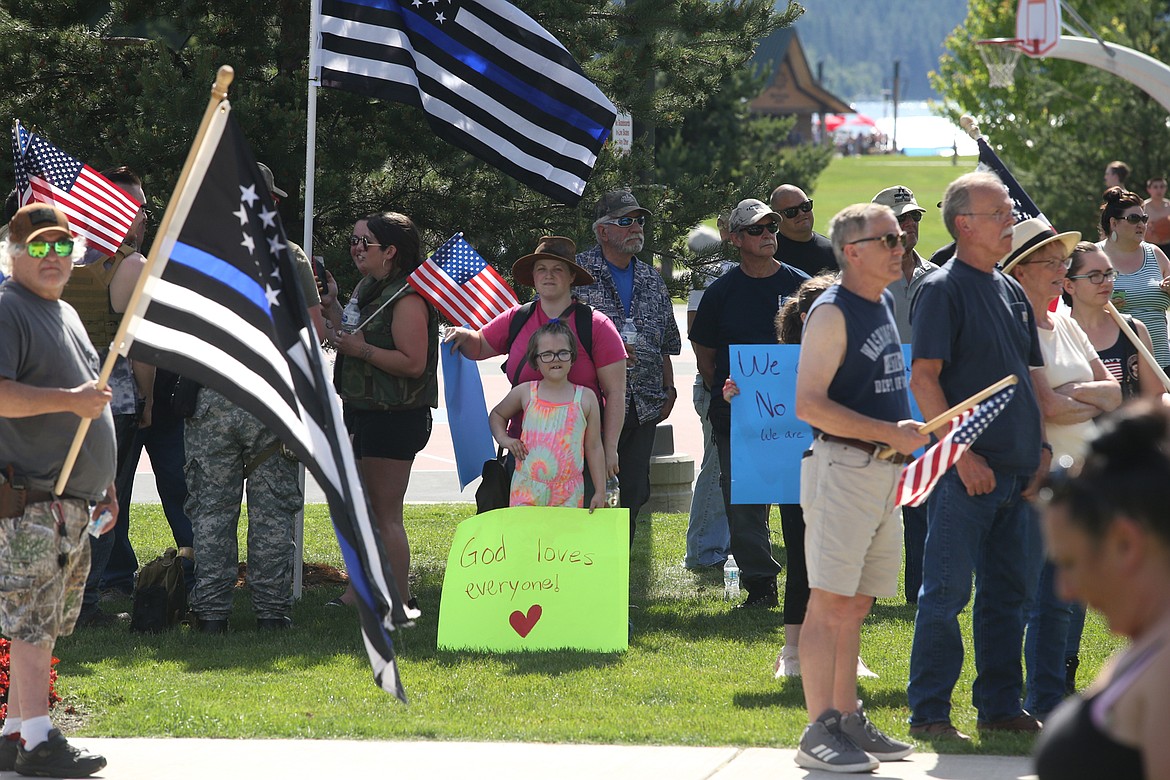 BILL BULEY/Press Amanda Longpre stands with her daughter Emma, who holds a sign during a rally at McEuen Park on Tuesday.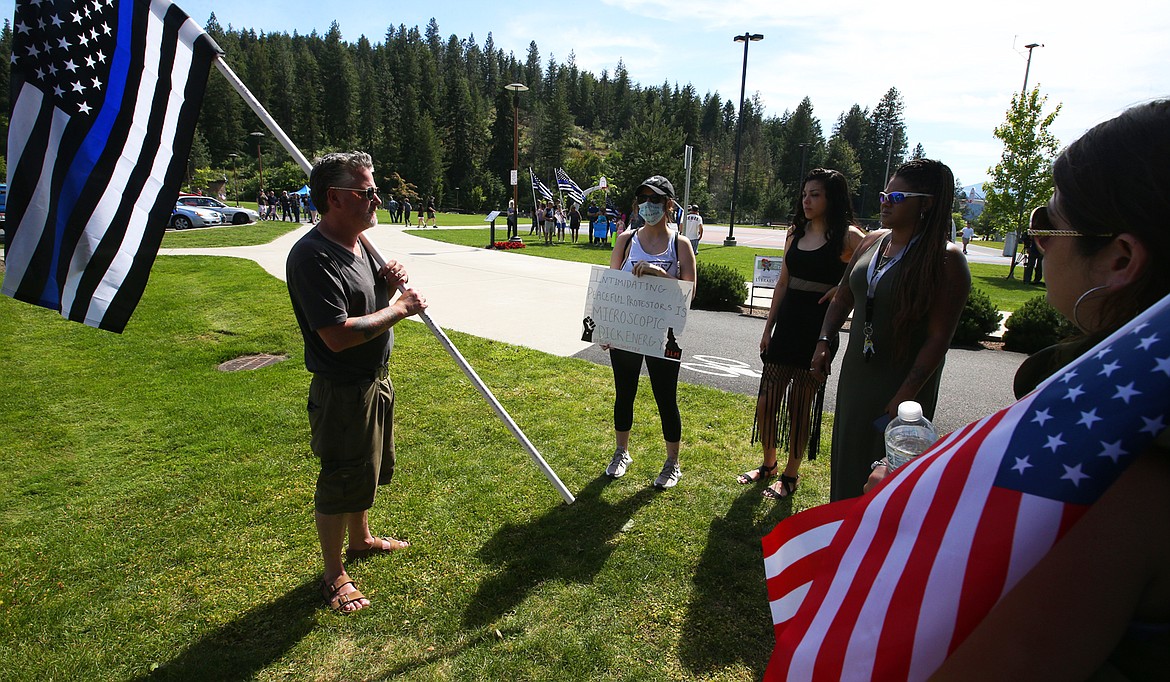 BILL BULEY/Press Kelly Fee holds a flag as he talks with Black Lives Matter protesters on Tuesday at McEuen Park.
Previous
Next
by
BILL BULEY
Staff Writer
|
June 24, 2020 1:15 AM
COEUR d'ALENE — In the middle of the crowd, as two groups looked toward each other and occasionally exchanged shouts and glares, Amanda Longpre stood with her daughters Tuesday at McEuen Park.
Emma Longpre held a sign that read, "God loves everyone!" with a heart drawn in red.
Felicity Longpre's sign read, "We are all equal!!! All lives matter."
Amanda Longpre said family members are in law enforcement.
"I know that most of them are just good guys trying to do a really tough job," she said. "I support those officers and military. I support the right to peacefully protest. I'm down here to try and end hate and facilitate peaceful dialogue."
It was a peaceful gathering of Black Lives Matter protesters carrying signs and calling for changes within police operations, and those with flags, some carrying firearms, to support police and in general, America.
There was some back-and-forth shouting, some expletives, some finger pointing and heated exchanges over signs that called for defunding police.
As skateboarders and runners passed through on an 85-degree afternoon, there were arguments over statistics involving the deaths of Black people and white people.
At one point, some holding flags turned their backs to the protesters as they shouted and chanted.
But many had calm conversations to explain their opinions.
"At the end of the day, we're all God's children," said one woman. "And we are allowed to agree and disagree."
"Remember who we are. We're here to change. We want justice. We want to stop the violence," one man said.
Gabbie Dunn said she was there to support the minority population.
"We're here to have justice and we're here to have recognition and understanding," she said.
Dunn said there have been wrongful acts by police that led to the deaths of innocent minorities, and those officers remain free.
The Black Lives Matter protests, she said, are to remind the public about wrongs committed by some police.
Until those officers are held "accountable for their actions, then it's not going to stop."
She and another young woman named Katie spoke quietly with two young men with firearms.
Katie said she wanted to show support for Black Lives Matter protesters because she knows they are in the minority in North Idaho.
She wanted to stand in solidarity with "people who feel unsafe and unprotected."
Mason Deacon, with a rifle hanging off his shoulder, said he was there to protect people "against antifa or the radical people who are willing to cause chaos and havoc and try and stir the peaceful protests."
A man named Cole, holding a 12-gauge shotgun with flags protruding from the barrel, said he didn't want to see the violence happen in Coeur d'Alene that has happened in other cities.
"I want to keep it beautiful," he said.
Joseph Pleasant, a protest leader, talked and shook hands with several people. He said the rally was not about defunding police, but there are bad cops that need to go.
"Let's get that straight out there," he said. "At the end of the day, I want to make this very well known. We are not about defunding police."
When a man pointed out that a protest sign called for defunding police, Pleasant said, "everybody has their own opinions. I have no control over these people."
But he said there are serious problems within law enforcement and there are police officers who commit crimes against minorities.
He added that "people seem to be living life through tinted windows in Idaho. They don't understand what happens here, they don't think it's a problem."
Pleasant said they are trying to make sure "judges are held accountable when they don't punish police officers like they would civilians. Those judges are committing an illegal act.
"We're trying to hold the bad cops accountable," he said.
Pleasant, who used a megahorn to lead some chants, said they did not want to see anyone hurt. He said "all lives matter. Blue lives matter. I don't care. This is a human rights issue. We're standing for everybody."
A man named Levi said he was concerned about the polarization in the country and the way people are quick to criticize those who don't think the same way.
"I think people haven't thought through ideas enough for themselves," he said, "and it's contributing to the erosion of the culture."
Levi said the middle ground is disappearing and people are being forced to take sides.
"What I don't see are things resolving and coming to closure," he said. "I see them on a path of escalation and that's the thing that concerns me."
Alaina Rushing of Coeur d'Alene said she came down to "keep the peace."
"I'm not on their side," she said, pointing toward protesters, "but I'm not necessarily against them."'
Kelsey Betancourt of Coeur d'Alene wore a Black Lives Matter T-shirt as she took the megahorn.
"I believe that our police are good," she said. "But unfortunately, not all of them are good."
She shouted that if anyone disagreed with her, she would listen to their viewpoint. Meantime, she encouraged people to get educated on the rights and abuse issues important to so many in the country.
"I believe in everyone of you guys here," she said to protesters, many wearing masks. "I'm proud of you."
Kelly Fee, holding a flag, had a long conversation with protesters. He said the idea of defunding police was "ridiculous."
"There would be more chaos," he said.
He said if you have a box of apples and there's a bad one, you don't throw them all out.
"So get rid of the bad apple, make him serve his time, justice, and we move forward," Fee said.
He said he has never had a bad experience with police.
"I always tell cops to have a great day and get home safe," he said. "They want to get home to their families, too."
Recent Headlines
---