The heart of giving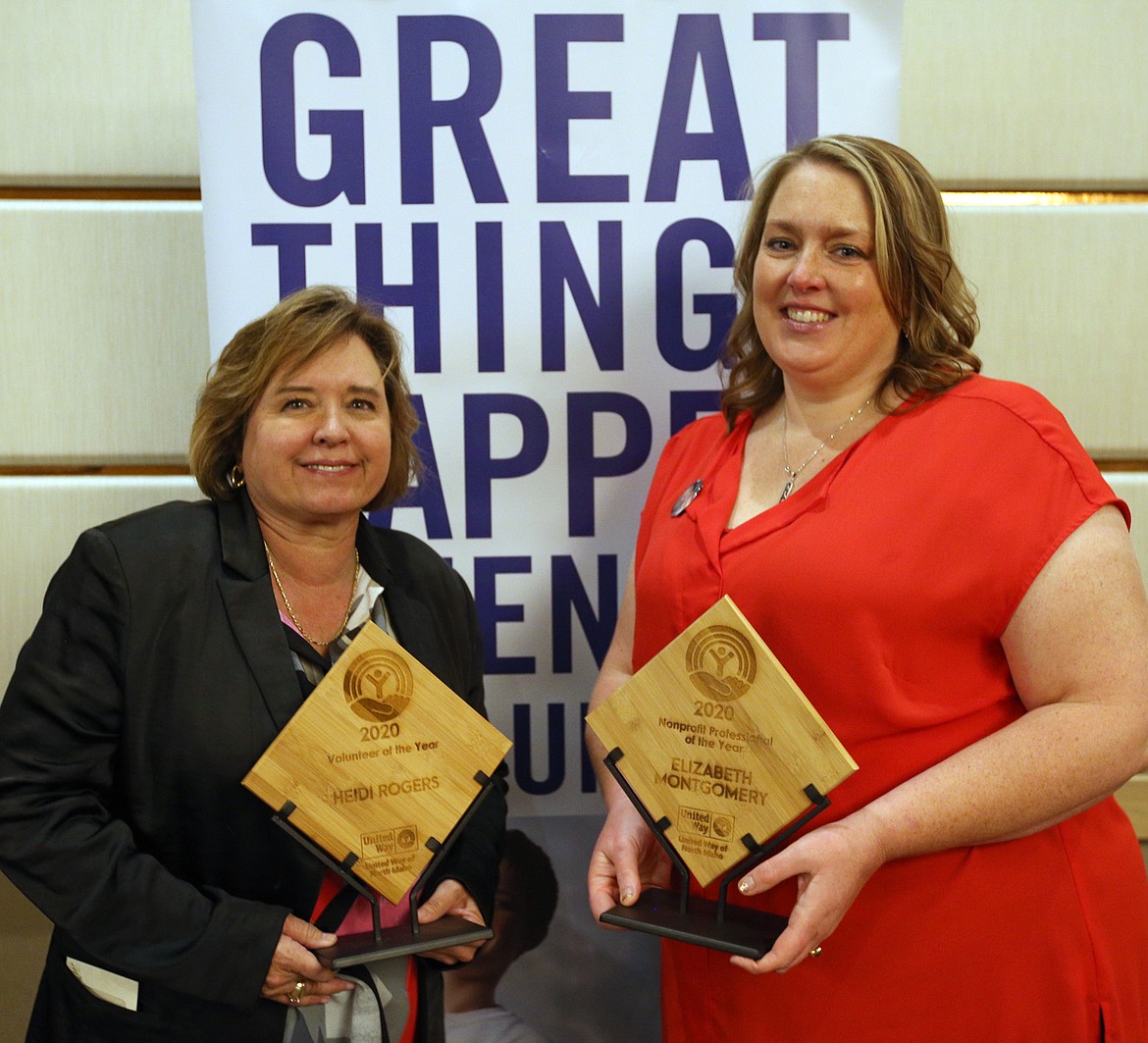 Heidi Rogers, left, and Elizabeth Montgomery hold their awards at the United Way of North Idaho annual awards luncheon on Wedesday at The Coeur d'Alene Resort.
BILL BULEY/Press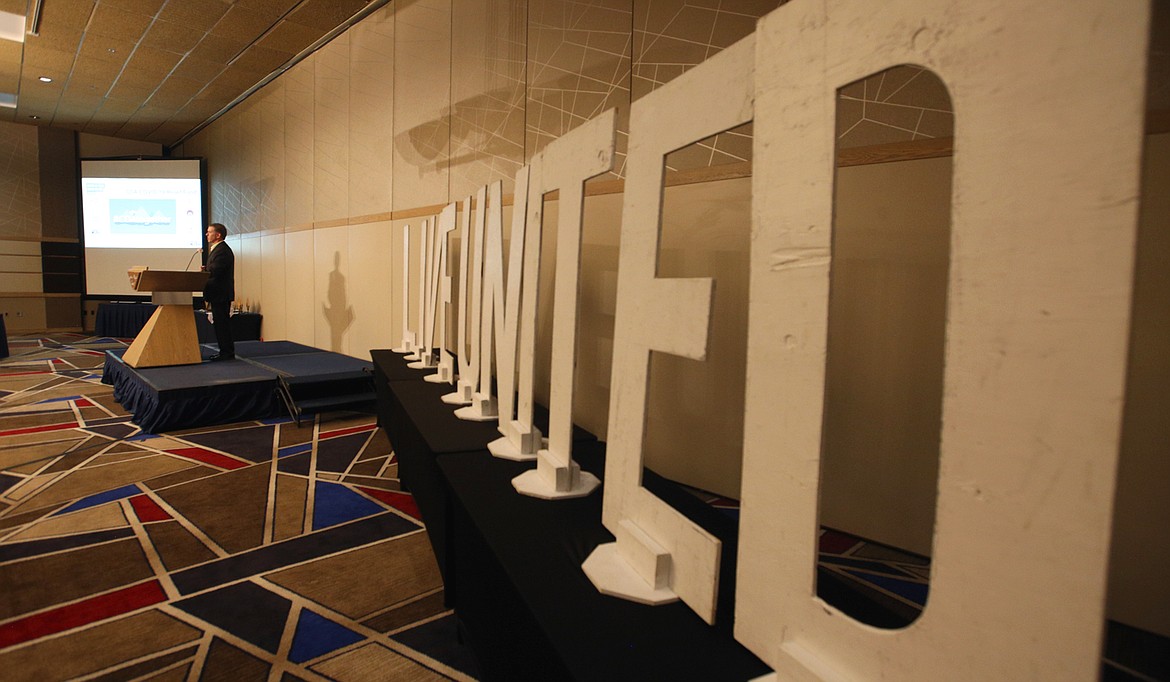 BILL BULEY/Press Mark Tucker, executive director of the United Way of North Idaho, speaks during the organization's annual awards luncheon on Wedesday at The Coeur d'Alene Resort.
Previous
Next
by
BILL BULEY
Staff Writer
|
June 18, 2020 1:14 AM
Heidi Rogers, Elizabeth Montgomery honored for contributions by United Way of North Idaho
COEUR d'ALENE — Mark Tucker's favorite day of the year is the United Way of North Idaho's annual awards luncheon.
That day was Wednesday. About 125 people attended the event at The Coeur d'Alene Resort.
It's a chance to honor volunteers and donors, and share stories of those on the receiving end of those efforts.
Lately, more people have sought protection under the umbrella of United Way.
Between the coronavirus, protests, killer bees and earthquakes, "We're all facing some interesting times," said Tucker, the organization's executive director.
In mid-March, they didn't know to what extent COVID-19 would affect the population. But they did know the economic shutdown to prevent its spread would hit the most vulnerable people — elderly, poor health those living paycheck to paycheck — the hardest.
Through the Coeur d'Alene COVID-19 Relief Fund, United Way of North Idaho led fundraising efforts that brought in more than $100,000 in just over a couple months. About two dozen grants went to nonprofits serving individuals affected by COVID.
And in the past year, UWNI has helped thousands of families, many of those living in or near poverty.
It invested nearly $250,000 and 200 volunteers in school readiness, health and wellness, financial stability and youth success.
In 2019, through UWNI, more than 6,000 individuals participated in nutrition classes and activities; 353 individuals accessed housing or financial services, 1,051 youth participated in out-of-school programs, and 268 families were provided with information and resources to prepare their children for school.
It did all that, and more, on revenues of $662,178, with 66 percent of that from donors and corporate contributions, about 15 percent from grants, and 10 percent from fundraisers.
"Partnership with the United Way is something that is near and dear to us, because they touch so many lives through the different charities and nonprofits that they work with," said Mark Fisher with Advanced Benefits.
Support remains strong for the nonprofit.
The list of "Legacy Donors," a decade of giving, was about 150 strong. Leadership donors, $1,000 or more, listed about 50 people.
Others recognized Wednesday included corporate champions, US Bank, the Hagadone Corporation and Hagadone Hospitality, for contributions of more than $10,000.
Top campaign companies also included Alliance Data, Costco, Wells Fargo, UPS, Avista Utilities, Hecla Mining, Architects West and Mountain West Bank
Heidi Rogers, executive director of the Northwest Council for Computer Education, was the Volunteer of the Year.
She was praised for her leadership, service on boards, fundraising, and rolling up her sleeves for the community.
Rogers deflected the credit.
"It's really all about your Rolodex," she said. "I have the best friends and family."
When masks were needed to combat the coronavirus, she made calls and 700 were delivered. When money was needed, someone put on a fundraiser.
"It's about this community," she said.
Rogers said she learned compassion from her grandfather, and her friend Jack Dawson told her to "always volunteer for different organizations, take your time, start with children, education, older people, hospice, there's so many great things."
"What Coeur d'Alene brings to me is friendship and I am blessed beyond blessed," Rogers said.
More work remains, she added.
"I'm going to tell you what I'm worried about. I'm worried about our schools," she said. "Some things are going to be different. Families are going to have challenges. So, let's look to United Way, Mark, and tell us how we can help our schools and our families and our kids."
Elizabeth Montgomery of Safe Start: Infant and Children Health and Safety, was honored as the Nonprofit Professional of the Year.
The organization puts on classes and training for parents, caregivers, first responders and medical professionals with a primary focus on infant sleep and child passenger safety.
Its "life-saving mission" has impacted thousands, she said. Her work was credited with saving the lives of infants.
She was praised for having the rare combination both "passion and purpose," for being where children need help, and being there for parents struggling to deal with the death of a child.
Montgomery gave an emotional talk marked by tears and credited her staff and volunteers for standing behind her.
"Each one is passionate to uphold our belief that every child deserves to celebrate their first birthday," she said.
What makes a good leader, she said, is "understanding, you won't need to know everything. You just need to know how to keep people around who do."
She brought her children to the luncheon and said her family has been her rock.
"I hope what they witness today brings passion to their hearts and a love for the community as much as I do," she said.
Montgomery is proud to do what she can for United Way of North Idaho, she said, because "it has made the community a better place for so many people."
Tucker said both women stand out and the community was fortunate to have them.
"Heidi and Liz, you're both inspirations to us all," he said.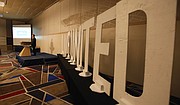 Recent Headlines
---