What dreams are made of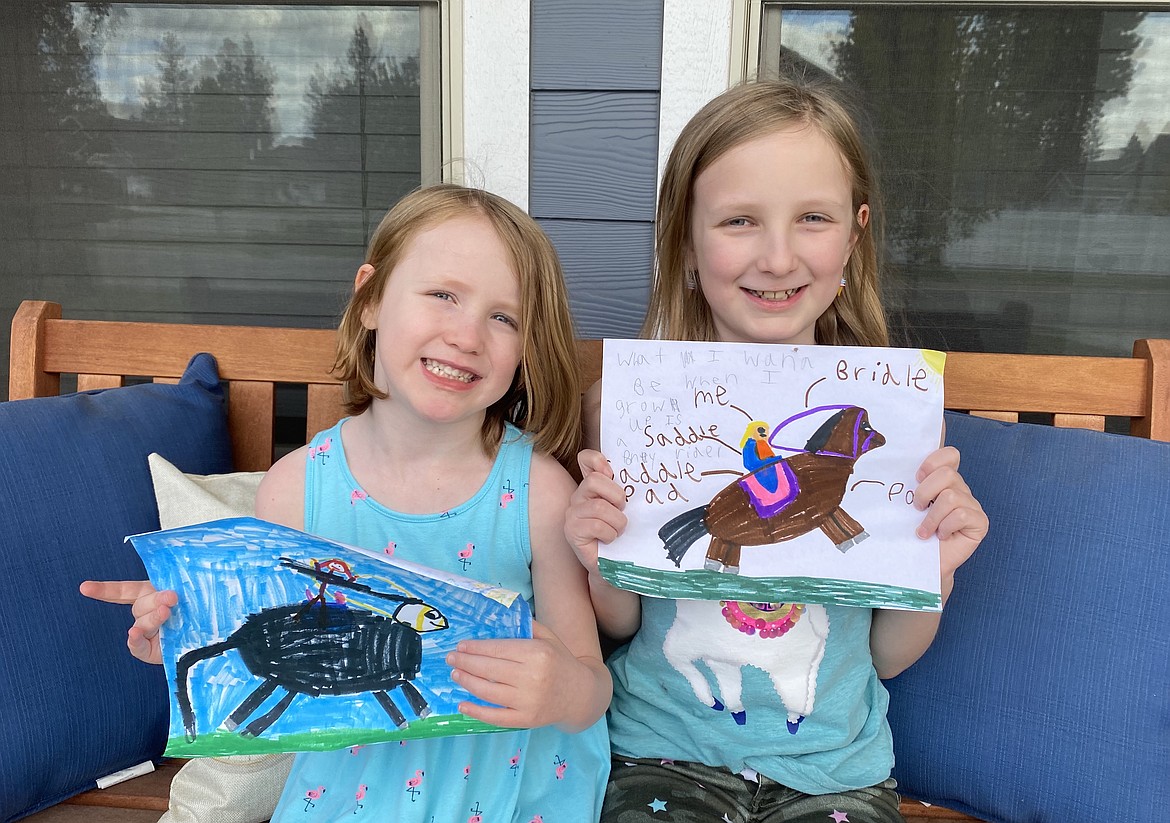 Coeur d'Alene sisters Maisie, 5, left, and Lillian Chamberlin, 8, show off the artwork they submitted for the Draw Your Dream contest presented by IDeal, a state-sponsored college savings program. Visit www.idsaves.org to view their work and the works of other children, and to learn more about IDeal.
Courtesy photo
by
DEVIN WEEKS
Staff Writer
|
June 16, 2020 1:13 AM
Coeur d'Alene sisters participate in IDeal's Draw Your Dream contest
COEUR d'ALENE — It's never too early to start thinking about what you want to be when you grow up.
Coeur d'Alene sisters Maisie and Lillian Chamberlin have been pondering their futures since they were as little as 4.
"I really like horses and ponies, so I want to be a rider, but not a cowgirl," said Lillian, 8, who loves science and animals. Lillian imagines a future in veterinary medicine, or as a professional horse-rider who generates income through a loyal stream of followers on social media.
"I would also like to be a YouTuber, so maybe a horse-riding YouTuber," she said. "I know a YouTuber that has horses, and I'm a fan."
Maisie, 5, is fixed on a career of riding ponies, a natural transition from her early love of unicorns.
"She still loves unicorns," said the girls' mom, Rachel Chamberlin.
The sisters used these visions of the future when they submitted artwork for the Draw Your Dream sweepstakes presented by IDeal, Idaho's state-sponsored 529 College Savings Program. Using crayons, watercolors, colored pencils and magic markers, kids across Idaho put on paper what they hope the future holds for their dream jobs or professions. Each week in April, IDeal drew one winner of a $50 contribution toward a 529 college savings account. At the end, a grand prize winner received a $100 contribution.
Lillian, using a full color spectrum of markers, put herself in the saddle of a big brown horse galloping across a green field. Meanwhile, Maisie drew herself wearing a big smile and sitting atop a black pony trotting along under a clear blue sky.
Although they didn't win one of the monetary prizes, they won bragging rights and their artwork is on display at www.idsaves.org/home/drawyourdreamsweepstakes.html alongside the works of other participants.
Christine Stoll, executive director of IDeal, said the idea for the Draw Your Dream sweepstakes developed as a response to the COVID-19 pandemic. The goal, she said, was to give children and parents a meaningful activity to keep a positive focus on the future and plans for higher education.
"Encouraging students and families to dream big for their futures is a leading value for our IDeal 529 program," Stoll said. "As we thought about ways to keep Idaho parents and families engaged during the last two months, we had several families who indicated the art project would be a welcome distraction and a mechanism for parents to continue the discussion with children about future goals, dreams and plans for achieving them."
Stoll said the contest was inspiring because it provided a glimpse into the imaginations and creativity of Idaho's young people.
Chamberlin and her husband opened 529 college savings accounts for their daughters in 2018. Accounts for both girls were opened by grandparents as well.
"My husband and I both went to the University of Idaho, and we knew when we were kids that we needed to do some kind of higher education, so we're continuing that with them," Chamberlin said. "The other thing is I'm a teacher, so I push education all the time."
Idahoans who contribute to IDeal accounts qualify for state tax deductions of up to $6,000, or $12,000 if married and filing jointly. In addition, unlike most traditional investments, IDeal accounts can grow state and federal tax-deferred.
Recent federal rule changes also allow for the earnings portion of a distribution from a 529 account to be used, without being subject to federal income tax, for apprenticeship programs as well. This includes fees, books, supplies and equipment required of a program certified by the U.S. Department of Labor. A 529 plan is a tax-advantaged savings plan designed to encourage saving for future education costs.
"What we have shared with the girls is to just find something they enjoy, find a problem and find a job that is the solution to that problem," Chamberlin said. "Find something that you love and will want to work at for a long time, and that can involve college or technical school."
Recent Headlines
---