PREP SPORTS: IHSAA moves forward with proposal to seed state tournaments, will discuss further in August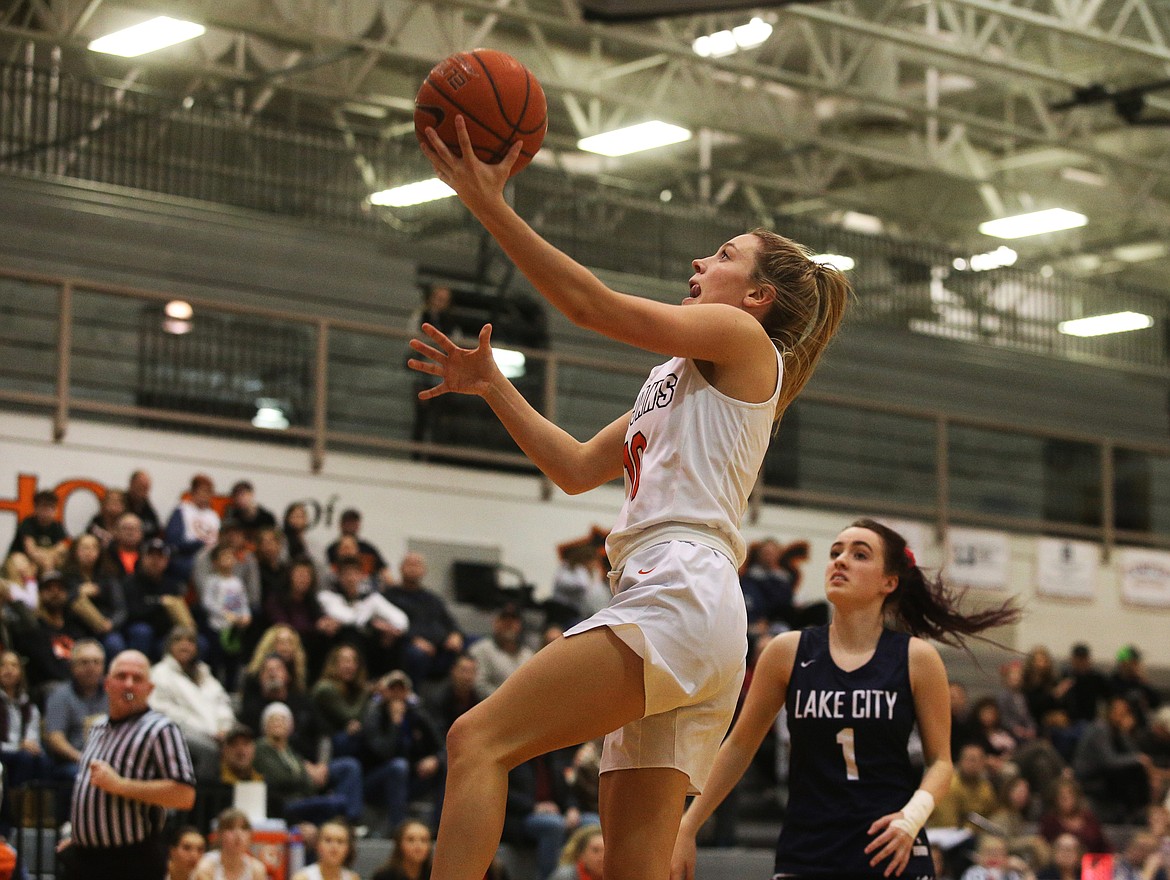 Post Falls forward Dylan Lovett goes for a layup against Lake City during a 2020 5A Inland Empire League game at Post Falls High. The Idaho High School Activities Association is weighing a measure to begin seeding state tournaments in basketball, volleyball, soccer and softball starting with the 2021-22 school year.
LOREN BENOIT/Press file
by
JASON ELLIOTT
Sports Writer
|
June 4, 2020 1:18 AM
IHSAA moves forward with proposal to seed state tournaments, will discuss further in August
Earlier this year, the Post Falls boys took on Rocky Mountain High of Meridian in a state 5A basketball semifinal game in what some might have compared to a championship game.
Same with an opening-round game in the girls 3A tournament between Sugar-Salem and Timberlake.
Those matchups could soon be a thing of the past as the Idaho High School Activities Association moved forward with a proposal to seed tournaments starting with the 2021-22 school year.
Tournaments included would be soccer, volleyball, basketball and softball. Individual sports such as track and field, golf and wrestling will not be affected. The state already uses MaxPreps to seed state tournaments in football and does not sanction a tournament in baseball.
"We had some of our board members ask what we thought of the idea of seeding the tournament," IHSAA executive director Ty Jones said. "No schools have asked for it, but we sent out a survey a few months ago to get some information and we brought it back to them. Those results showed there's an interest in seeding. Two-thirds of those people liked the idea."
The activities association has already determined bracketing for tournaments for the 2020-21 school year, so seeding wouldn't take effect until the 2021-22 season if approved.
Jones said with the new proposal, teams will still qualify for their respective state tournaments as normal, then will be seeded after qualifying.
"I think it's a good idea," Post Falls athletic director Craig Christensen said. "A lot of times, it's by the luck the draw and you can end up with the two best teams playing in the semifinals. This year, Rocky and us were in the second game. We played and beat them, and then tried to get back up for the championship game."
Criteria and how teams are being seeded is still being worked out.
Post Falls boys basketball coach Mike McLean serves on a committee to determine seeding in that sport.
"We've been working on it for three weeks," McLean said. "We're going to use MaxPreps, but it's also really, really early in the process. Seeding teams could be a really, really good thing, but has to be done correctly. We need to seed things in a way that makes sense for everyone. But if you're looking for a single trait, or using an algorithm, it can't just be an eye test. I think finding the right criteria would be a huge improvement, but if it's the wrong thing, it could make things worse."
Often times, teams from the 5A Inland Empire League to fill out their schedules by playing nonleague games against the 4A IEL, or smaller schools from Washington. Washington uses an RPI system to seed its tournaments.
"There's some schools that have a hard time getting games from Washington," McLean said. "And there's some that get a lot of chances to play Washington schools because we help their RPI. We could learn some things from how they do things."
Lake City athletic director Jim Winger said he'll need to look into the change a little further.
"I'm a little leery of it," Winger said. "I'm not in favor of losing any berths and am still a little leery of how it works geographically. There's some assumptions that large Washington and Montana schools are available, which they're not. And we don't want to lose the ability to play Lakeland, Moscow and Sandpoint because those games are good for attendance and rivalries. With so many schools in the Boise area, I'm a little worried about making sure that the north is taken care of. I still like the idea of our second-place teams getting a chance at state."
A vote on whether to seed the tournaments will be on the agenda for the next IHSAA board meeting, scheduled for August. If the vote is in favor, the motion goes to the September board meeting for final approval.
"Once they qualify, then we'd get into seeing who their opponents would be," Jones said. "We already have the tournaments bracketed for this year, so we're not in a hurry to seed the tournaments. We'll see what they say about the changes we've already done."
---