WCC men's hoops schedule announced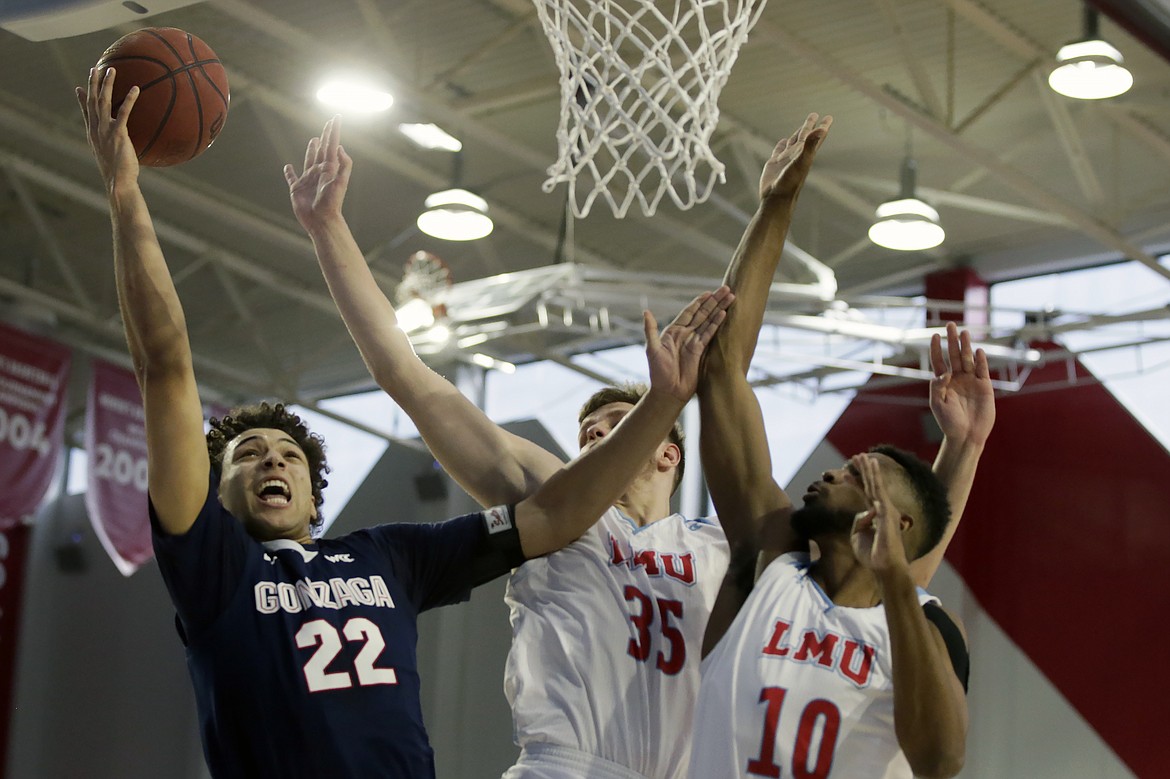 Gonzaga forward Anton Watson drives past Loyola Marymount's Ivan Alipiev, center, and Jonathan Dos Anjos during the Bulldogs' win over the Lions on Jan. 11, 2020, in Los Angeles. LMU is one of two West Coast Conference foes the Zags will face only once during the 2020-21 conference season.
AP Photo/Alex Gallardo
AP Photo/Young Kwak Gonzaga forward Corey Kispert drives to the basket during the Bulldogs' 92-69 win over visiting BYU on Jan. 18, 2020.
Previous
Next
by
From news services
|
June 2, 2020 8:13 AM
WCC 2020-21 hoops slate announced
SAN BRUNO, Calif. — The West Coast Conference has announced the 16 conference matchups for each of its 10 men's basketball teams for the 2020-21 season.
This is the third season the WCC will play a 16-game schedule after changes adopted by the WCC Presidents' Council as part of the Conference's Men's Basketball Enhancement Plan prior to the start of the 2018-19 season.
The matchups detailed below designate the 16-game home and away opponents for the upcoming season based on a conference formula including the 2018-19 & 2019-20 team NET rankings, last year's West Coast Conference tournament seedings, and a spring survey of the league's 10 head coaches.
Gonzaga will play Loyola Marymount and Portland just once each, and everyone else twice. The Zags will play LMU at home, and visit Portland.
The scheduling matchups for West Coast Conference men's basketball do not impact the women's basketball schedule, which will continue the traditional 18-game, double round-robin league slate in 2020-21.
The 2021 West Coast Conference men's and women's basketball tournaments will take place March 4-9 at Orleans Arena in Las Vegas.
The regular-season WCC men's matchups for the 2020-21 season are listed below. Conference play will begin on Thursday, Dec. 31. Specific dates and times for each game will be announced later this summer after the conference's league schedule is finalized.
Gonzaga
Home/Road: BYU, Pacific, Pepperdine, Saint Mary's, San Diego, San Francisco, Santa Clara
Home: LMU
Road: Portland
BYU
Home/Road: Gonzaga, Pacific, Pepperdine, Portland, Saint Mary's, San Diego, San Francisco
Home: Santa Clara
Road: LMU
Loyola Marymount
Home/Road: Pacific, Pepperdine, Portland, Saint Mary's, San Diego, San Francisco, Santa Clara
Home: BYU
Road: Gonzaga
Pacific
Home/Road: BYU, Gonzaga, LMU, Portland, Saint Mary's, San Diego, Santa Clara
Home: San Francisco
Road: Pepperdine
Pepperdine
Home/Road: BYU, Gonzaga, LMU, Portland, Saint Mary's, San Diego, San Francisco
Home: Pacific
Road: Santa Clara
Portland
Home/Road: BYU, LMU, Pacific, Pepperdine, San Diego, San Francisco, Santa Clara
Home: Gonzaga
Road: Saint Mary's
Saint Mary's
Home/Road: BYU, Gonzaga, LMU, Pacific, Pepperdine, San Francisco, Santa Clara
Home: Portland
Road: San Diego
San Diego
Home/Road: BYU, Gonzaga, LMU, Pacific, Pepperdine, Portland, Santa Clara
Home: Saint Mary's
Road: San Francisco
San Francisco
Home/Road: BYU, Gonzaga, LMU, Pepperdine, Portland, Saint Mary's, Santa Clara
Home: San Diego
Road: Pacific
Santa Clara
Home/Road: Gonzaga, LMU, Pacific, Portland, Saint Mary's, San Diego, San Francisco
Home: Pepperdine
Road: BYU
ONE KEY THING FOR EACH PROGRAM
BYU — Ranked seventh in adjusted offense (116.3) and 13th overall (+20.68) in 2019-20 according to KenPom under first-year head coach Mark Pope
GONZAGA — Has been projected as a preseason No. 1 in multiple "Way Too Early" 2020-21 polls
LMU — Welcomes former Marquette assistant Stan Johnson as head coach for 2020-21
PACIFIC — Posted first 20-win season since 2010-11 under WCC Coach of the Year Damon Stoudamire
PEPPERDINE — Welcomes back senior guard Colbey Ross, who ranks fourth among active Division I career leaders in assists (6.60)
PORTLAND — Opened the season with an 8-3 slate — the best since 2014-15
SAINT MARY'S — Was set to make the NCAA Tournament in back-to-back seasons for the second time in program history and the third in four seasons
SAN DIEGO — Have posted two 20-win seasons in the last three years
SAN FRANCISCO — Posted its fourth straight 20-win season under the direction of first-year head coach Todd Golden
SANTA CLARA — Streaked to a 14-2 start — the best for the program since the 1968-69 squad opened at 21-0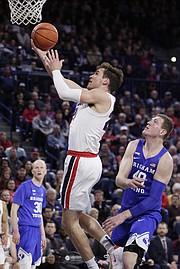 ---