Need a driver's license update? Get in line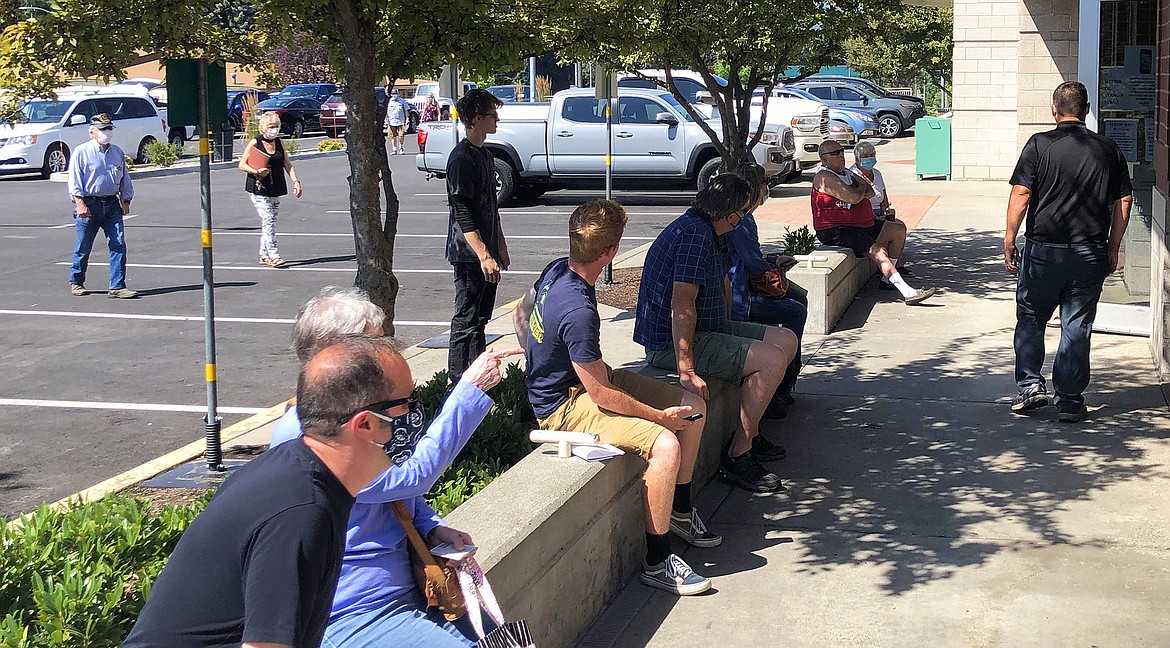 People wait for appointments outside the Kootenai County Department of Motor Vehicles on Thursday.
REED PERRY/Press
COEUR d'ALENE — Backlogs and confusion at the Department of Motor Vehicles have compelled the Idaho Transportation Department to lengthen an existing extension to expiring license credentials.
In March, the DMV issued a 90-day extension for licenses expiring between March 1 and May 31. Drivers had until June 30 to renew.
A federal order has extended commercial driver's licenses. CDLs that expire between March 1 and May 31 are valid until Sept. 30.
Both Coeur d'Alene and Post Falls DMV are operating by appointment only. Those appointments must be made through a smartphone app called QLess.
To use the app, one must own a smartphone and agree to share location and calendar data.
Those who do not have a smartphone or who do not wish to make an appointment for simple transactions are encouraged to access ITD's online services. Click this link to access the online services.
Both driver's licensing and vehicle registration are experiencing wait times of over a month, and many app users are reporting wait times over six weeks.
The scene at Coeur d'Alene DMV on Thursday was one of lines and frustration.
Coeur d'Alene local Jacob Conner recently turned 21 and wanted to update his ID. He used the QLess app on June 16 and didn't get an appointment until July 29. "And they tried to lock me out," he said while waiting in the DMV line. "They locked the doors at exactly 12:30."
"The app said there were long wait times," said Braydon Butler of Hayden. "Then it couldn't make an appointment, so I just came over. Now I've been here for 45 minutes and haven't heard a thing."
Karen Zimmerman of Coeur d'Alene said, "I made an appointment on the app four weeks ago. It texted me with instructions saying to wait in the car, but after waiting for an hour I didn't hear anything. Now they say they called my name already."
"The app said I had an 11:30 appointment but they say I don't have it," said Robert Lloyd of Coeur d'Alene.
Backlogs caused by the shutdown have been compounded by "social distancing" laws that have disrupted normal operations. Entry to DMV offices is being limited. The public is required to use the QLess app and walk-ins are not allowed.
Amanda Pecor, a DMV employee, said that pandemic guidelines have complicated their system.
"Sometimes we're an hour behind even with the app, but we're working through it," she said.
County offices are managed by both the county sheriff's office and county assessor's office.
The Idaho State Legislature has appointed the sheriff in each county act as the agent of the Division of Motor Vehicles in issuing driver's licenses on behalf of ITD, while the assessor's office in each county handles the issuance of titles, registration and license plates.
In total, there are 88 county DMV jurisdictions in Idaho. Each jurisdiction has the authority to close its offices or change the way it conducts business.
"The DMVs across the state typically conduct about 250,000 transactions a month, but because of the limited office access during COVID, we have a significant backlog of approximately 100,000 customers," said Idaho DMV administrator Alberto Gonzalez. "We're encouraging the public to go online and only go to DMV offices when absolutely necessary."
Due to limited staffing and resources, the Kootenai County Assessor's Division of Vehicle Licensing is referring the public to direct any questions to ITD at (208) 334-8000.
---
This story has been updated.
---