Real estate rising
by
REED PERRY
Staff Writer
|
July 26, 2020 1:40 AM
Inventory short as demand goes up for homes in North Idaho
The Kootenai County real estate market is booming.
According to local real estate agents, the pandemic, economic woes and urban unrest appear to have greatly stimulated demand for homes and acreage in North Idaho. Many said demand outstrips existing inventory.
"I've been doing this for 28 years, and I've never seen it like this," said Chad Oakland, owner of Northwest Realty Group. "There is so much competition for so little inventory. Pricing is crazy. You will see 10 offers hours after a listing goes up. Investors come in and buy with cash. Some people are buying houses that won't be completed for a year."
The tremendous demand has changed the dynamics of homebuying.
"There are two kinds of buyers," said Kim Cooper of Select Brokers LLC, "the quick and the homeless. It's not uncommon to see a home under $300,000 to be under contract within hours."
Cooper said there are multiple buyers for the same property.
"What you would call bidding wars," he said. "And they're going over asking price."
According to zillow.com, the median home value in Kootenai County is $365,930. Kootenai County home values have gone up 11.4 percent over the past year and Zillow predicts they'll hold steady within the next year.
Anne Anderson of Lakeshore Realty said July numbers are showing active listings as 800 single-family homes, but 1,486 were sold since January.
"We just don't have that many homes left to sell," she said.
Anderson notes that most buyers are from out of state.
"It's an influx from Seattle and California, but also the Southeast of the United States," she said, "It's exciting to see. These people from all over are here to move here and stay. Those weeks in late June I experienced calls from people who wanted to move immediately during all that drama in the big cities."
According to a July 22 Wall Street Journal article, nationwide home sales surged 20 percent in June over the previous month. According to that article, home buyers are looking outside major cities.
The U.S. Census reported that Idaho has been the main destination of an internal migration in the U.S. and is the fastest-growing state.
Kelly Hanson, with Keller Williams Realty, said that of all homes listed in the area, about 60-70 percent have pending offers.
"And they're getting offers in five to 10 days, and they're multiple offers. The last one we wrote an offer on, we offered $11,000 over. We got beat by $5,000," he said. "And that's in the $300,000 price range."
Hanson also said a lot of people are leaving areas like Seattle and California and heading to North Idaho.
He said he worked with a couple from north of Seattle who wanted to leave because they were frightened over what was happening there and in Portland with protests that were turning violent.
"They're coming over here for a different life and that's a big part of the market," he said.
A few years ago, in the summer, a drive around Coeur d'Alene would find many "for sale" signs in front of homes. Today, it's harder to find a "for sale" sign and if you find one, chances are it might have a "sold" sign, too.
Hanson said with an inventory shortage, it is a seller's market.
"There's more Realtors than houses for sale," he said.
Vacant land is also in demand.
"That's a huge market that wasn't here a couple of years ago," Hanson said.
Hanson said he hasn't seen a market like this since the early to mid-1990s, when Californians were moving in large numbers to North Idaho and buying homes, leading to a price surge.
"I don't know if it's the strongest but certainly the least inventory I've seen in my career," he said.
According to the Coeur d'Alene Multiple Listing Service:
• There are 213 homes listed for sale in Coeur d'Alene (down 9.75 percent from a month ago), with a median list price of $525,900.
• Post Falls has 138 homes listed (down 11.5 percent), with a median list price of $373,663.
• Harrison has 35 homes listed for sale (down 10.26 percent), with a median list price of $695,000.
• In Hayden, 93 homes are listed (down 14.68 percent), with a median price of $524,000.
• Athol, 32 homes listed (down 8.5 percent), with a median list price of $517,900.
• Rathdrum has 59 homes listed for sale (down 7.8 percent), with a median list price of $549,950.
• Spirit Lake, 26 homes listed (down 23.5 percent), median list price of $344,700.
• Sandpoint, 82 homes listed (down 1.2 percent), median list price of $598,000.
• Dalton Gardens, three homes listed, median list price of $979,000.
• Bayview, nine homes listed, median list price of $339,000
Buying trends have been influenced by major events of the last six months.
A March 22 article in The Press quoted Windermere Realtor Rich Dussell, who said, "What housing market?" At that time, at the beginning of the COVID-19 shutdown, home sales had slowed to a crawl.
Since, there's been a dramatic reversal.
Oakland remarked, "I thought March was the end. It was quiet for a few weeks, but then it went really huge."
How has all this impacted Idaho locals?
According to Cooper, local buyers are getting priced out of the market.
"We're seeing a movement of local buyers to the Silver Valley area, Pinehurst and Kellogg," Oakland agreed. "If they're selling, where do they go?"
He added: "It's the imperfect storm. Money has never been cheaper but there is nothing to buy."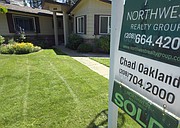 ---