THE CHEAP SEATS with STEVE CAMERON: Don't worry, Zags fans, GU will be just fine without Petrusev
Whoa, who's that crazy guy way out there?
See, the one clinging frantically to a limb.
Oh.
It's me.
Yep, it might just be an imaginary limb, if such things exist in either sports or journalism.
You might not break any of your own limbs (great pun there) if you come crashing down, but you CAN suffer a serious loss of credibility.
As in…
"Does that bonehead really know much about what he's telling us?"
Having admitted that things could go wrong, however, I'll stick to my guns now that what I've suggested is a fact, rather than a guess.
Filip Petrusev is leaving Gonzaga.
The WCC's player of the year, and the Zags' powerhouse in the paint (17.5 points per game, 9.7 rebounds), is taking his talents home — signing with the Serbian pro club Mega Bemax.
And I think Gonzaga will have a better team without him.
PETRUSEV, who would have been just a junior at Gonzaga this fall, hopes to attract interest from the NBA by adding to his game in the European pro ranks.
Among the things that Filip must improve to get NBA scouts' more serious attention is defense.
Despite his size, he's not yet a rum protector.
Even as he battled around the basket for the Zags, Petrusev's shortcomings were exposed by strong and versatile post players — like BYU's Yoeli Childs.
Needless to say, the NBA is filled with musclebound scorers and rebounders, which is why you don't see Petrusev's name on many of the mock drafts being circulated ahead of the actual selections on Oct. 16.
Two other Zags, Corey Kispert and Joel Ayayi, still have their names in the NBA draft pool — with an Aug. 3 deadline to decide one way or the other.
Now THOSE decisions, I believe, will mean far more to the Zags' immediate fate.
But back to Petrusev, and why he isn't a perfect fit at the moment — either for Gonzaga or the NBA.,
Besides the defensive issues, Filip has to prove he can play away from the basket.
Pro scouts were not impressed by his lack of shooting from distance, nor his lateral agility in defending things like pick-and-rolls out near the top of the key.
To be fair to Petrusev, he had no need to become a 3-point wizard at Gonzaga, since there were plenty of others who were canning those shots routinely.
No less than three Zags (Kispert, Ryan Woolridge and Killian Tillie) hit at least 40 percent from deep last year, while Petrusev tried just 11 3-pointers — and made two.
To be fair, Filip could become a decent perimeter presence, even among the talent in the NBA.
He's a fine athlete, and even though it wasn't needed often, he has displayed a good shooting touch.
As one NBA scout put it: "The ball comes out clean. There's no reason he can't become a pretty good shooter."
One of the reasons Petrusev chose to leave Gonzaga and settle in to work on his game at Mega Bemax is that he needs the game time — which wouldn't be a given at Gonzaga.
Filip also needs to show that he can shoot while getting banged around by huge people.
He shot 85.3 percent from the foul line as a sparingly used freshman, but then as the Zags' No.1 option last year, he shot 238 free throws — fourth-highest in Division I — and converted only 65.5 percent.
That has to improve.
MEANWHILE, on the Zags' side of this decision, well…
As I've previously written while edging further and further out onto that limb, I believe Gonzaga eventually will be better without Petrusev.
Nothing against Filip personally, by the way. He seems like a nice young man who speaks flawless English, answers questions politely and has done what's been asked of him at both ends of the floor.
But here's my logic…
The Zags are loaded with talented big men,
Freshman Drew Timme actually was playing better than Petrusev by the end of last season, and it was the 6-10 Timme who basically took command of the WCC tournament title game against Saint Mary's.
Remember, too, that gifted forward Anton Watson will be back after shoulder surgery, massive Malian international star Oumar Ballo is now eligible after what amounted to a redshirt season, and 6-11 Russian Pavel Zakharov is still around after his apprenticeship as a third-string freshman backup a year ago.
GONZAGA has a glittering history of players making massive improvements with each year in the program, so don't be surprised if Zakharov — who may take an official redshirt as a sophomore — eventually becomes, well, the next Pertrusev.
Bottom line: Gonzaga had too many big men, and everyone's playing time was bound to decrease.
Plus, and this is what TRULY matters in the big picture, building solid team defense around Timme, Ballo or even Zakharov in the middle is likely to be easier than doing it with Petrusev.
Coach Mark Few has quiet but high aspirations for all of his interior players.
Conclusion: I think the Zags will benefit from Petrusev's decision to leave.
So, I'm still way, way out on that limb.
Email: scameron@cdapress.com
Steve Cameron's "Cheap Seats" columns appear in The Press on Mondays, Wednesdays and Fridays. "Moments, Memories and Madness," his reminiscences from several decades as a sports journalist, runs each Sunday.
Steve also writes Zags Tracker, a commentary on Gonzaga basketball, once per month during the offseason.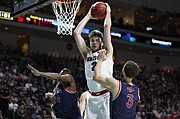 ---