Grand grants from great gals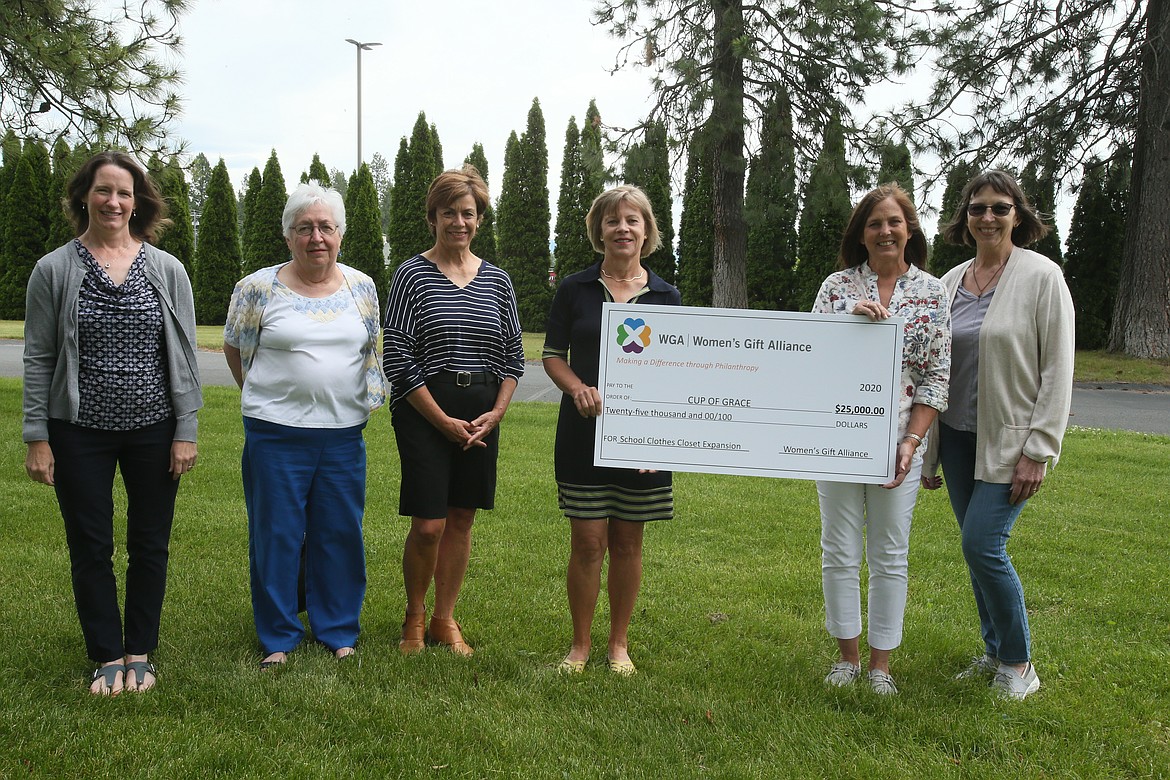 Representatives of the charitable Women's Gift Alliance award officials from Cup of Grace a big $25,000 check during a quick meeting Friday in Rathdrum. From left: WGA members Sarah Swanby, Jovanna Tanzey, Debra Stoenner and Susan Engebretson; and nonprofit Cup of Grace founder Amy Privitt and secretary Tamara Wheeler. Overall, WGA awarded $100,000 to local causes this grant season.
DEVIN WEEKS/Press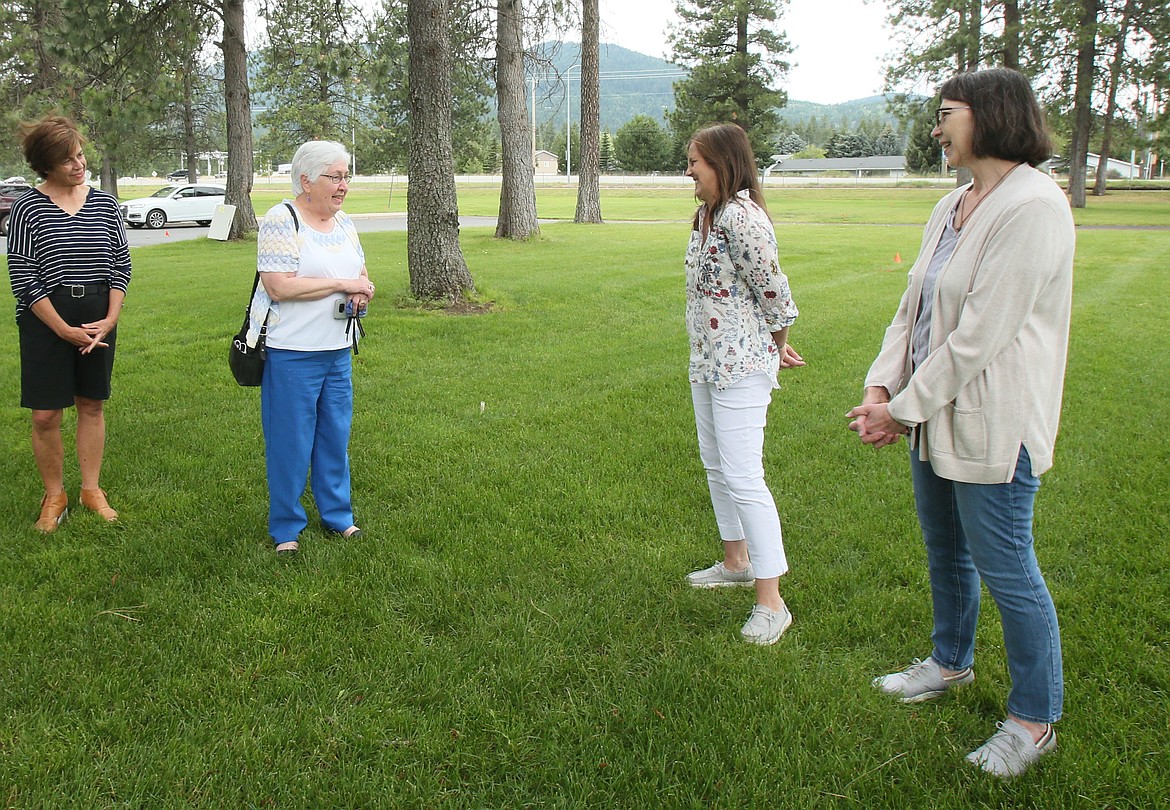 Women's Gift Alliance Vice President Jovanna Tanzey, left center, shares a sweet moment with Cup of Grace founder Amy Privitt, right center, as Tanzey discusses why WGA feels Cup of Grace is such a worthy cause. Also pictured: WGA member Debra Stoenner, far left; and Cup of Grace secretary Tamara Wheeler, far right. (DEVIN WEEKS/Press)
Previous
Next
by
DEVIN WEEKS
Staff Writer
|
July 18, 2020 1:06 AM
Women's Gift Alliance awards $100,000 in grants to area nonprofits
A gift of $25,000 will go a long way for a local nonprofit that tirelessly works to serve those in the community who are hurting the most.
"Our motto is, we want to bring the community together, bring neighbors together and assist with food, clothing and social services," Tamara Wheeler, secretary and grant writer for Cup of Grace, said Friday.
Cup of Grace, established in 2017, serves Spirit Lake, Athol, Rathdrum and Blanchard by providing community meals, free summer weekend lunch programs for kids, clothing closets in schools, "buddy bags" for first responders to have on hand when working with children and a diaper bank for single moms and families in need of diapers for their little ones.
As an all-volunteer nonprofit, Cup of Grace works out of volunteers' homes and rents storage units for non-perishable foods and other donated goods it collects.
"That's one of our dreams," Wheeler said, "to actually get a building of our own."
The Women's Gift Alliance, a nonprofit affiliated with the Idaho Community Foundation, has gifted $25,000 to Cup of Grace to help in its mission to help others, and to maybe someday establish that brick-and-mortar hub of helping.
"What impressed us most was that a small group — 15 — mostly women, saw a need, and determined to do something, resulting in closets for kids in need in 11 schools, 79 volunteers to staff them," WGA Vice President Jovanna Tanzey said. "And they told us there is more to do."
The blessings don't stop there. Cup of Grace is one of three WGA Pooled Grant Fund Award winners in the 2020 cycle. Children's Village and the First Judicial District CASA (Court Appointed Special Advocates) program were also recipients of $25,000 grants.
"The generous gift from WGA has allowed us to purchase a van to replace an old vehicle in our small fleet," said Vanessa Moos, director of charitable giving for Children's Village, which provides housing and services for kids in crisis.
"By giving us this funding, we are able to safely transport the children and sibling groups living in our care," Moos said. "With the current pandemic, we are working hard to minimize exposure of the virus into our homes, which limits the places we can take the kids. Having the ability to transport the children out into our beautiful nature helps us make them feel safe, loved and full of hope."
Because needs have been so great this year, five more grant finalists were awarded $5,000 each: Emerge CDA, Growing the STEM, Kaleidoscope Community Services, the Museum of North Idaho and the Rathdrum Senior Center.
That brings this year's grand grant total, combining membership fees and endowment interest funds, to $100,000.
"We feel very fortunate for the support of our membership to be able to do this," grant committee co-chair Sarah Swanby said. "That's what it comes down to — our membership support allows us to give $100,000 back to Kootenai County nonprofits."
This is the 15th year WGA's more than 150 members have put their money behind worthy local causes, and each year, the giving has grown. In 2005, the first pooled grant of $26,000 was awarded to Kootenai County Search and Rescue. Since then, more than $1 million has been given back to the community through pooled and individually designated grants.
Annually, WGA opens the grant application process in the fall, with applications due in November. The grant committee starts reviewing in January and the process continues until May.
An awards distribution event is normally held to celebrate the grant recipients, but because of the pandemic, WGA representatives have been making house calls and delivering the good news to awardees throughout the month of July.
"We had to learn how to Zoom," Tanzey said with a smile. "We all got dragged into the digital age. They did a super job, the grant chairs, of getting all of us to be able to do this. And we did it."
Info: www.womensgiftalliance.org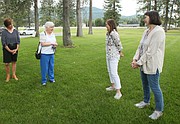 Recent Headlines
---