ZAG TRACKER: NBA draft deadline day looms large for Gonzaga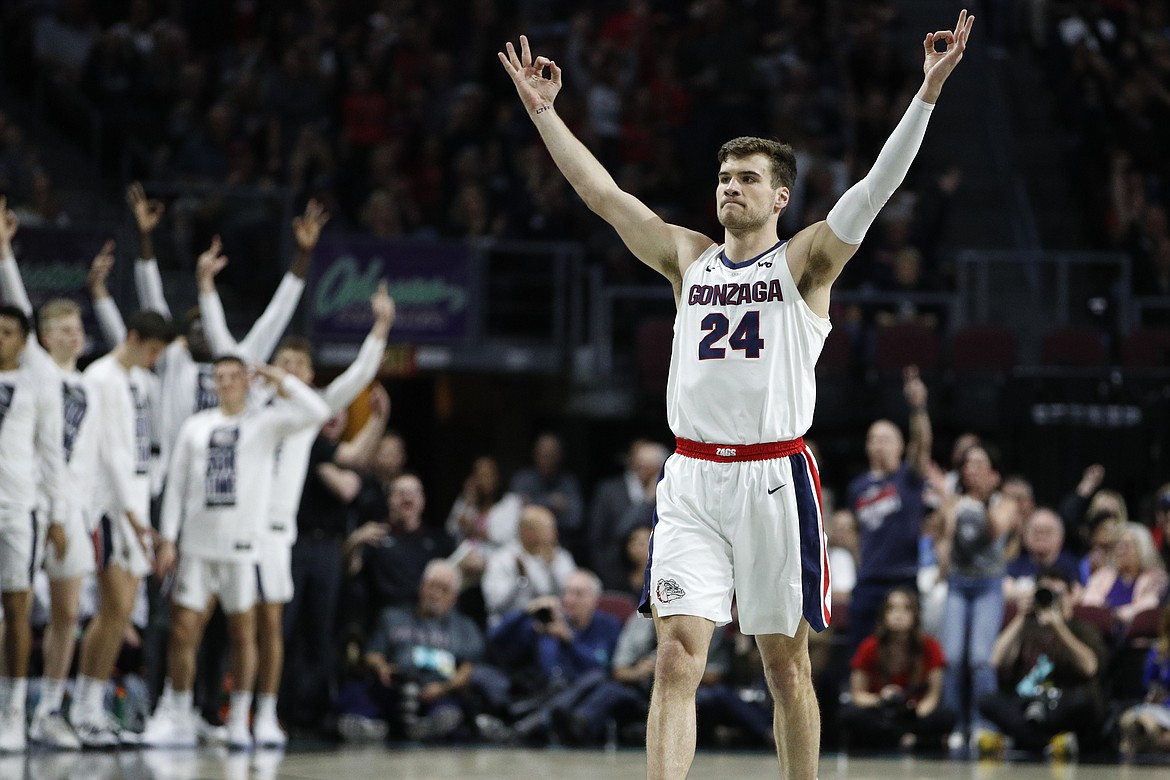 Gonzaga's Corey Kispert (24) celebrates after a teammate's 3-pointer during the Bulldogs' March 10 win over Saint Mary's in the West Coast Conference tournament final, March 10, in Las Vegas.
AP Photo/John Locher
Zags fans need two things.
Desperately.
Here's what you can do to help:
• Wish real hard.
• Cross your fingers.
• Light a candle.
Sorry, but that's about all the impact you can have on these events.
The first item on our list is pretty simple: Gonzaga needs the NCAA to go ahead with a basketball season for 2020-21.
And play a championship tournament.
At the moment, COVID-19 seems to be running wild everywhere in America, so when you close your eyes and try to imagine a Zags hoop season beginning at the McCarthey Center on Nov. 10 …
It's tough to picture it.
OK, maybe everyone will start wearing masks, or there will be a vaccine appear out of nowhere.
Right now, though, things do not look great.
Anybody have a suggestion?
HEY, LET'S hear a thought from Rick Pitino, the newly minted coach at Iona.
Never mind that Pitino faces punishment — perhaps suspension for half a season — for his misdeeds at Louisville.
All ideas are welcome.
Pitino's plan calls for college basketball to be postponed until January, when teams would play a conference-only schedule.
That might be fine for Iona (with or without Rick on the sidelines), but Gonzaga has a huge national profile — with several big-name opponents on the schedule this year.
Honestly, if the notion here is to push back basketball to buy time, then why not start a full season in January, adjust the bigger non-conference dates, and turn the NCAA tournament into May Madness?
Either way, the Zags need a season.
Mark Few has never had as much talent on campus as he will this year.
Most preseason polls have the Zags at No. 1 in the nation, slugging it out with fellow heavyweights Baylor and Villanova.
It was heartbreaking enough to have the tournament canceled in March, leaving the Zags (31-2) to wonder if they could have gotten back to the Final Four.
But surely it can't happen two years in row …
Can it?
LET'S SAY that somehow, some way, there's a full basketball season — even with no fans, sadly — and the NCAA proceeds with a tournament.
That brings us to the second item on our wish list.
The Zags truly, absolutely need Corey Kispert to return for his final season in Spokane.
Kispert, along with Gonzaga teammates Filip Petrusev and Joel Ayayi, declared for the NBA draft — although without hiring an agent.
The deadline for their decision on whether to remain in the draft is Aug. 3.
Ayayi surely will be back. He's going to be a pro eventually, but he's not ready yet.
Petrusev is a weird case.
He was the WCC player of the year, Gonzaga's leading scorer, but Filip's choices to stay or go both have more downsides than excitement.
NBA scouts and execs aren't wild about Petrusev, who plays an old-fashioned game on the low block.
The pros want their 6-foot-10 guys to step out and shoot these days — not to mention being quick enough to cover pick-and-roll action 20 feet from the hoop.
On the other hand …
Petrusev can't really help himself by returning to Gonzaga.
He's already accomplished everything possible at the college level, and with Drew Timme improving like gangbusters down the stretch last year, Oumar Ballo ready after redshirting and Anton Watson finally healthy after shoulder surgery, Petrusev's minutes will surely diminish this year at Gonzaga.
With all those big guys available, the Zags actually could be better off if Petrusev leaves — even if his best option is playing professionally in Europe.
SO THAT brings us back to Kispert.
There are coaches and scouts who believe his strength at 6-7 and 220 pounds, plus relentless shooting ability (43.8 from 3-point range a year ago), can earn him a place in the NBA.
Naysayers insist that Kispert needs another year to work on handling the ball and becoming quicker laterally on defense — and that if he stays in the draft now, he's likely a late second-round pick (or undrafted entirely) who could spend considerable time riding buses in the G League.
Sam Vecenie, who scouts college players ahead of the NBA draft, sums up Kispert's options very succinctly.
"He's an absolute knockdown shooter who moves well off of the ball and has very real positional size and strength," Vecenie wrote for The Athletic.
"Kispert is regarded to have absolutely elite character. NBA teams who have sat with him in interviews have really come away impressed with his maturity level, and believe he'll be perfect for the kind of role that he'll be asked to play at the next level.
"He's not going to be a star, but every team is looking for guys happy to run around the court, space the floor and knock down open shots.
"The big question here is whether Kispert can defend at an NBA level. While he wasn't bad on defense at Gonzaga, he largely got by using his physicality, preparation and strength.
"At the NBA level, he'll need to showcase lateral quickness at a higher level to prove that he can be counted on to not give up too many points at the defensive end of the floor."
MORE FROM Vecenie:
"Basically, I don't think Kispert has a bad choice available.
"Barring injury, it's about impossible for me to envision a circumstance where he wouldn't get a two-way contract next year. Having said that, I'm also not convinced that he would be selected in the first half of the second round, thus essentially guaranteeing himself a full minimum contract.
"There is a very real chance a team could value him in the early second-round range, but it's far from a certainty.
"If he decides to return, given how loaded Gonzaga is next year, I don't think his numbers are really going to spike or anything. From a draft perspective, he'd essentially be trying to ride the wave of being a top player with translatable skills on a national title contender.
"That has value, especially given that he's the leader from a culture standpoint.
"If he could showcase some increased lateral agility and some improved shiftiness when attacking closeouts, that would likely help his stock.
"And I don't really see a world where he falls below the line of not being a two-way (NBA contract) player if he were to go back to Gonzaga,
"I think both options really make a lot of sense for him.
"If he wants the earnings that would come from a pro season, he should go.
"If he wants the chance at the immortality that would come from being the first leader to get Gonzaga to a national title, as well as the potential to help his stock somewhat, returning makes sense.
"It's all about what matters to him."
HERE'S THE thing, though …
While both options appear to be excellent for Kispert, the same is NOT true for Gonzaga.
With three super freshmen coming into the program — along with solid grad transfer Aaron Cook Jr. — and bigs Ballo and Watson learning to find roles around the hoop, these retooled Zags really need Kispert's leadership.
The coaching is as good as it gets at Gonzaga, but Few and his staff can't get on the floor at crunch time.
Remember, this very likely will be a team relying on a freshman point guard — and as good as Jalen Suggs almost certainly will turn out to be, he's never had the pressure he's going to feel running the Zags offense.
The comfort level for Gonzaga having Kispert still around to calm things down, holler out adjustments when necessary, taking on leadership off the court, plus hitting those big, big shots …
There's no way to replace that.
Sure, the Zags would still be very good without Kispert.
But there's a difference between good and reaching the top of the mountain.
Corey might be the guy who could pull everyone to the summit.
Email: scameron@cdapress.com
Steve Cameron's "Cheap Seats" columns appear in The Press on Monday, Wednesday and Friday. "Moments, Memories and Madness," his reminiscences from several decades as a sports journalist, runs each Sunday.
Steve also writes Zags Tracker, a commentary on Gonzaga basketball, once per month during the off season.
---