Idaho free of coronavirus
|
January 31, 2020 12:00 AM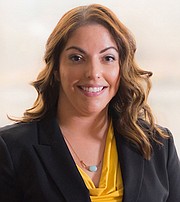 By BILL BULEY
Staff Writer
While the coronavirus has been declared a global emergency, no cases have been reported in Idaho.
Lora Whalen, Panhandle Health District director, said Thursday that people should stay alert and take precautions.
She said anyone who has traveled to the Wuhan area in China or has had contact with someone who has recently been there, and develops a fever or respiratory symptom, "absolutely needs to contact your physician."
"The risk is low to the general public, but not to those who have directly traveled to the Wuhan area," Whalen said.
Six cases of coronavirus, including the first case of person-to-person transmission, have been reported in the U.S.
Whalen said Idaho health officials, and those across the nation, will monitor the situation closely.
"Things change daily," she said.
So far this flu season, four influenza-related deaths, including one pediatric, have been reported in North Idaho and 12 across the state.
And while more than 2,000 laboratory specimens have been tested, only 355 have come back positive for influenza, said Katherine Hoyer, PHD spokeswoman.
"That doesn't mean that's all of the flu cases," she said. "Some don't come to the hospital and some aren't tested."
Influenza type B has been the predominant form of flu in Idaho, although more cases of type A are emerging, as well.
During the 2018-2019 flu season, flu resulted in 58 deaths in Idaho, according to the Idaho Department of Health and Welfare. The Panhandle saw eight flu-related deaths.
Hoyer said common symptoms of the flu, which tend to come on more abruptly, are headache, cough, chills, and fatigue.
The flu season runs until May, according to the Centers for Disease Control. Nationwide so far, CDC reported there are 15 million flu illness hospitalizations and 8,200 deaths from the flu.
"Flu has taken more lives than coronavirus at this point in the flu season," Whalen said.
Which is why she said prevention is key.
"I take very seriously flu shots and I recommend that folks do get one," she said.
Flu shots are available at PHD and most pharmacies.
The prevention message is much the same for both the flu and coronavirus
"Wash your hands. If you're sick, stay home," Whalen said.
The CDC offers a few more recommendations to help prevent the spread of respiratory viruses, including:
- Avoid touching your eyes, nose, and mouth with unwashed hands.
- Avoid close contact with people who are sick.
- Cover your cough or sneeze with a tissue, then throw the tissue in the trash.
- Clean and disinfect frequently touched objects and surfaces.
Recent Headlines
---