Homework and a healthy meal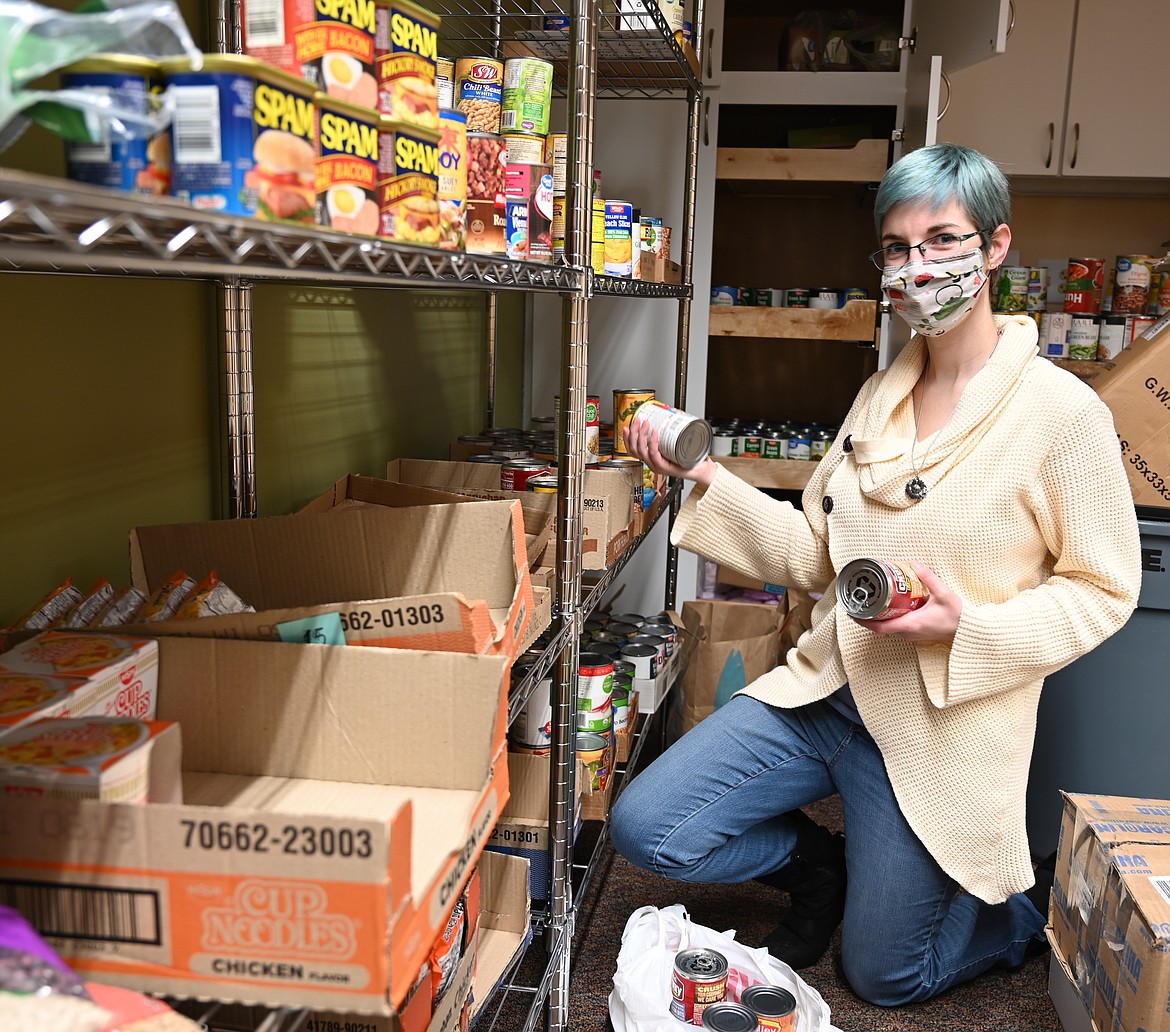 Photo by Victoria Michael/North Idaho College) North Idaho College employee Crystal Carney helps out in the NIC Food Pantry. The pantry is stocked with donations from faculty, staff and students and is available to NIC students and employees experiencing food insecurity.
|
December 30, 2020 1:00 AM
By MAUREEN DOLAN
North Idaho College
Helping students achieve success goes beyond feeding students' minds at North Idaho College. Campus community members also work together to help keep students' stomachs filled.
The NIC Food Pantry, maintained by the college and stocked in large part by donations from faculty and staff, offers a safe and welcoming place for students to get help if they are having trouble meeting their nutritional needs.
"At NIC, we talk a lot about being a family. The efforts around our Food Pantry reinforce that image for me," said Graydon Stanley, vice president for student services. "You see care and love expressed through the generosity of all family members for one another, from employees to students and students to each other. In these challenging times, it is heartening to see the NIC family take care of its own."
Food insecurity is a prevalent issue for students on college campuses throughout the U.S.
The Hope Center at Temple University, in a 2019 survey participated in by 86,000 college students, found that 48 percent of students attending the nation's community colleges are food insecure. The Hope Center's College and University Basic Needs Insecurity: A National #Real College Survey Report defines food insecurity as the "limited or uncertain availability of nutritionally adequate and safe food, or the ability to acquire such food in a socially acceptable manner."
Studies have shown that food insecurity can have a profound, negative effect on students' mental health and well-being, and at times, derail their plans to achieve their academic goals.
For many community college students, there is the added pressure of having to feed their families as well, as they work to complete their studies and improve their family's quality of life. A recent thank you note to the NIC Food Pantry, from a student, a single mom who received a box of food, highlights the impact of fulfilling a student's food needs.
"It's been so rough being the end of the year, and to have people reach out to help really took a chunk of stress off of me for a little bit," the student wrote. "Both my kiddos get to see their momma with a little bigger smile on my face when I get home tonight."
NIC students also donate to the food pantry, many through clubs they belong to on campus, but a majority of the donations come from faculty and staff, said Lauren Corley, senior administrative assistant in the NIC Student Services Office who manages the pantry.
The bulk of food donations come in during the holiday season each year. In early December, the pantry received 1,244 pounds of food collected from faculty, staff and students during the second annual NIC Division Food Drive Challenge.
The inaugural food drive challenge was launched in 2019 by James Jewell, a professor of history who is co-chair of the college's Social and Behavioral Sciences Division. The idea stemmed from a food drive undertaken by Gonzaga Prep students each fall as a service-learning project.
"This led me to think, 'Why aren't we doing this here?'" said Jewell, whose wife and son are alumni of Gonzaga Prep in Spokane.
In response, a few years ago Jewell and faculty colleagues Brad Codr and Ed Kaitz began an informal food drive challenge. This friendly competition grew into the now annual, divisional event that supports the NIC campus community. The purpose, Jewell said, is to engage faculty, staff and students in collecting food while raising awareness about food insecurity and the existence of the food pantry, which is available to NIC employees and students.
Jewell said he asked his students to contribute food to the drive but also used it as an opportunity to help dispel the stigma sometimes associated with needing food assistance. Jewell said he encourages his students to be unafraid to ask for help from the campus food pantry.
This year, the NIC pantry provided 19 food boxes to families participating in St. ASNIC, a holiday charity program run by the Associated Students of North Idaho College, the college's student government.
"The food drive was critical in helping us get those out," Corley said. "We have been very fortunate to be able to provide several food boxes to our quarantined students. They have had family members pick up the boxes or our staff members have been kind enough to drop off some to families. People have really stepped up to make sure students have everything they need to get through quarantine."
During the COVID-19 pandemic, the NIC Food Pantry is open but closed to in-person visits. To avoid having members of the public on campus during the pandemic and to avoid competition with local, off-campus food banks, food donations are being accepted from members of the campus community only.
Monetary donations are being accepted from anyone on campus or in the greater community by mail. Checks made payable to North Idaho College, with Food Pantry in the memo line, can be mailed to Edminster Student Union, Room 200, 1000 W. Garden Ave., Coeur d'Alene, ID 83814.
---