Holiday harmony
by
BILL BULEY
Staff Writer
|
December 25, 2020 1:06 AM
COEUR d'ALENE — An open house at the Music Conservatory of Coeur d'Alene unveiled some of the talent that will be part of the nonprofit's mission "to inspire a future generation of musicians."
"It's going to be amazing to be able to teach from toddler and then children and then teenagers and adults, all the way up in a structured way," said Dan Hegelund, choir director.
People stopped by the conservatory from 3 to 6 p.m. Saturday to tour the historic home at 627 Government Way. It was festive and fun, yes, but more important, it was flowing with Christmas songs.
"I was thrilled we had so many musicians show up," said Julienne Dance, founder of the Music Conservatory.
Matt Goodrich, piano teacher and director of performance, wore a Santa cap and smiled as he played holiday tunes on a donated piano in a bright room on the main floor. Some quietly sang along amid the good cheer.
"I like this piano in this room," Goodrich said. "It has that parlor feel."
It was first of three open houses at the home of the Music Conservatory. The others are set for 3 to 6 p.m. Jan. 5 and Jan. 7.
Classes could begin as early as mid-January at what is known as the historic Hamilton House, which was saved from demolition in October after a $500,001 offer to purchase the building was approved by Kootenai County commissioners.
The bidders, Coeur d'Alene Mayor Steve Widmyer and Windermere/ Coeur d'Alene Realty Inc. owner Donald "Pepper" Smock, bought the property and leased it to the Music Conservatory.
Julienne Dance, founder of the Music Conservatory, said the response since has been wonderful, with work parties to clean up and improve the 1908 structure, donations of musical instruments and furniture, and many music teachers coming on board.
"You can see the talent coming out of the woodwork," Dance said. "People are so excited about the music in the house."
Hegelund agreed.
"I enjoy all the talent we've been able to gather together," he said. "And on a very high level, as you've been able to hear."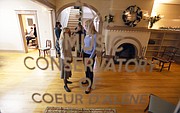 Recent Headlines
---