Demand delays delivery of parcels in a pandemic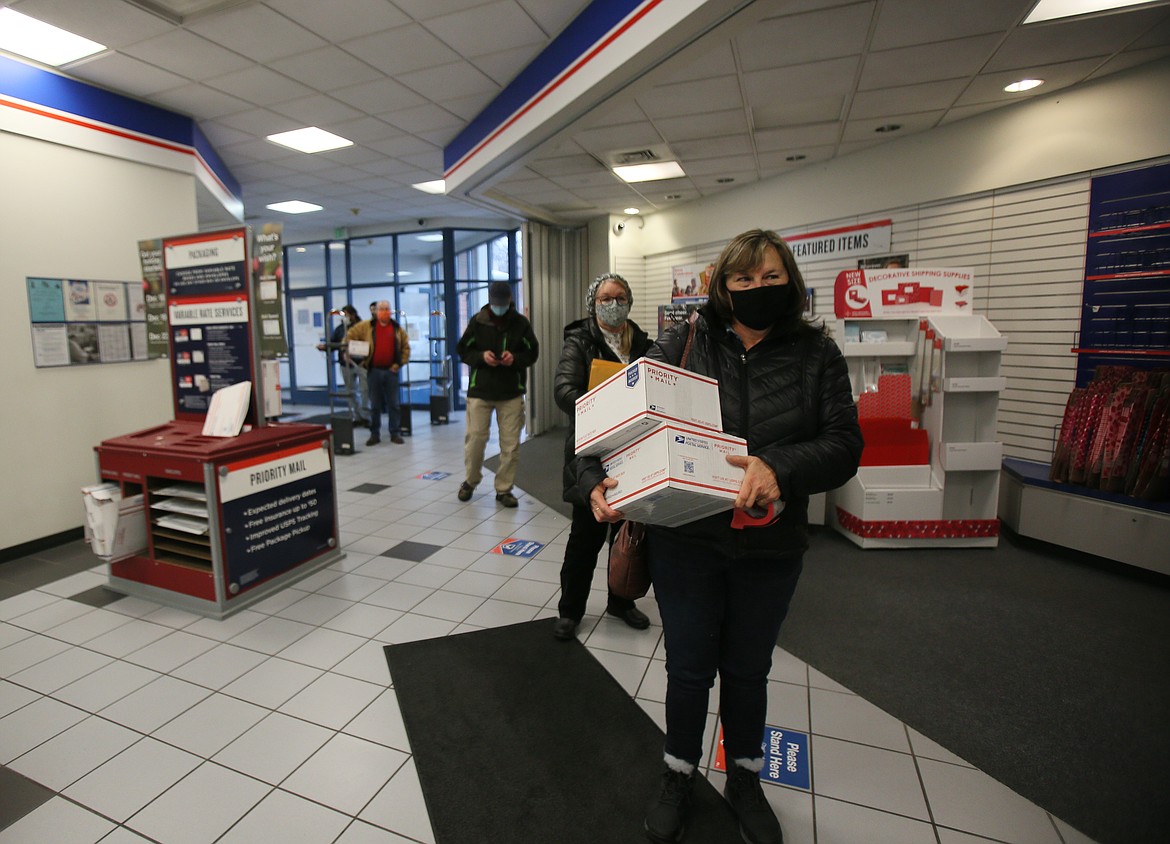 Cindy Ackland of Harrison patiently waits in line Tuesday in the post office in downtown Coeur d'Alene. Tuesday was the retail ground service deadline for parcels to arrive by Christmas, however no arrival dates are guaranteed as a historic record of packages and mail are being sent this holiday season.
DEVIN WEEKS/Press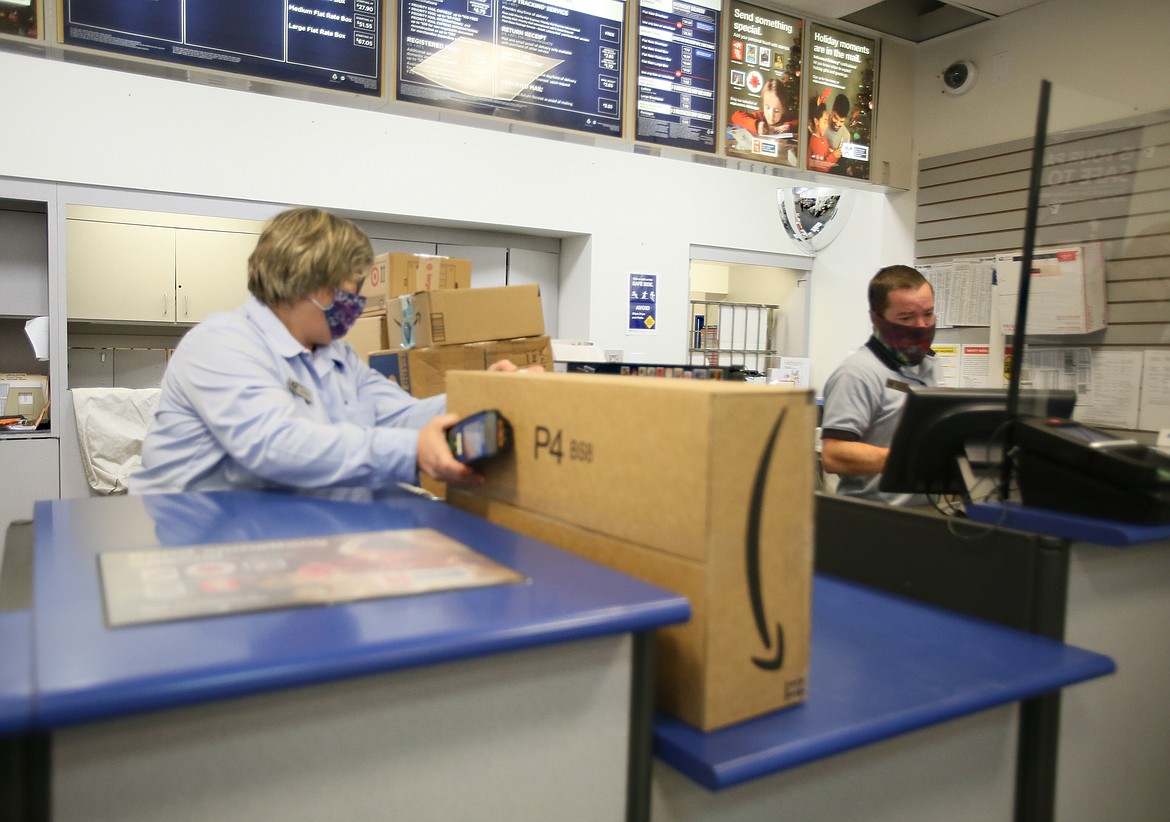 U.S. Postal Service workers process packages Tuesday in the downtown Coeur d'Alene post office. Because of the pandemic and historic amounts of mail going out, customers should be aware of delays in shipping brought on by capacity challenges with airlifts and trucking for moving this volume of mail.
Previous
Next
by
DEVIN WEEKS
Staff Writer
|
December 16, 2020 1:00 AM
Cindy Ackland juggled two white boxes as she waited in the post office in downtown Coeur d'Alene while wet snow fell on the sidewalks and streets outside.
She'd only been waiting about five minutes as the line moved at a faster-than-expected pace. Other patrons trickled in, filing from the front counter to the Seventh Street entrance.
Tuesday was the U.S. Postal Service retail ground service deadline for parcels to arrive by Christmas, although first-class and priority mail service still have a couple days to beat Santa to loved ones' homes.
"I know, that's why I'm here," Ackland chuckled. "To meet the deadline."
In a year fraught with pandemic panic and skyrocketing numbers of online sales, shipping and deliveries, the holiday season has been one for the record books for local delivery services.
"Our package volume has been up 60% since COVID," post office customer service supervisor Molly Haggerty said. "We have been operating at near-Christmas levels the entire time."
Although holiday deadlines have been announced by the Postal Service, Haggerty emphasized that because of massive amounts of parcels being sent, delays are inevitable and no arrival dates can be guaranteed.
"Normally, our services are estimated from X day to X day," she said. "They are not in effect because our parcel volume is through the roof.
"Everything is an estimate, and it depends on what part of the country it's going."
In a Monday news release, it was noted that historic volumes in an extraordinary year for deliveries have the Postal Service encouraging customers to send holiday gifts and cards "as soon as possible."
A record of holiday volume compounded by a COVID-19-induced temporary employee shortage and capacity challenges with airlifts and trucking for moving the mail are leading to temporary delays, and the ripple effect of theses challenges is being felt by shippers everywhere.
"We thank our customers for their continued support, and we are committed to making sure gifts and cards are delivered on time to celebrate the holidays," Kristin Seaver, chief retail and delivery officer of the Postal Service, said in the release. "We also thank our 644,000 employees who are working tirelessly throughout these unique conditions to ensure the delivery of holiday gifts and greetings.
Upcoming Postal Service deadlines:
Friday — Army Post Office/Fleet Post Office/Diplomatic Post Office (except ZIP Code 093) Priority Mail express service; First-Class Mail service (including greeting cards); First-Class packages (up to 15.99 ounces).
Saturday — Priority mail service.
Dec. 23 — Priority mail express service.
FedEx is also asking customers to plan ahead and not wait until the last minute to send their parcels.
"The exponential growth of e-commerce, underscored by the COVID-19 pandemic, will continue during the 2020 holiday season, with more packages hitting our network than ever before," FedEx communications adviser Rae Lyn Rushing said.
She said FedEx projects that peak shipping volumes will be up 22% year-over-year. She said FedEx has been preparing for the influx of packages for months in advance of this holiday season.
"With nearly 600,000 dedicated team members, the strength and reach of our global network and a significant investment in our facilities and fleet, we are well-positioned to meet the peak demand and look forward to helping deliver the holidays for our customers around the world in a challenging environment," Rushing said.
FedEx holiday schedule:
Dec. 23 — FedEx Freight will continue to provide normal pickup and delivery.
Dec. 24 — FedEx Express will have early station, on-call pickup and drop box closings in some areas; FedEx Office will close by 6 p.m.; FedEx Freight will be unavailable.
Dec. 25 — FedEx Express, FedEx Ground, FedEx Home Delivery, FedEx SmartPost, FedEx Freight, and FedEx Office unavailable.
Dec. 31 — FedEx Express will have early on-call and drop box pickups in some areas; FedEx Freight shipments picked up on Dec. 31 will resume normally on Jan. 4; FedEx office will close by 6 p.m.
Jan. 1 — FedEx Express, FedEx Ground, FedEx Home Delivery, FedEx SmartPost, FedEx Freight, and FedEx Office will be unavailable.
---