THE FRONT ROW WITH JASON ELLIOTT: Rare night and new site for mats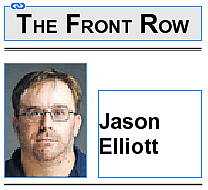 |
December 12, 2020 1:20 AM
Any other year, the Dec. 4 girls basketball matchup between the 3A Timberlake Tigers and 5A Lake City Timberwolves might have had a few more than 10 to 12 fans in the crowd.
Especially on a Friday night, it might have been a lot more.
It's too bad for those players, because they missed quite the show.
IN THIS area, it's kind of a rare treat to see two area Division I players — Brooke Jessen of Timberlake, who has signed with Texas-Rio Grande Valley of the Western Athletic Conference, and Michigan State signee Brooklyn Rewers of Lake City — on the same court.
The final results — Jessen scored a career-high 37 points and Rewers finished with 17 points and nine rebounds — in Timberlake's 59-48 victory.
"Brooke was aggressive and played really smart," Timberlake coach Matt Miller said. "She knew the matchup she had, and what advantages she had. She just played a great game."
Jessen's total was one point off the school record, held by Cassie Thompson with 38 against Chewelah on Dec. 1, 2007. Thompson, then a freshman, was 15 of 24 from the field that night. Thompson went on to play at the University of Portland.
The strategy, at least on that night, was for the 5-foot-11 Jessen, who hit four 3-pointers in the second quarter on the way to 27 first half points, to draw the 6-4 Rewers out to the 3-point line.
"When Rewers was guarding her, we liked Brooke on the perimeter and tried to drag Brooklyn away from the hoop," Miller said. "If they don't guard Brooke, she's a good shooter and can hit those shots. If she does guard her, then we'd try to see if Brooke could get around her. It was hard, and Rewers did a good job of keeping the ball out of the middle in the second half."
After trailing 41-17 at halftime, Lake City rallied to cut the deficit to 44-32 midway through the third quarter. But with Timberlake, which captured the state 3A championship in February, their senior-led group just kept battling to come away with the win.
"They made that run at the beginning of the third quarter, but the girls didn't panic," Miller said. "They stuck with it and got the lead back to 20 points. A lot of teams would have panicked and started forcing things a little bit. But the girls stuck together really well."
WITH ITS home wrestling opener altered on Thursday, Lake City improvised.
Scheduled to wrestle Priest River and Kellogg before the Wildcats were unable to compete due to quarantine restrictions, the Timberwolves — with no fans allowed in — opted to hold matches in the school's auxiliary gym.
"We thought it might make for a better environment than in the main gym," Lake City coach Corey Owen said. "With it just being the teams in there, it's a little louder and it's easier to move the mats from our wrestling room to the auxiliary gym. If you're not going to have fans, it's fine for that. Everything seemed to work out pretty well."
Two years ago, Lake City wrestled Sandpoint in a match at 3 p.m. in the school's commons area in an effort to get more of a crowd.
That might not have happened on Thursday, but at least they're still trying to find ways to have a season.
No matter when and where that might be.
Jason Elliott is a sports writer for The Press. He can be reached by telephone at (208) 664-8176, Ext. 2020 or via email at jelliott@cdapress.com. Follow him on Twitter @JECdAPress.
---