ZAGS TRACKER with STEVE CAMERON: Like games, questions have been put on pause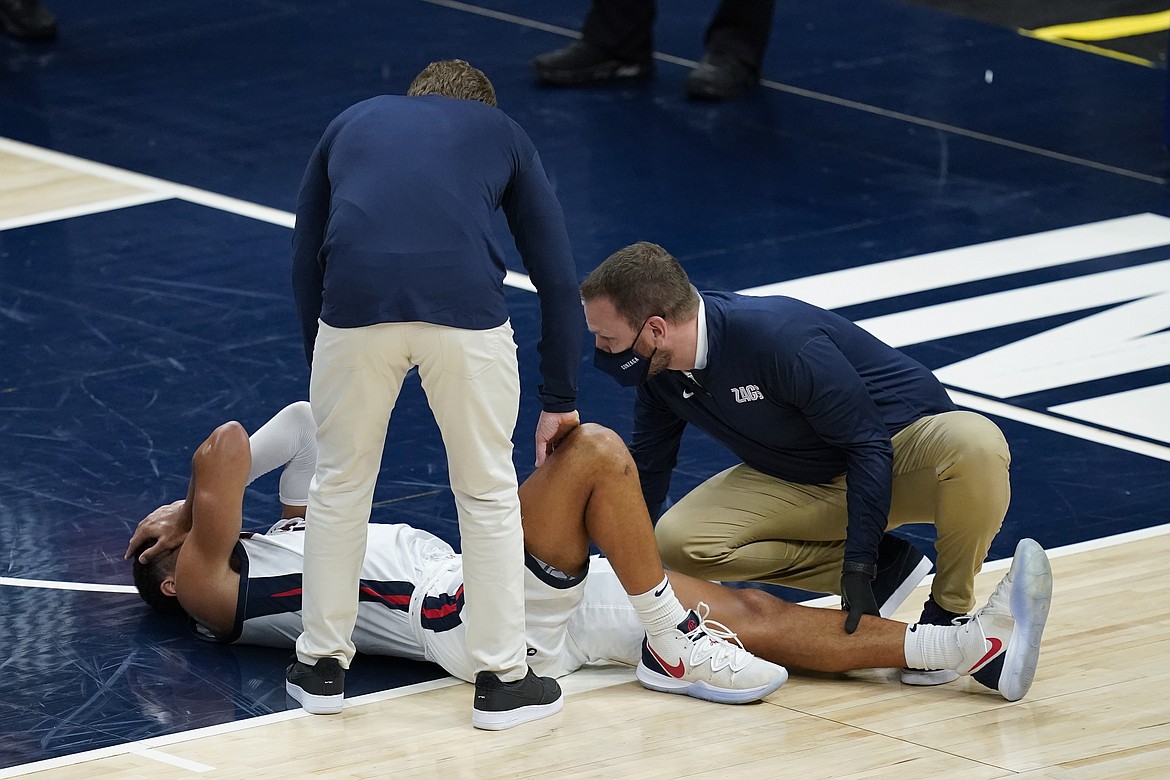 DARRON CUMMINGS Gonzaga coach Mark Few stands over Jalen Suggs (1) after Suggs injured his left leg during the first half of last Wednesday's game against West Virginia in Indianapolis.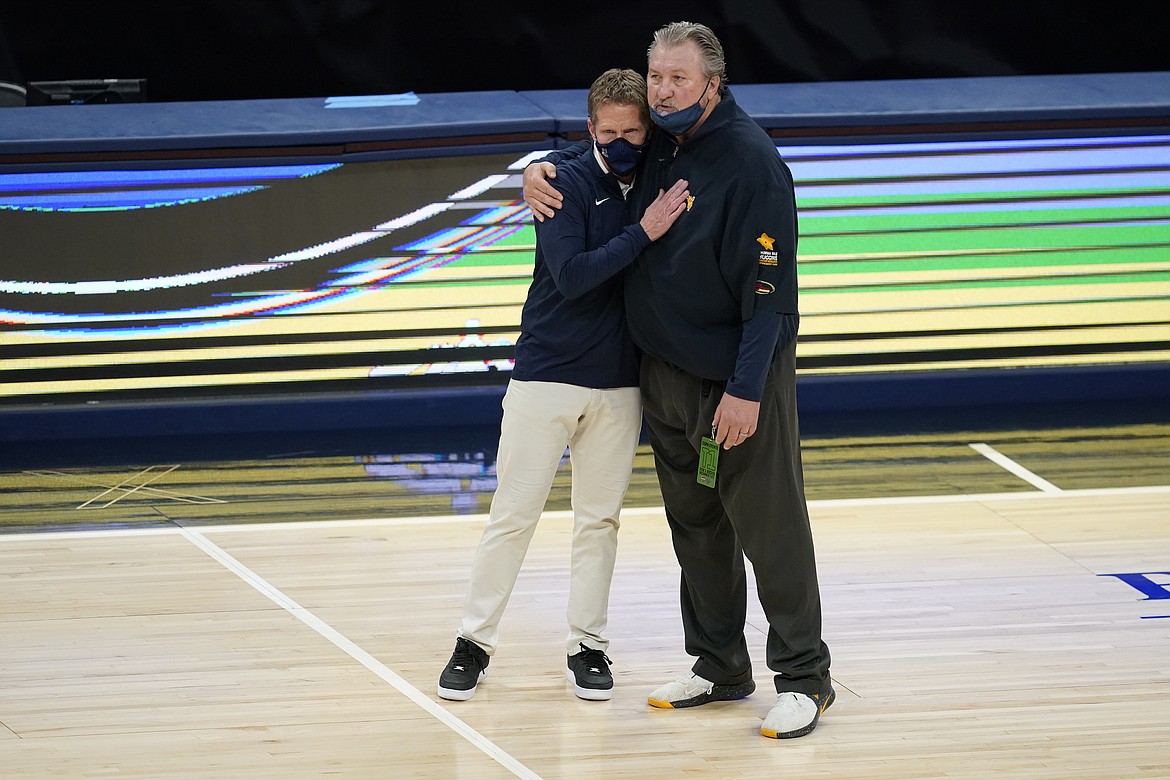 DARRON CUMMINGS/Associated Press Gonzaga coach Mark Few and West Virginia coach Bob Huggins share a hug after Gonzaga beat West Virginia 87-82 last Wednesday in Indianapolis.
Previous
Next
|
December 8, 2020 1:10 AM
LET'S OPEN with this…
Your heart sank out of sight when Jalen Suggs was lying on the floor with what looked like a torn Achilles, right?
No?
If you're a Zags fan, you're lying.
Don't even bother denying it.
You saw a possible national championship vanishing into thin air.
I mean, Andrew Nembhard is a heck of a player, and Aaron Cook is a capable, experienced point guard.
But Suggs is even better than all the hype that preceded him, a generational talent, a player whose magic could help produce, yes, "One Shining Moment."
That is a stone-cold fact.
Right…
Now we know those minutes of agony were caused by just a twisted ankle, and everyone can breathe again.
Feel free.
Exhale.
OK, good, so let's come forward and chat about the weird, weird present.
NO HOOPS.
That's the sorry status of things, at least for a while.
Gonzaga made it official over the weekend, and the announcement was no shock.
All men's basketball competition will be halted at least through next Monday — meaning that the Zags' first four home games (Tarleton State, Southern University, Northern Arizona and Idaho) have been wiped off the schedule.
Following COVID-19 exposures and positive tests on trips to Florida and Indiana that involved three players and four staff members, Gonzaga cancelled the games over what AD Mike Roth called "an abundance of caution."
Some sort of pause in the schedule was almost inevitable after the top-ranked Zags had to cancel last Saturday's hugely anticipated matchup against No. 2 powerhouse Baylor.
It's the right decision.
Even Drew Timme's mom, Megan, tweeted her approval and thanked the Gonzaga administration for acting in the interests of its student-athletes.
SO HERE we are.
Back to waiting and trying to cope with a virus that seems to be getting worse instead of slowing down.
Gonzaga is hardly alone, by the way.
The Baylor cancellation got the nation's attention, simply because you rarely see the unanimous Nos. 1 and 2 teams voluntarily decide to tee it up.
There is trouble everywhere, though, as more than 20 percent of scheduled Division I games nationwide have been cancelled so far.
A whole lot of the lost games have involved teams that are ranked or still really excellent, which is a shame.
Mark Few has said repeatedly that there should be more games between top-tier teams, simply for the good of college hoops in general.
He's put his squad where his mouth is, too.
Few and Baylor Coach Scott Drew both insist they'll find some way to reschedule their collision — and unless Gonzaga fits in a game somewhere (a new date for Idaho, maybe?), the Zags will resume play on the 19th against No. 3 Iowa in Sioux Falls, S.D.
There are coaches whose pronouncements about benefit to the sport might make you smirk, but Few isn't one of them.
The Zags boss was recently appointed to the board of the National Association of Basketball Coaches for good reason.
Few DOES care about the sport he loves, at least as much as he dreams of fly fishing.
BY THE way, cancellation of these first four home games has postponed a unique experience for me, too.
Assuming that Gonzaga adopts the same policy for upcoming games as it used for Kraziness in the Kennel, some media members will have access to the venue.
We'll be spread apart, if they stick to previous plans, and have to make do with Zoom access to Few and a couple of players after a game.
Just being there, though, would be interesting in a way that none of us could have anticipated.
Of course, everyone wants to have COVID banished and the Kennel rocking again — but there could be a tiny silver lining.
In an almost empty building, I'd almost be part of the action.
You'd hear players communicating (or trash talking), coaches hollering instructions, the whole thing.
It would be somewhat like the past, when reporters sat at courtside and had a much, much better feel for what was happening.
(I'm going to share some funny stories about that vantage point in this Sunday's Press, by the way.)
This coming experience should be even more remarkable, though, with no crowd to drown out what's happening on the floor.
I'll make the best of it, and perhaps be able to share some insights here, but hey…
I'd trade it for a vaccine.
THE PLAN for today originally involved a closer look at the Zags' first three games — and specifically, where this very good team might need to improve if that national championship is going to happen.
With no games coming for at least a week, though, we can hold off on some of the observations and opinions I think are worth sharing.
Oh, but here's one that just came to mind, and made me laugh…
Arizona and Washington really dodged a bullet when the schedule was changed and their visits to the Kennel were moved back a year.
Struggling U-Dub, in particular, would NOT have enjoyed its trip across the state.
Apologies, you purple folk, but that would have been ugly.
BACK TO looking hard at the Zags, it's interesting that Florida transfer Nembhard — the just-announced WCC Player of the Week — already has answered one huge question about this title-hunting team.
Next week, however, we can discuss some other questions.
What will Anton Watson provide going forward, besides non-existent offense?
Can the Zags win it all with Corey Kispert as the only legit 3-point threat?
How about Oumar Ballo's role as the big man gets up to speed for this level?
How might this group compare to Zags NCAA tournament teams of the past four years, in terms of a shot at winning the whole thing?
We have plenty to discuss, and it'll be fun.
Actual basketball would be MUCH better, so I'm hoping we see some soon.
But in the meantime…
Please stay safe.
Email: scameron@cdapress.com
Steve Cameron's "Cheap Seats" columns appear in The Press on Mondays, Wednesdays and Fridays. "Moments, Memories and Madness," his reminiscences from several decades as a sports journalist, runs each Sunday.
Steve also writes Zags Tracker, a commentary on Gonzaga basketball which is published each Tuesday.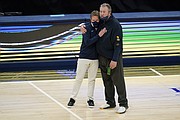 Recent Headlines
---