THE CHEAP SEATS with STEVE CAMERON: Perhaps Zags can make Baylor pay for its pressure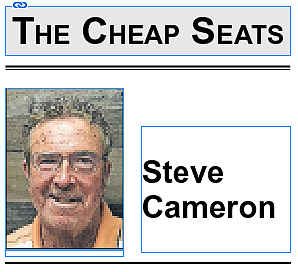 |
December 4, 2020 1:30 AM
Playing West Virginia probably felt like meeting a gang of thugs in an alley.
You take some lumps and bruises, but manage to get out alive.
If survival was Gonzaga's mindset after being thumped around by the Mountaineers, then that 87-82 escape on Wednesday night at the Jimmy V Classic in Indianapolis could be deemed a success.
However, it also established a game plan for teams who fancy taking down the Zags.
Be physical, get all over the guards on defense, pound the offensive glass, and…
Maybe leave someone on the floor in pain.
The victim in the West Virginia game was freshman flash Jalen Suggs — although it wasn't the brutal nature of the game that got him.
Suggs slipped after releasing a pass in the first half, crumpled to the floor, and looked for all the world as though he'd perhaps done his Achilles tendon.
INSTEAD, we know now that Suggs twisted his ankle.
Furthermore, against Coach Mark Few's initial wishes, Jalen talked himself back into the game in the second half.
Suggs switched to the off-guard spot as Florida transfer Andrew Nembhard put on a clinic running the point — and basically hauled the Zags into a lead they eventually held to the finish.
But now…
If West Virginia was a skirmish in an alley, Baylor figures to be a world war.
Saturday's collision has been billed from the beginning as a battle between the Nos. 1 and 2 teams in every meaningful poll, and neither team has done anything to suggest those numbers aren't correct.
WATCHING Baylor strangle a very talented Illinois team 82-69 in the nightcap about an hour after Gonzaga's win, you could easily experience the creeping sensation that the Zags won't face a better defensive team all year.
Baylor's guards, led by all-everything Jared Butler, jump right into your socks — and stay there.
Besides all the studs that the Bears had returning from last year's potential Final Four team, they've added sharpshooter Adam Flagler — a transfer from Presbyterian — and emotional all-action big man Jonathan Tchamwa Tchatchoua (he's mostly called "Everyday Jon"), a 6-9 force from Cameroon by way of UNLV.
Tchatchoua gives Baylor a bona fide inside force to pair with Mark Vital and his immense strength and wingspan.
Vital, by the way, is a candidate for national defensive player of the year — but it says all you care to know about Baylor that Vital actually could be nosed out for the honor by teammate MaCio Teague.
SO, YEAH, Baylor is loaded.
The lockdown defense tends to make the Bears' games appear frantic, but it's generally only the opposition that begins to feel some chaos.
What should make this matchup so fascinating is that Baylor playing defense right in everyone's face can be frightening and effective — but it also can provide opportunities for poised, slick-passing teams to cut through and behind the Bears.
Can Gonzaga manage it?
Few has hinted pretty strongly that Baylor is closer to being the finished product than his own team, and that the Zags might be better prepared to execute against such a stifling defense in March.
I SUSPECT that's probably true, but it's fairly amazing that Gonzaga has been able to hit full stride so quickly.
Even against West Virginia, when everything went wrong in the first half (Drew Timme was overwhelmed on the boards and had one basket), the Zags regrouped and got back to doing things right — along with speeding up the tempo — in a very impressive second-half comeback.
Obviously, Suggs' fitness, or lack of it, will be a huge factor in this showdown with Baylor.
Suggs keys the Zags' up-and-down game, not to mention being a terrific defender in his own right.
Few says his freshman makes "winning plays."
Yep, but…
Make no mistake.
Gonzaga will need every one of them on Saturday.
Email: scameron@cdapress.com
Steve Cameron's "Cheap Seats" columns appear in The Press on Mondays, Wednesdays and Fridays. "Moments, Memories and Madness," his reminiscences from several decades as a sports journalist, runs each Sunday.
Steve also writes Zags Tracker, a commentary on Gonzaga basketball which is published each Tuesday.
Recent Headlines
---