Strong start for talented GU offense
Well, let's state the obvious right off the bat.
Assuming they stay healthy, the Zags are either the No. 1 team in America – or they're somewhere in the very close vicinity.
Gonzaga's casual dismissal of both Kansas and Auburn --with extreme prejudice -- at the kick-off tournament in Florida was an eye-opener.
We knew they'd likely be something special, but …
Wow!
Reader John Austin, a diehard Zags fan, sent in an email with a question that was more than a question, really – if you get my meaning.
John asked: "How good are these guys?"
For an overly enthusiastic answer (considering they've played exactly two games), we can turn to former Gonzaga guard Geno Crandall, who tweeted…
"Zags by a million. Every game. I don't care. This team has just got too much."
CRANDALL, like most of the hoops-loving world, was blown away by returning stars Corey Kispert and Drew Timme, sensational and mature freshman point guard Jalen Suggs – and by the way everyone else, like Joel Ayayi, Andrew Nembhard, Anton Watson and Aaron Cook, appeared to fit seamlessly into the system.
That is just a ton of talent, no question.
Just off those first two games, it's obvious that teams might watch Gonzaga on tape and set up a plan, but nothing prepares you for the speed that the Zags play until you experience it.
Kansas' All-American guard Marcus Garrett admitted it was all much faster than they'd expected – and that the Jayhawks were stunned by it.
What's truly amazing is that Gonzaga appears to have speed with control, with everyone running and sharing the basketball.
Honestly, when the Zags are humming, it's going to be breathtaking.
The only thing that can be added – and it probably will – is more aggression from Watson at the forward spot.
Anton is coming off shoulder surgery, and it seemed to take him a while to throw himself into the action.
But the good news is that it seemed to come in the Auburn game, and if Watson becomes that deadly fifth option, who knows how effective this team can be.
ALL THAT being said, Gonzaga certainly won't be unbeatable.
Kansas coach Bill Self compared the Zags to the 2014-15 Kentucky team, which started the season No. 1, won 38 straight games – and then was upset by Wisconsin at the Final Four.
Nobody has been ranked No. 1 and run the table to a national championship since Indiana in 1976.
The Zags won't have to wait long for more challenges, either.
Assuming everyone passes the Covid-19 protocols – more on that in a minute – Gonzaga faces West Virginia's clawing defense on Wednesday night, then takes on Baylor (the team that's No. 1 in the coaches' poll) this Saturday.
If the Zags survive those two tests – especially Baylor, with future pro Jared Butler and supreme defender Mark Vital – then the hype will go into overdrive.
Fortunately, this seems like a steady sort of Gonzaga team, a group that plays at a breakneck pace, but can step back and be calm and focused about its tasks.
NOW TO the messy business of COVID-19, and whether the Zags – who had no previous positive tests prior to leaving for Florida – should have played either Kansas or Auburn.
Three non-athletes with the traveling party were in quarantine prior to the KU opener, then before the tip-off against Auburn, it turned out freshman wing Julian Strawther tested positive, and fellow frosh Dominick Harris was deemed to be in close contact with Strawther.
Both were held out of the Auburn game, and were quarantined under guidelines approved by the Florida health authorities.
For anyone who questioned whether the Zags should have played either game at all, please check the attached box.
It's a copy of the protocols used by the NBA in its Disney World bubble – the event that was so successful.
IT ALSO was approved by all four teams in the Fort Myers event, and the health authorities in Florida.
Now, that doesn't mean that the Zags might not have some issues going forward.
You could say they're facing three opponents this week – West Virginia, Baylor and COVID-19.
It's going to be this way for college basketball all season, and everyone will need to follow the same protocols.
We can assume the NBA model sufficed in Florida, but it could be something else in a different state or city.
So far, it appears that both these two games in Indianapolis have the green light – but the virus appears quickly and from any direction.
It won't be a normal season, and some games will be canceled or rescheduled.
However, there WILL be a March Madness – because it cost the NCAA $375 million to halt it last season – and the Zags will be there.
And they will be awfully good.
We DO know that.
Email: scameron@cdapress.com
Steve Cameron's "Cheap Seats" columns appear in The Press on Mondays, Wednesdays and Fridays. "Moments, Memories and Madness," his reminiscences from several decades as a sports journalist, runs each Sunday.
Steve also writes Zags Tracker, a commentary on Gonzaga basketball which is published each Tuesday.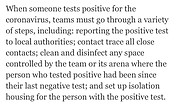 Recent Headlines
---