A Legacy of Warriors
|
December 1, 2020 5:40 PM
Traditions are incredibly important to many of us. Consider the ways we spend the Fourth of July down by the lake, with a BBQ fired up, how we cook our turkey at Thanksgiving, or our yearly trip to the pumpkin patch at Halloween. Some traditions are started in our lifetime and others go back many generations. For Trent Derrick, principal at Lakeland High School in Rathdrum, Idaho, being a Lewis-Clark State College Warrior is one of those historical traditions.
While Trent was the first from his family to attend LC State, the Warrior legacy has endeared itself to him – and his soul – by way of marrying into a family with a long history of alums. His two sons, currently freshman and senior business majors, are respectively fifth generation LC State Warriors.
The LC State family tradition began in 1909, with Lucy Rowley attending then-called Lewiston State Normal School to obtain her teaching degree because of her love of education.
Rowley was the great-great grandmother of Trent's sons.
Rowley's passion for education initiated this time-honored tradition, which has transcended generations of family attending LC State.
It is believed that Iva, Rowley's daughter was the first Warrior in their family to earn a teaching degree at the college. Several of her sisters did the same.
Rowley's son, Jim Wicks, and his spouse, Judy, both went on to LC State to complete their respective degrees in education (1957) and in nursing (1984). Jim, a biology teacher, taught at Lewiston High School for more than 32 years. Many students still speak of the impact Jim had on their lives today.
The family's legacy at LC State did not stop there. Two of Jim and Judy's children attended the college. One of them, Jim Jr., earned a history degree in 1990. More than 20 members of this family attended and/or gained their degree from LC State.
This family's long lineage as LC Warriors is quite amazing and at least two were faculty members.
As a family, they have been steadfast advocates of their alma mater. When Lewis Clark Normal School closed its doors in 1951, one of Iva's cousins, Herbert McDowell, later went to the Idaho Legislative body and spoke on why the college should reopen. Ultimately, the school did reopen in 1954.
Like many students of college, Trent was a nontraditional student. He and his wife, who was pregnant with their oldest child, moved to Lewiston so he could attend the college. This allowed the couple to have support from his wife's family while he studied.
Prior to attending LC State, Trent gained four years of non-certified teaching experience at a local non-accredited Catholic School in Portland. It was this experience that ignited a passion inside of him to continue his education. Further experiences in tutoring Japanese exchange students studying natural science at the college helped solidify his decision to enter the teaching field.
Trent said what most influences his decision to attend LC State was not just about family history or the support in Lewiston, but also the good things he had heard about the school, its faculty and the campus itself.
Trent shared that his time at the college solidified his love for LC State and education. He said the faculty in both the education and science departments helped guide him and build his knowledge base so that someday he would have both the content knowledge and the hands-on experience to teach confidently.
Trent graduated from LC State with a bachelor's degree in education in 1996. He went on to later earn his master's in educational leadership from Gonzaga University, graduating in 2008.
Trent spent 16 years teaching both physics and chemistry at the high school level, as well as coaching basketball before he became an administrator. He shares his love of education with the students of Lakeland High every day.
When asked about the most important lesson he learned at LC State Trent said, "The love of learning and I do mean that. When I went there, I just really grew to appreciate LC and the opportunities that were made available to me. It goes back to the strength of their faculty. That love of learning was clear."
It is obvious how much education means to Trent and his family.
"If I am through learning, I am through." Trent said, borrowing the words of former UCLA basketball coach John Wooden.
Wicks had this to say about his family's time spent at LC State: "It really is quite a story and it's so much a part of our family that it's not something we think about much. [LC State] has done a lot for us and we have great love for the school."
Through Trent's Warrior legacy, students in northern Idaho continue to choose LC State for their post-secondary education. Over the past five years, Lakeland High had had more than 40 students attend the college. These enrollments are especially significant when you consider that Lakeland is a relatively small high school.
"I believe LC State is a great fit for students from Lakeland because we are a great size for students – not too big, but not too small, and far enough away from home," said LC State enrollment specialist Jessica Miley, who is also a Lakeland High and LC State graduate. "We are able to give the one-on-one attention and we have a community of students which Lakeland students are already familiar with."
• • • 
Submitted by Jenny Duncan, Work Scholar, LCSC-Coeur d'Alene
For information about enrollment at LC State, contact Jessica Miley at jrmiley@lcsc.edu.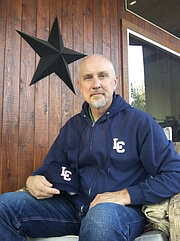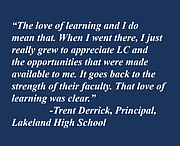 ---