Lee White is still the chief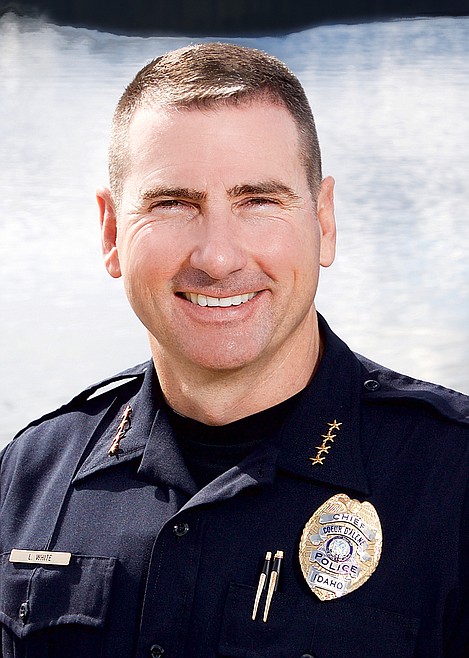 by
CRAIG NORTHRUP
Staff Writer
|
August 20, 2020 1:09 AM
No action taken after City Council held executive session Tuesday night
Chief Lee White is still in charge of the Coeur d'Alene Police Department.
White, Coeur d'Alene's top law enforcement officer since being sworn in almost six years ago, was the presumed subject of a private meeting with the Coeur d'Alene City Council Tuesday night. As council adjourned into executive session, White was instructed to make himself available "should his presence be needed."
When asked by The Press in an email Wednesday morning if he was still in charge of the Coeur d'Alene Police Department, White responded with a one-sentence reply.
"I have no plans to retire," he wrote.
Councilman Dan Gookin, who confirmed the Arizona native is still the police chief, said he had a similar back-and-forth with White.
"I recently had a conversation with Chief White, and he told me he intends to be the chief until he retires," Gookin said. "Whether or not everyone in City Hall shares that sentiment is another story."
The regularly scheduled council meeting opened with a show of support for White from members of both the public and the Coeur d'Alene Police Department. Johann Schmitz, who serves both as a patrol lieutenant for CDA PD and as president of the Coeur d'Alene Police Officers' Association, said after his public comments to council that White was a central figure to Coeur d'Alene weathering crises from the COVID-19 pandemic to the threat of riots and the response of armed citizens in downtown in early June.
"We are so fortunate to have him," Schmitz told The Press. "What a one-of-a-kind, unique leader. To navigate the COVID crisis? To navigate a thousand guys with guns downtown? When you look at all the issues that have come before this community, to have a leader like Lee White has been a blessing that shouldn't be taken for granted. I don't know of anyone that could have done a better job than he has done."
White worked his way up the ranks of the Mesa Police Department in Arizona for 21 years, where he rose to assistant police chief before taking Coeur d'Alene's top position in 2014.
Executive sessions are a common tool city councils and other governing bodies use to discuss legal issues, personnel problems and other concerns without exposing sensitive matters to the light of day. After Tuesday's executive session, no action was taken by the council.
Almost without exception in Idaho, public officials do not discuss personnel issues because of concerns over possible legal consequences.
---