Hang on to your briefcase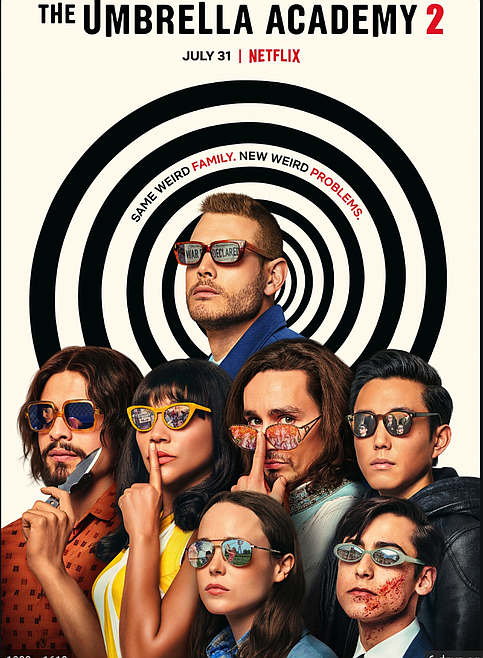 This Netflix promotional photo shows the cast for "The Umbrella Academy 2."
Seven siblings with superpowers.
As the world has been deluged with mutants, Avengers and caped crusaders for years, the superhero fatigue set in for me a long time ago.
Scrolling through Netflix, this genre never catches my eye. Yet, I kept passing "The Umbrella Academy," and kept coming back to it. With a, "What the heck, we've already watched everything on here, anyway," I watched the first episode of the first season.
And I'm so glad I did.
Not having any prior knowledge of the comics or the back story, I was surprised to find myself immediately connecting with characters who are so much more than siblings with superpowers. They're all kind of tragic heroes in their own way — Luther (Tom Hopper) is loyal and moral to a fault, Diego (David Castañeda) has a hero complex, Allison (Emmy Raver-Lampman) self-sabotages, Klaus (Robert Sheehan) is a wayward addict, Five (Aidan Gallagher) is fiercely and dangerously confident, Ben (Justin H. Min) is invisible and Vanya (Ellen Page) ... well, she's extra ordinary.
The first season sees these characters coming together for their father's funeral, after they spent many years drifting apart. As children, they were known as the Umbrella Academy, trained by their "father," the strict and unforgiving billionaire Sir Reginald Hargreeves (Colm Feore), who adopted (and paid money for) them after they were all born of extraordinary circumstances to different mothers around the world. The kids, who Hargreeves referred to by their numbers (One through Seven), harnessed their abilities to fight crime: super strength, teleportation, communicating with the dead and more.
An untimely death and the continuation of life separated them as they followed their own paths, until their father's death brought them together, their brother Five returned from being trapped in the future and they embarked on a mission to stop doomsday from destroying the world while being pursued by masked assassins.
see WEEKS, C9
WEEKS
from C1
Just watch the first season. There's a lot to it.
The second season of "The Umbrella Academy," released July 31, was a welcome return to these characters as they are thrust into a new place in the timeline and once again on their own journeys until they're reunited. This season branches more into interpersonal relationships with new characters while weaving in elements of American history and culture that are very relevant in today's timeline. It makes for a thrilling and surprising adventure as they once again have to save the world, but it's much, much more complex than simply saving the world. They have to save each other, too.
What I truly enjoy about "Umbrella Academy" is the stylish and colorful design, the creative choices made by the actors and the directors, the brilliant dialogue and the natural chemistry between the main characters in a world so supernatural. The soundtrack is killer and well played, and any show that inserts dance sequences that make sense and add to the story has my admiration (FX's "Legion" also creates incredible dance and music scenes, so shout-out to "Legion," another "superhero" show that bucks the status quo).
For those who want to explore something different, who enjoy suspending their belief and immersing in a world of alternate timelines filled with characters you can't help but fall in love with — and a few who make your skin crawl — check out "Umbrella Academy."
But hang onto your briefcase. It's quite the ride.
---