Two men face meth trafficking charges
by
REED PERRY
Staff Writer
|
August 4, 2020 1:00 AM
Police surveillance resulted in two arrests for meth trafficking on Thursday.
Documents allege that Chad Foss, 57, of Coeur d'Alene, was known to be involved with the distribution of meth. Police recorded foot and vehicle traffic to and from his residence for two days.
A man later identified as Leo Decker delivered a box before leaving minutes later. Decker was under suspicion of drug trafficking at the time and has an extensive criminal record, police said.
Foss, who has no driver's license and expired plates, left his residence shortly thereafter. Officers pulled him over and found he was drinking malt liquor. When asked if he had any drugs in the car, he allegedly admitted to having meth.
According to records, police recovered about 15 ounces of methamphetamine from his car.
Foss was booked on charges of drug trafficking. He is being held in the Kootenai County jail on a $50,000 bond.
Decker was trailed by police and after allegedly resisting, was booked on 10 charges including felony trafficking. His bond is $100,000.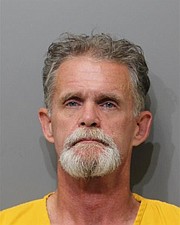 ---