Big wheels turning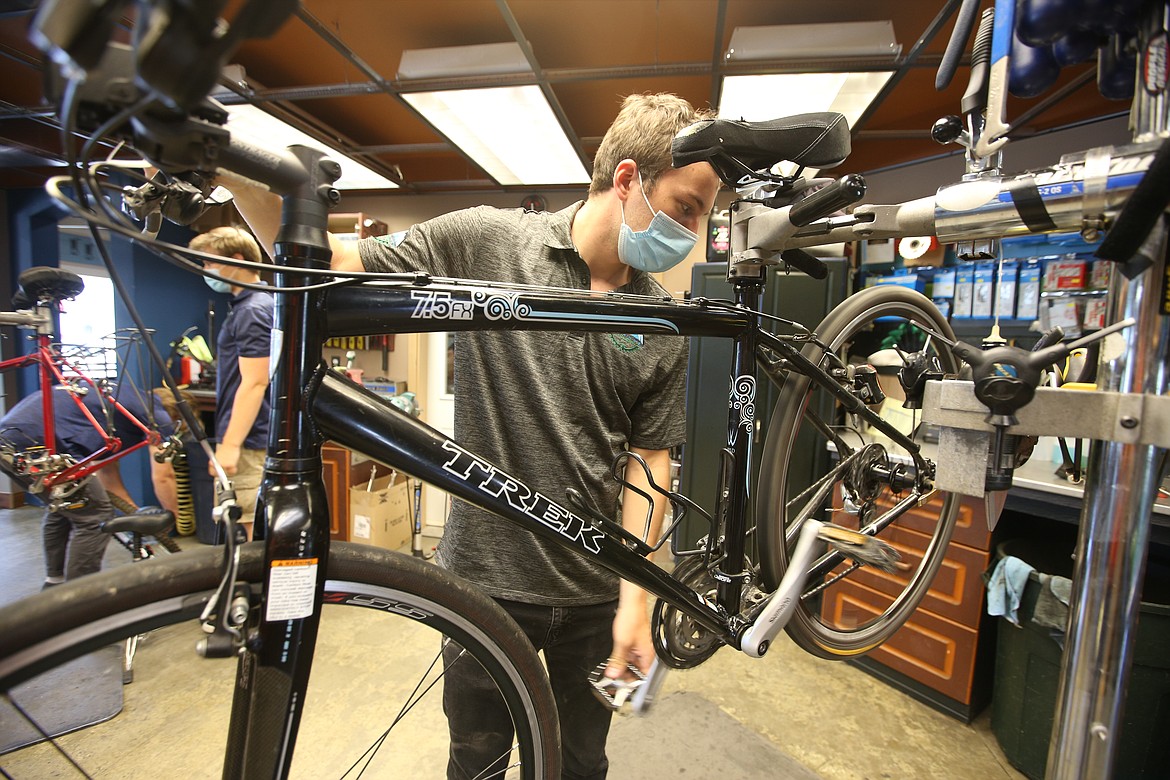 Jimmy Boland works on a bike at Mountain View Cyclery.
BILL BULEY/Press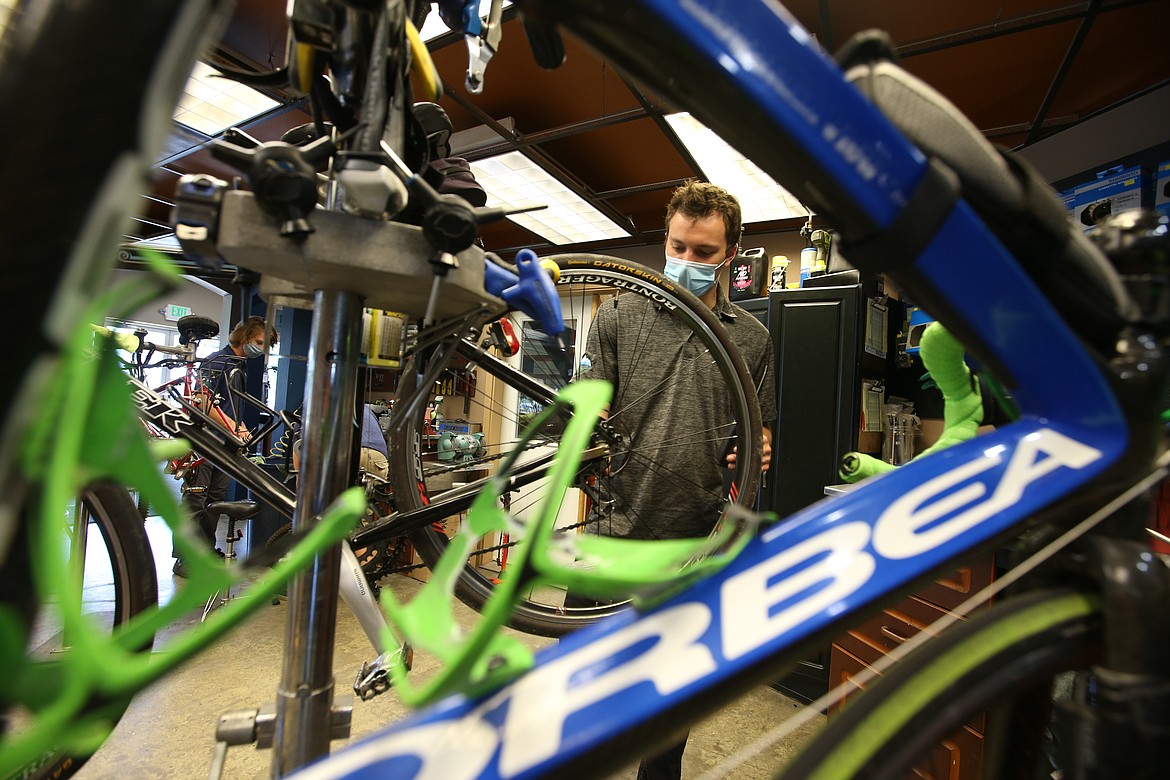 Jimmy Boland works on a bike at Mountain View Cyclery. (BILL BULEY/Press)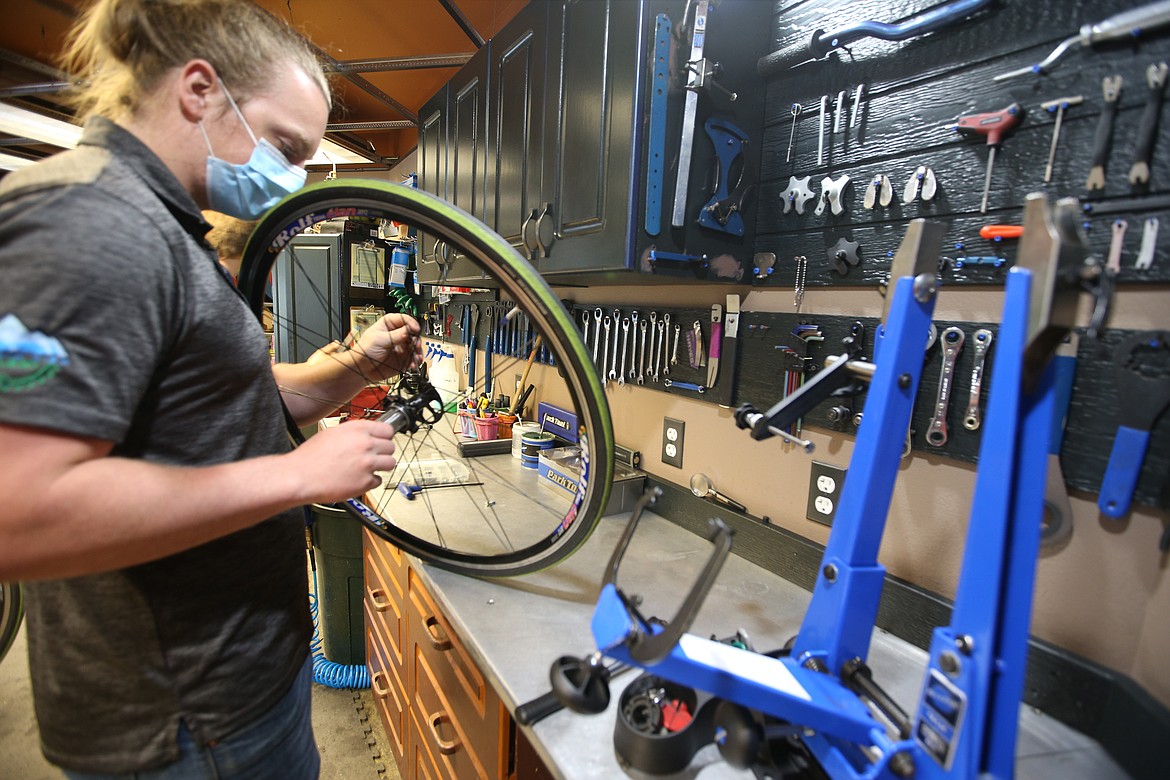 Jacob Reynolds works on a bike wheel at Mountain View Cyclery. (BILL BULEY/Press)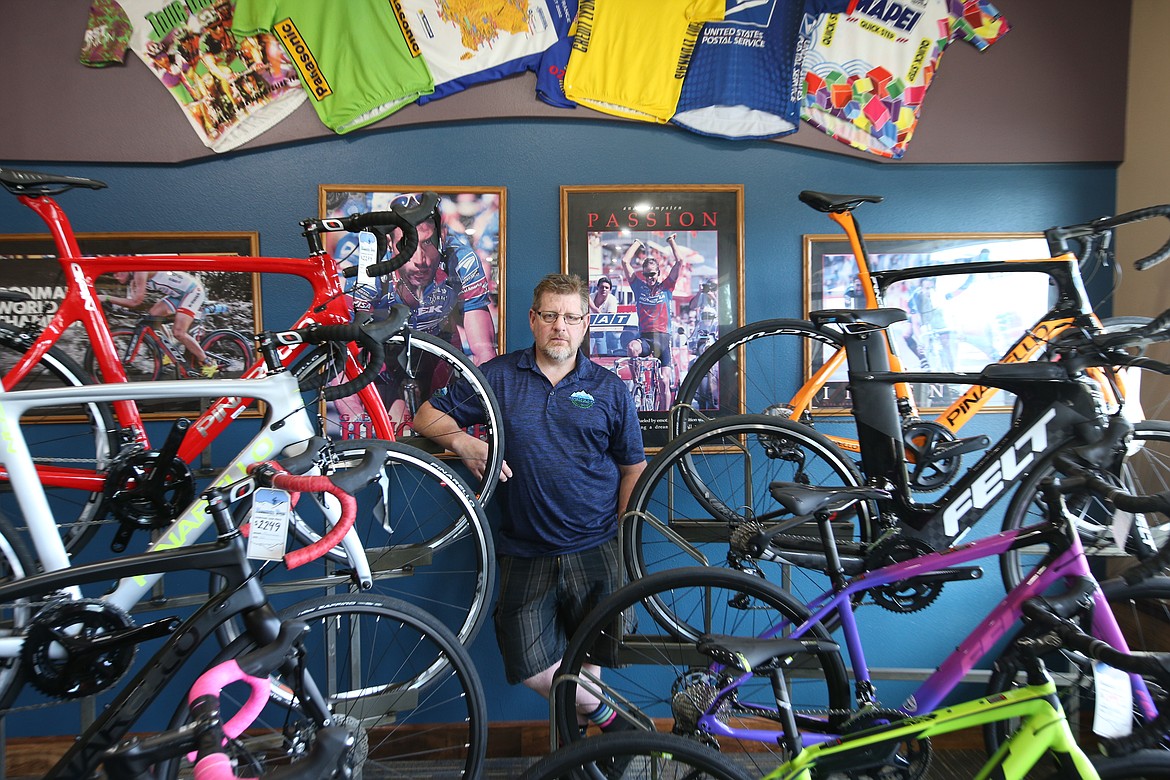 John Bowman, owner Mountain View Cyclery, stands near some of the bikes available at his Hayden shop. (BILL BULEY/Press)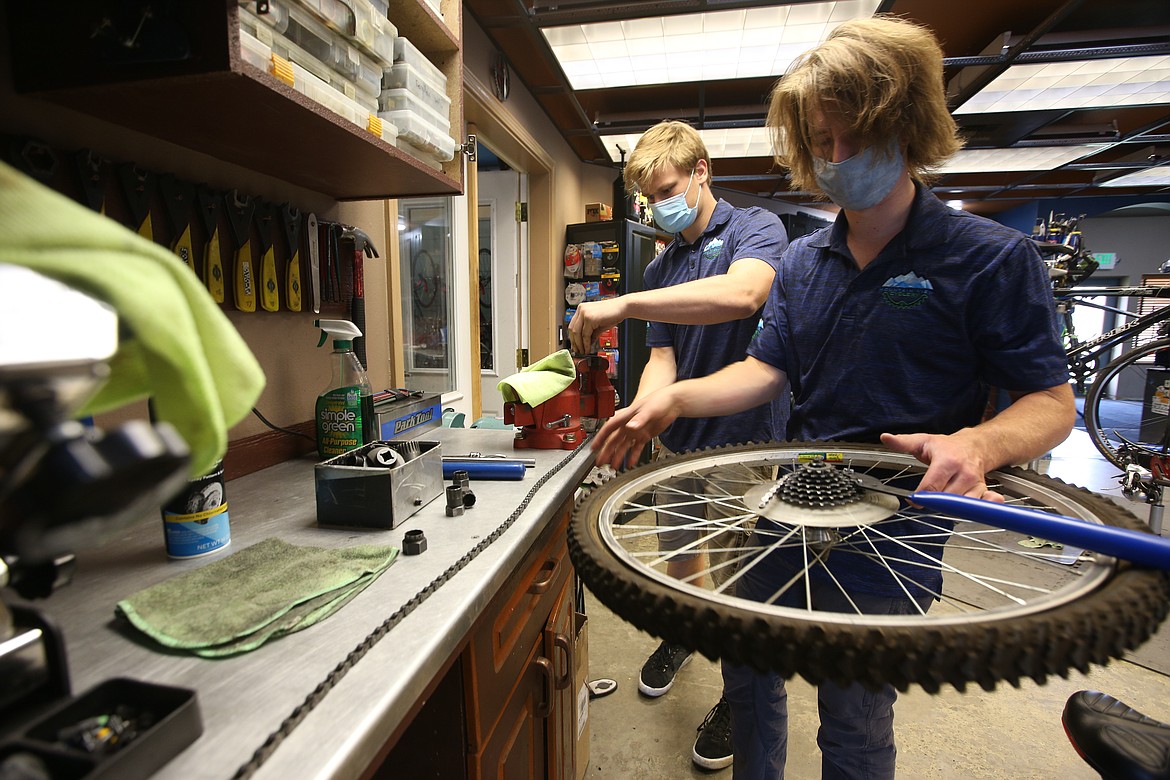 Joseph Hoisington and Jackson Brosell work in the bike shop at Mountain View Cyclery.
BILL BULEY/Press
Previous
Next
by
BILL BULEY
Staff Writer
|
August 4, 2020 1:06 AM
Bike shop business is booming
HAYDEN — John Bowman just marked 17 years as the owner of Mountain View Cyclery.
Business since March has been on a roll.
"Some of the best months we had in years," Bowman said. "I felt guilty about it, to be honest with you, because there were a lot of people out of work."
Normally, his shop would be full of bikes in front and back. But many stands that usually hold bikes are empty. Entry level bikes, mountain bikes, and kids' bikes have been selling fast and there still are no signs of slowing down.
On Sunday morning, many cyclists, adults on tri-bikes and kids on trikes were on the North Idaho Centennial Trail.
"Current right now, it's anything with wheels on it," Bowman said.
Accessories, helmets, tires and tubes are in short supply since COVID-19 arrived in the United States and put the brakes on manufacturing and shipping.
Repairs and tuneups are riding high, too.
"People that hadn't ridden in years were either fixing their bikes or buying new bikes," Bowman said. "Or sometimes both."
"It's pretty nuts, really, considering how crazy it's been," he added.
Alex Castagno, owner of Coeur d'Alene Bike Co., said the biking business is "as good as it's ever been."
Usually, bike shops see stronger sales starting in May and June. This year, it was in late March and April.
He said his shop at 314 N. Third St. is sold out of many models, rentals are brisk and the crew of 10 is working pretty much nonstop tuning up and repairing bikes.
"They're all cranking," Castagno said.
The reason, he and Bowman agreed, is when many businesses deemed nonessential were ordered to close by the government and people were told to stay home, bikes took on a more important role.
"We were nervous we were going to have to shut down and soon found out bikes are essential," Castagno said.
That's because bikes provided both a mode of transportation and perhaps more importantly, a way to get outdoors and exercise. As well, since social distancing was and is being urged, bikes were an easy way to do that, too.
"People needed bikes," Bowman said. "Don't stay inside, get out, be healthy, keep your immune system up."
There were other factors.
Stimulus checks from the government began arriving in the mail, people had money to spend and new bikes rose to the top of the list for many.
And with kids home from school, parents needed to give them something to do that was both healthy and got them outside.
"We just started selling a lot of bikes," Bowman said.
Coeur d'Alene Bike Co., which opened in 2015, has few bikes left on the floor and is waiting for more to arrive from manufacturers.
Mountain bike sales have seen the biggest increase.
"Everything is selling more than it ever has," Castagno said.
It's not just a local phenomenon. Bike sales are on an upward climb countrywide.
According to Bicycle Retailer, U.S. cycling sales grew 75% in April to a total of about $1 billion in retail sales for the month, according to The NPD Group.
"NPD said April was the first month since NPD began tracking the cycling market that sales have reached $1 billion in a single month. Typically, April sales fall between $550 and $575 million," the report said.
The company said bikes for family use, and neighborhood riding and lower price-points showed the strongest year-over-year sales gains. Lifestyle/leisure bikes grew by 203%; front suspension mountain bikes were up by more than 150%, and children's bikes increased by 107% for the month. Accessories sales also grew, including helmets (up 49%), water bottle cages ( up 60%), and bike baskets ( up 85%).
"For far too long the cycling industry has been solely focused on the pinnacle athlete, but these results show that a broader, family and beginner focus can reap gains. This is a silver lining, and one of the important sports retail lessons to come out of the pandemic," said Matt Powell, NPD's sports industry advisor.
Mike Gaertner, owner of Vertical Earth, 1323 E. Sherman Ave., recently told The Press that business has been booming.
His shop has a limited selection because they've been selling quickly. Likewise, repairs and tuneups are keeping the crew busy. Even tires are on back order.
Gaertner has operated Vertical Earth 18 years, six years at his current location. When businesses and gyms were ordered closed, and travel restricted, people looked for ways to get out and exercise — many still are.
Gov. Brad Little's directive gave clearance to facilities and services that are "essential to the safety and well-being of the residents."
Cycling — exercise as well as providing a mode of transportation to and from work — is part of that equation.
"Bikes are perfect," Gaertner said.
Bowman said 2020 had been forecast to be a flat year "at best" in the bike industry.
The coronavirus put sales on a new course, with many shops doubling sales volume.
"It reached a point where manufacturers were running out of bikes. Even if things were in stock, it was a week to get them shipped out," he said. "It was complete chaos, originally."
The road has smoothed out, for now, though he worries what's going to happen moving forward if there's not enough product to sell.
Bowman said he is often at work late, scouring online, trying to find what customers need.
"This is the biggest bike boom since 1970 to 72," Bowman said. "So, 50 years. So, we're kind of due. You know, it's a tough industry. None of us do this to be wealthy. We do this because we have a passion for it."
---