Palaniuk comes from behind to win Bassmaster Elite event at Lake Champlain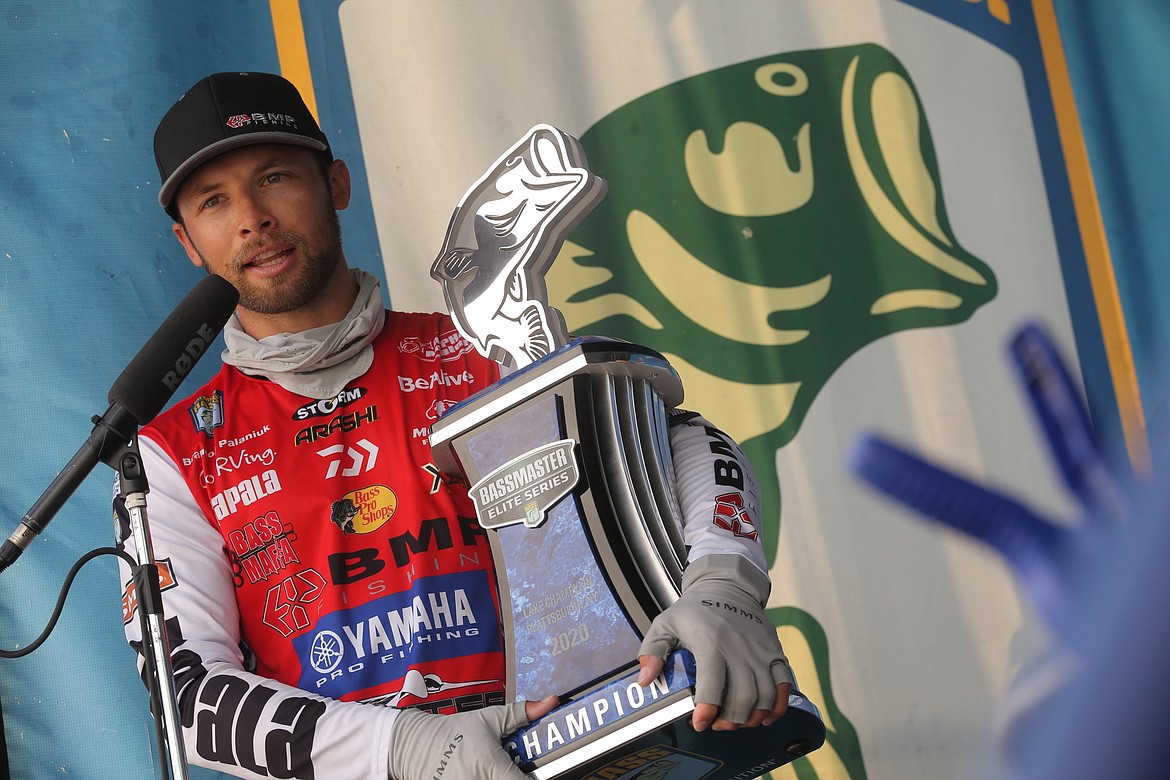 Brandon Palaniuk of Rathdrum won the 2020 Bassmaster Elite at Lake Champlain with a four-day total of 80 pounds, 1 ounce.
Courtesy photo
by
From news services
|
August 3, 2020 1:15 AM
PLATTSBURGH, N.Y. — Turning in his best performance of the week, Brandon Palaniuk leveraged a blistering afternoon bite to sack up 21 pounds, 6 ounces and win the Bassmaster Elite at Lake Champlain with a four-day total of 80-1.
This is the fourth B.A.S.S. win for the 2017 Angler of the Year from Rathdrum, earning a first-place prize of $100,000.
After a strong start yielded a pair of 4-pound-class fish by 8:30 a.m., Palaniuk continued catching quality smallmouth throughout the day. A key move and a heads-up response led him to the gold mine that produced a 4-4, a 4-6 and a 4-8 between 12:10 and 1:56 p.m.
"I had one boulder and I shut down before I got to it and as I came off pad, I see a dot on my (Humminbird) Down Imaging and I'm like, 'Holy cow, that looks like a giant smallmouth,'" Palaniuk said. "I grabbed my rod, threw my bait back before I even dropped my trolling motor.
"The boat's drifting away, I drop my trolling motor, I pick up and my line's swimming off. I set the hook and a 4 1/2-pounder goes airborne — way back there. After I caught that fish, I rolled up to the boulder and they were stacked on top of it. Then, every single boulder on that flat in 28 to 32 feet of water had a 4-plus-pounder on it."
After three days of mostly calm conditions, Championship Sunday brought strong winds, clouds and occasional showers. Noting that the wind likely moved schools of baitfish into the areas he fished, Palaniuk said his game plan came together as well as he'd hoped.
Keeping himself within striking distance all week, Palaniuk placed eighth on Day 1 with 19-12, slipped to 11th on Day 2 with a limit of 18-10 and made the final Top 10 cut on Day 3 by rising to fifth with 20-5.
"It was just one of those days where everything worked out," he said. "All week long, I said, 'Just give me a shot,' because I looked at the weather and I knew we were going to get that windy weather we got in practice.
Spending his day targeting flats with scattered rock and boulders within the Inland Sea (Champlain's northeast section), Palaniuk said his pattern was so reliable he actually moved with the bait schools. He started on a likely spot and drifted with the wind until he no longer spotted fish on his Humminbird 360.
"When I started not seeing them, I'd jump to the next place and catch another big one," Palaniuk said. "I hit one magical school this afternoon and every single boulder I could see on with Mega 360 (Imaging) had a big one on it."
---